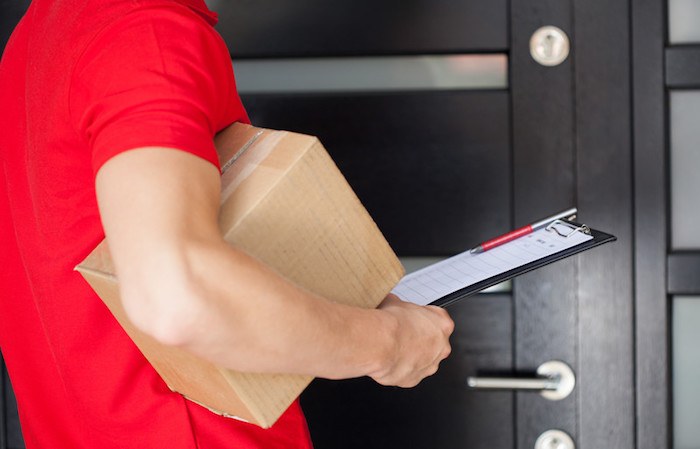 Build An Income-Generating Website That Lasts Decades!
Earn online income for a lifetime.
While many people have turned to rideshare driving for quick income, there are plenty of other ways to earn with the gig economy. The number of companies has simply exploded, allowing you to earn with your skills, your time or your vehicle. Among the options are companies that pay you for deliveries.
Some of these companies focus on delivering hot food straight from a restaurant straight to the customer's door, while others have you delivering packages across the city or even further afield. In this list, we're highlighting the major players, along with what you can expect from each of them.
Amazon Flex
Favor
Postmates
Shipt
Instacart
DoorDash
UberEats
GrubHub
Caviar
Tapingo
Deliv
Saucey
Burro
Roadie
PeerShip
Grabr
Amazon Flex

As you can probably guess, Amazon Flex has you delivering packages for Amazon. The size of Amazon works in your favor, as Amazon tends to be good at organization and relatively efficient compared to other companies. Amazon also seems to be constantly expanding, so there's little risk that they'll disappear overnight.
A key component of Amazon Flex is delivery blocks. You use the app to select your availability and then receive offers for delivery blocks based on the information you provide. You can choose which blocks to accept. Some drivers mention that the blocks don't always have an ideal delivery route and you don't have the ability to choose a new block for the same time period.
There are multiple types of orders that you might be delivered, including Prime Now, AmazonFresh, Amazon Restaurants and orders from Amazon.com. Amazon has different processes for each of these, along with clear instructions and relevant aspects in the app.
Amazon claims that you can earn $18 to $25 per hour. Unlike most companies, $18 is a minimum and you will get it because of the block system. One limitation is that work isn't always consistent. Amazon seems to hire too many workers in some areas, so there mightn't be enough shifts to go around.
Favor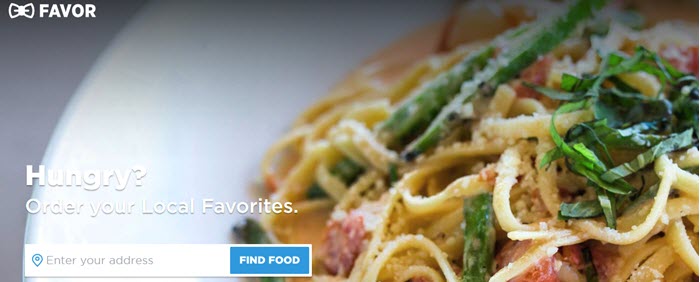 Favor is a comprehensive delivery service, offering customers the chance to order pretty much anything. This often means that you'll be delivering food, but not all of the time.
Favor offers a minimum earnings rate, which is an appealing feature. The rate varies depending on the market and only applies in some situations. In particular, you only get the base pay rate if you have previously put yourself in the schedule. There is also a minimum tip of $2, so you'll always receive a tip.
These factors make Favor more appealing than most. The company gets relatively good reviews too, including comments that their customer service is responsive.
There are negative aspects too. Runners for Favor mention that the system can sometimes be tricky. You need to accept a certain percentage of orders to have access to the schedule and to get the good orders. Some of the time even missing a single order can prevent you from getting on the schedule, making it more difficult to optimize income.
The balance of reviews suggests that Favor is a good choice, as long as you remain active and accept most orders. Doing so may mean less flexibility than is ideal, but the higher income potential helps to make up for that issue.
Postmates

With Postmates, the emphasis is on delivering groceries, food or drinks (including alcohol). Their marketing claims that they are the 'largest, most reliable on-demand delivery and pickup platform', even though they don't serve a large number of areas.
Be that as it may, many people turn to Postmates as a way to earn. Payment is based on an equation that includes mileage and wait times, along with drop off and pickup fees. While the pay may be appealing if the distance is short with little wait time, you may also find yourself driving long distances.
The income does still add up, especially in the busy times. Just be wary of crowded markets. Postmates doesn't seem to cap new drivers, so some markets end up having more drivers than there are orders to go around.
Shipt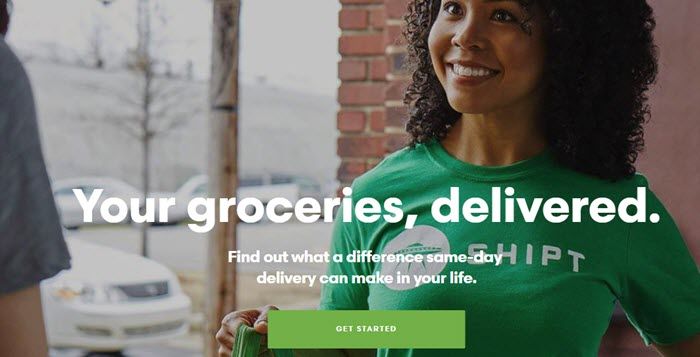 Shipt offers a personal shopping and food delivery service. You're responsible for the shopping component and delivering items to customers. As a result, you do get paid more per order than many other companies, often between $9 and $15 per order.
The biggest advantage is the flexibility. As with most of these companies, you get to choose which orders you accept. The personal shopping component can also be interesting and gets out moving around more than most delivery jobs.
Even so, reviews aren't amazing. Shipt pays per job and the fee doesn't consider shopping time or gas. It's not unusual for orders to take 1.5 to 2 hours to complete, which makes the pay per hour pretty low. That's not even considering the gas that you use and vehicle wear and tear.
Your experience will ultimately depend on where you are located. Workers in large cities will probably find that the grocery stores are better stocked and that driving distances are shorter. These aspects may tip the balance in your favor.
Instacart

If you're interested in grocery shopping, Instacart is another service to consider. It follows the same general principles as Shipt, although Instacart is more well-advertised. The service receives decent reviews too, giving customers plenty of opportunities to interact with their personal shoppers.
These aspects do make Instacart a better option than some competitors. Even so, some challenges remain, including the amount of time that it takes you to shop for orders and the driving that it takes to get to the customers. While some shoppers are happy with the money they make, others feel that they are earning far too little. That pattern is a key reason why these jobs work best as income on the side.
It's also worth mentioning the tipping element. As is often the case, you get 100% of the tips that customers leave, but there is little incentive for them to do so. In fact, Instacart charges a 10% fee that goes to the company. While customers can choose to leave a tip instead (or as well), there's a good chance that many won't.
DoorDash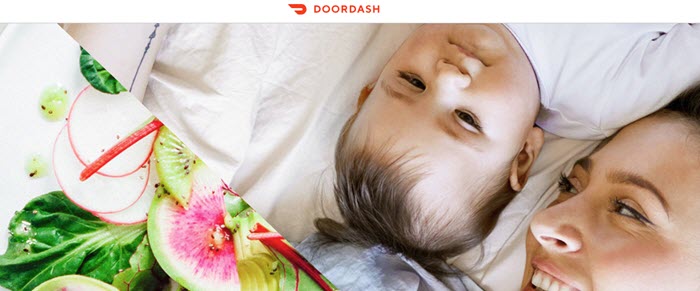 DoorDash is a food delivery company, one where you're taking food from restaurants to customers. It's one of the most well-known companies in the field and operates in many different cities. The main way to deliver is with a car, but in some markets you can use a scooter or a bike.
When working for the company, you get a red card that is used to pay for food at restaurants. You need to pay for the order, wait for it to be completed and then deliver it to the customer. There may occasionally be issues where the card doesn't work. If that happens, you could have to pay for the order yourself and wait for reimbursement.
As with most of these companies, the income is strongly influenced by locations. Drivers in large and dense cities tend to be the most successful, as there are more orders and they have to travel shorter distances between orders. In other environments, drivers often make relatively little and may even spend more than they earn.
From a personal perspective, I wouldn't recommend DoorDash. The reviews from drivers and customers simply aren't very good. While it could still be a source of income, there are better options out there.
UberEats

As the name suggests, UberEats has you deliver food. This can even be done from the same app that you would use to be an Uber driver. The requirements are lower than for Uber itself and you can be an UberEats driver even if you don't qualify to drive passengers. In some cities you can even make deliveries on a bike or a scooter.
The service uses many of the same patterns as Uber, which includes the boost and surge pricing. These can increase your earnings and may occur at different times to Uber boosts and surges (this is particularly good for anyone driving for Uber and UberEats).
One downside is that Uber tends to actively discourage tipping, so you're unlikely to get many tips. You may also earn relatively little for some orders, especially once you take mileage into account. Despite the issues, some people do find that UberEats works well. This is particularly true if you take the time to plan and make wise decisions about which orders you accept.
GrubHub

If the name didn't give it away, GrubHub is another food delivery company. It is a particularly impressive one, with a network of around 1,600 different cities. This time, the company pays a flat fee for each order, along with $0.50 per mile. Unfortunately, the mileage is calculated in a straight line, regardless of the route the driver needs to follow.
There is also a minimum payment rate of $10.50/hour in some states. While the minimum rate is a good thing, you do need to accept at least 85% of orders to get it. Drivers mention that this is surprisingly difficult to do and rejecting even a single order may sometimes mean you're below 85%.
Caviar

This is another company that offers restaurant food delivery. The biggest difference is that Caviar tries to focus on high-quality restaurants. This often means better experiences for the drivers and higher income potential.
Caviar also uses a slightly different approach. Instead of having a prepaid card, the company manages the process of ordering and paying for the food. Drivers tend to get the orders faster as a result, with less waiting time.
Caviar tends to get better reviews than most of the other food delivery companies, making it an appealing choice. Of course, your income is still heavily dependent on the area that you live in. Caviar is also expensive and is less well-known than competitors. Both factors may decrease your potential to earn.
Tapingo

Tapingo is a more specialized service, with an emphasis on food delivery on campus and within the local community. Couriers are able to make deliveries by bike or car. There are even boosts and surge earnings, similar to what UberEats offers.
While the company has an application form on their website, they're not always accepting new couriers. Instead, each campus will have onboarding times where they are looking for more workers. This style should help to limit the competition.
As some couriers mention, the company is still new and they are figuring out the most effective processes. These aspects, combined with the relatively small size of Tapingo, may mean that the company is less reliable than other options. Couriers also note that the pay has gone down since they initially went into operation. Still, it's another area to consider, especially if you're a student.
Deliv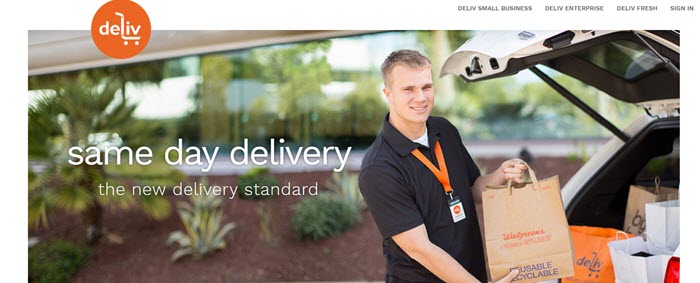 Deliv isn't as popular as some of the other companies, but it remains an opportunity to earn. In this case, you're delivering retail items from companies like Best Buy to customers in the area. It's promoted as being a super flexible approach, with drivers earning up to $22 an hour.
The biggest complaint with this company seems to be work availability. Many drivers suggest that there simply isn't enough work to go around. The pattern isn't too surprising, as Deliv relies on contracts with local stores.
While the issue is significant, it isn't entirely bad news. For most companies, reviews from drivers focus on low pay. Lack of work isn't as big of an issue, as you can easily work for multiple companies at once.
Saucey

With Saucey, you'll be earning by delivering alcohol. Couriers earn a flat $5 for each delivery plus $0.50 per item (and 100% of the tip). The formula doesn't take distance into account, but you do get to choose delivery blocks. That approach should mean that you don't need to travel as far to deliver the alcohol. The orders from Saucey will often be more expensive than other companies. This may lead to higher tips.
Because you're focusing on alcohol, Saucey is a little more complicated than other services. You need to check the ID of each customer before giving them the alcohol to ensure that they're legally able to buy the alcohol. There is the potential for issues if customers do not have a valid ID and become hostile, although such occurrences should be rare.
The end result is that Saucey has a higher income potential than many other services, which makes up for the additional complexity. Just be aware that couriers need to maintain a 4.8 out of 5 rating to stay with the company. This can be tricky in practice, as customers aren't always reasonable.
Burro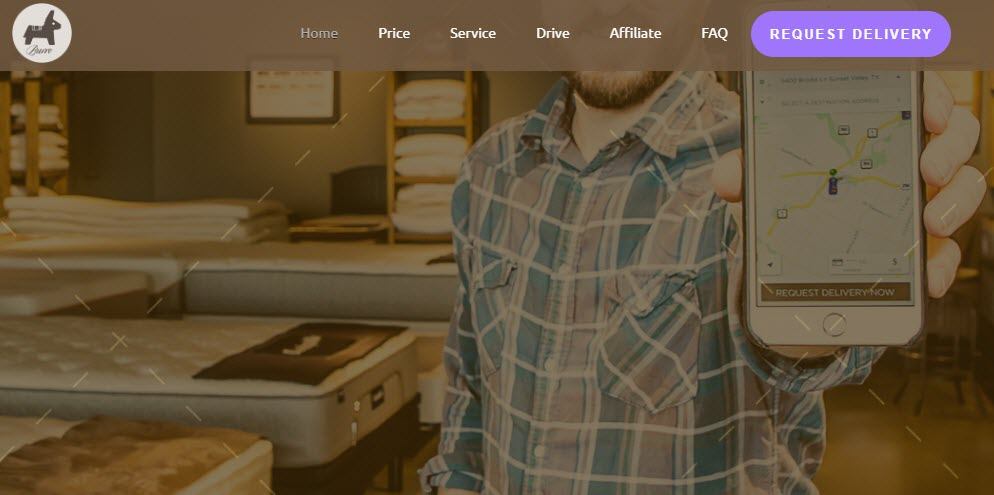 Burro is targeted at truck drivers and operates out of Austin. You can still earn as a helper if you have a car, but the income potential isn't as high. For people with a full-sized truck, Burrow estimates that you can earn at least $40 per delivery and up to $30-$45 per hour.
While your actual income would be less once you take expenses into account, the potential is still higher than many other companies. There should also be much less competition for jobs, as relatively few people own a truck.
Aside from the fact that you're using a truck, the service works in a similar way to other delivery apps. You are notified about jobs as they become available, which includes details about the type of delivery and the distance. You choose whether to accept the delivery or not. Burro also allows you to communicate directly with the customer, in case you have any questions or concerns.
Roadie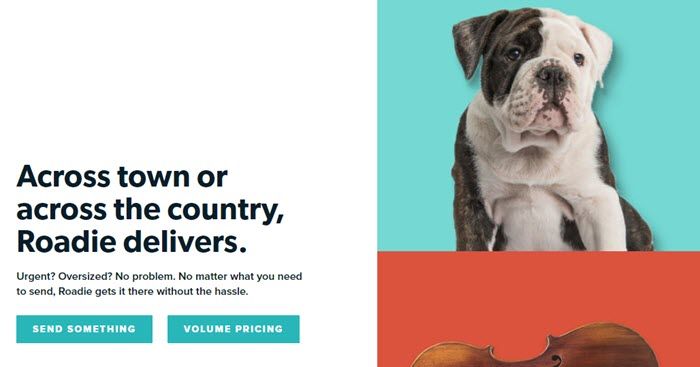 Roadie is a completely different type of company. The idea is that you're picking up items from customers and then delivering them. The delivery might be for a short distance, across the city or even further afield.
Payment isn't amazing, as Roadie charges users much less than other delivery services. That isn't a reason to write Roadie off. The service revolves around the idea that you're making deliveries on your way to or from other destinations. You often won't be going far out of your way at all. When used like this, Roadie can be an interesting way to make a little extra money.
PeerShip

PeerShip is a peer-to-peer shipping company. With it, users are able to list items that they want to be delivered to them or things that they want drivers to deliver. Users set the delivery fee they're willing to pay too, starting at a base rate of $0.99. Drivers can choose which deliveries they accept. You can also add in your commute route to see if there are any deliveries along the way.
While PeerShip has considerable potential, the app doesn't seem to have taken off in many areas. It heavily relies on user participation, which is a limiting factor. Even so, you make be able to make some money through it. You could even promote it yourself to try and get more deliveries.
Grabr

If you're planning to do some serious traveling, you should take a look at Grabr. This peer-to-peer delivery service aims to help people get items from overseas that they couldn't otherwise. There are many types of requests, including shoes, phones and even drones. The service is popular, as some items are hard to find locally or would be difficult to ship.
Grabr isn't necessarily a way to make money, as you'll normally pay more for your airfare and your travel expenses than you ever make from the service. Even so, you can significantly offset your costs. Some users even earn hundreds of dollars from a single trip.
If you plan to earn through the app, make sure you check out the customs requirements first. You want to be certain that you can bring goods back without any problems. This is very important, as the requirements do vary from one country to the next.
What's up ladies and dudes! Great to finally meet you, and I hope you enjoyed this post. Sign up for my #1 recommended training course and learn how to start your business for FREE!