Misinformation and Confusion
Within the affiliate marketing world, there are a lot of doubters and lot of people who will sell you a tall story. This causes a lot of trepidation and confusion, especially for those that are new to the space. There is so much misinformation online about what affiliate marketing actually is. People need to be taught how they will actually be making money, and the process of doing this. They do not need to be unnecessarily overwhelmed and confused at the outset and lack the desire to continue on what can be a life changing journey.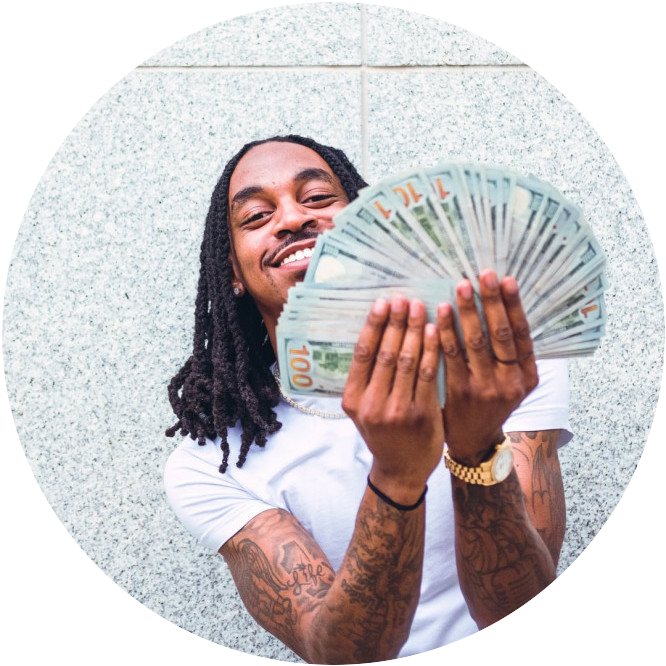 I am going to settle this argument once and for all and am going to be going into detail answering the question of can you make money affiliate marketing, and if so what is the proper process of doing so and how exactly do you make money within the affiliate world.
The Money Making Process as an Affiliate Marketer
As an affiliate marketer, the world (or the internet) is quite literally your 'oyster', with over 550 million products and services that affiliates have the opportunity to promote. On joining an affiliate programme, you will automatically have the ability to promote and sell the products that are available within that program.
Affiliate Programmes
Affiliate programmes can work in two ways. There are the companies that run their programmes completely independently and do everything in-house and then there are those that are part of large affiliate networks. An affiliate network is a grouping of many affiliate programs that all come together under the one umbrella. This can be effective and useful to you for managing admin, for example, logins, passwords and payouts. This is particularly useful if you end up promoting a variety of different products and working with various companies.
Joining an Affiliate Programme
Initially, when you join an affiliate program you will be given access to certain promotional materials such as affiliate links, banners, and often more sophisticated widgets that you will be able to add your website, you will also be able to promote these in many other places.
A good example of an affiliate programme is Amazon. I could join the Amazon affiliate program and that would immediately allow me to promote 100's of millions of products on Amazon. Imagine I choose to work within the baby niche, a quick search within Amazon would indicate that I could promote over 90,000 different products and services on Amazon alone.
Amazon
Amazon is just ONE affiliate programme. Amazon pays 6% on every sale that I make, therefore, should I sell a thousand dollars worth of product, I will earn $60 in affiliate commissions. These are paid either by cheque, or through Amazon gift cards. Each affiliate programme will pay slightly differently, but don't worry as they will almost all offer you various forms of payment.
Confusion, Deception and False Information Within the Affiliate World.
A major issue when you are looking to create and affiliate marketing business is that the industry is plagued with  outdated information and people pedalling confusion lies for their own gain. Unfortunately this is rife and it is difficult to sift through all the junk to find the real nuggets of great information and education out there about affiliate marketing and how to create a successful, profitable and sustainable business. Companies are more than happy to make money selling you a course that is based on "theoretical" affiliate marketing principles, more than likely stuff that should work but probably won't.
Imitators and Outdated Products
Then you have the companies imitate affiliate marketing companies, when they are not. They are a scheme, an MLM or something that is completely different (that is, a scam).
Then there are all those outdated products that haven't kept up to date with the trends in the affiliate world, new technology, new platforms, and new techniques and strategies that are being used by affiliates in today's market place.
Therefore, no matter how significant the opportunity may be within the affiliate world, it can be practically impossible difficult to succeed if you are looking in the wrong places, seeking the wrong advice and wasting valuable time and money on the wrong products. This is why education and having access to the tools and support you need to build a proper affiliate business is absolutely imperative to your success.
Education is The Key to Affiliate Success
As with most things in life, there is definitely a right and a wrong way to build an online business and in particular a niche authority site website. The correct way of building an affiliate business has been tried and tested for success over the years.
You have the potential customer, and you have a product (that has an affiliate program). Then, you, as the affiliate, and it is your objective is to connect the potential customer with the product. This is done predominantly by creating relevant content but can also be achieved through various other marketing channels.
What next?
In order to achieve this, you will want to have a WEBSITE! Your website will effectively be your storefront for customers, and as an affiliate, you have the ability to and promote over 550 MILLION products and services. You really are spoilt for choice!
How will you choose what to promote when there are so many affiliate marketing programmes out there, all with bold claims of high quality affiliate marketing education and potential wealth. Proceed with caution. If you don't then your could end up joining a programme that is "pretending" to be affiliate marketing and a poor education or be conned into a multi-level-marketing programme.
How do you seek out a good education from all that potentially misleading information that is available out there. Here are a few pointers to get you on the way to finding high quality affiliate marketing training.
Company Reputation. Is the company legitimate (do they have a good standing with the BBB.org). Do they have positive online reviews. Have they been in business for a good amount of time.
Free Trial. If you are unable to get a preview of what a company is offering, then you shouldn't even consider purchasing the product. If there is no free trial or at least a sneak peek (outside of their sales pitch), then avoid it.
Cost Efficient. Building an affiliate marketing business should not be an expensive venture, even the education part of it. If you are spending more than $500 annually to run your business, including the websites, hosting, tools & technology, coaching, and networking, then you are simply spending too much. Companies taking more than this are likely "taking your money" and not helping you, so avoid overpaying.
Are They Clear With What they Offer. If you are to go to a company website and you are unsure about what is part of the package then avoid this company at all costs. If a company is selling you on the idea of owning a mansion, an expensive car or sitting on the beach, without telling you what you are doing, you are most definitely getting involved in a scam.
Are they offering you Everything You Need to Run Business. To run an online business, you need a website, you need hosting, you need keyword & research tools, you need proper training (ideally some sort of interactive training as well), coaching and mentoring, and the ability to network with others that are involved in the business. If you are not getting all of these things then you cannot run your business properly.
Do the Research
You should absolutely feel free to do your own research online to see what best suits your needs. However, the most cost-efficient, forward thinking, friendly and supportive platform that you will find anywhere in the world is Wealthy Affiliate and I will personally vouch for that.
Let me introduce you to what I would recommend as the ONLY (and top) affiliate education platform online that you should consider. This is entirely based out on the criteria that I have set out above.
WealthyAffiliate.com: Been in business since 2005 (visit website here)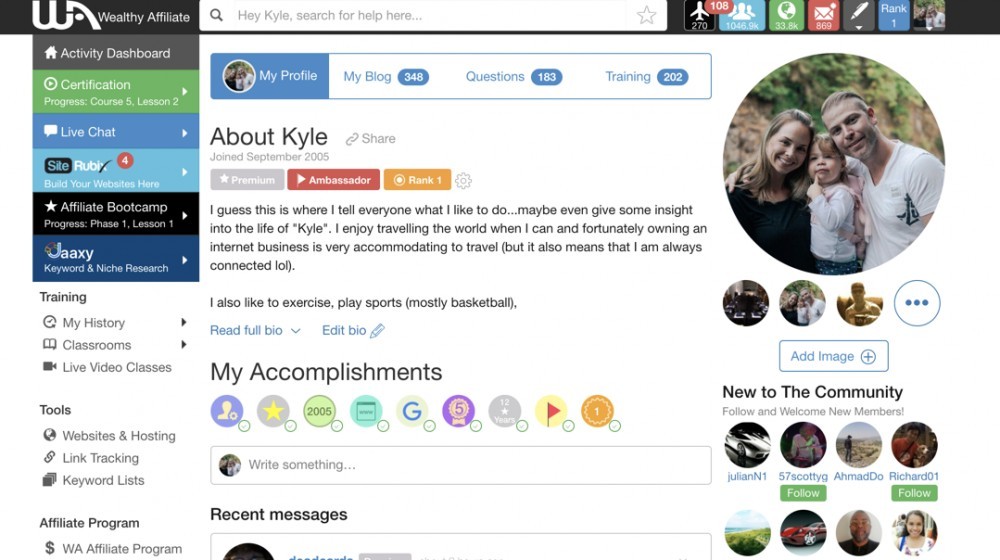 Free Trial: Yes (unlimited Starter membership)
Cost Efficient: Yes, very. $49 per month (or $359 per year)
Clear What They Offer: Yes
Everything You Need to Run Business: No, there will typically be lots of extra costs.
Who It's For: Beginner to Expert Affiliate Marketers
Review: Wealthy Affiliate is the elite affiliate marketing platform in the industry. Now with over 1.4 million active members, WA provides you with access to the largest resource of experts in the industry. The best part of WA which sets it apart from most communities of this size is that is has a true "pay it forward" vibe to it which makes it a really special place to hang out.
It offers a true all-inclusive environment where you have access to everything that you need in one place to create, grow and manage a very successful business online (or several of them). This includes training (all formats), live classes, websites, hosting, keyword/research tools, content/writing platforms, support, expert coaching, and the ability to network with over 1.4 million fellow aspiring and successful Internet Entrepreneurs.
Udemy.com: There are some good courses there, they are a legitimate platform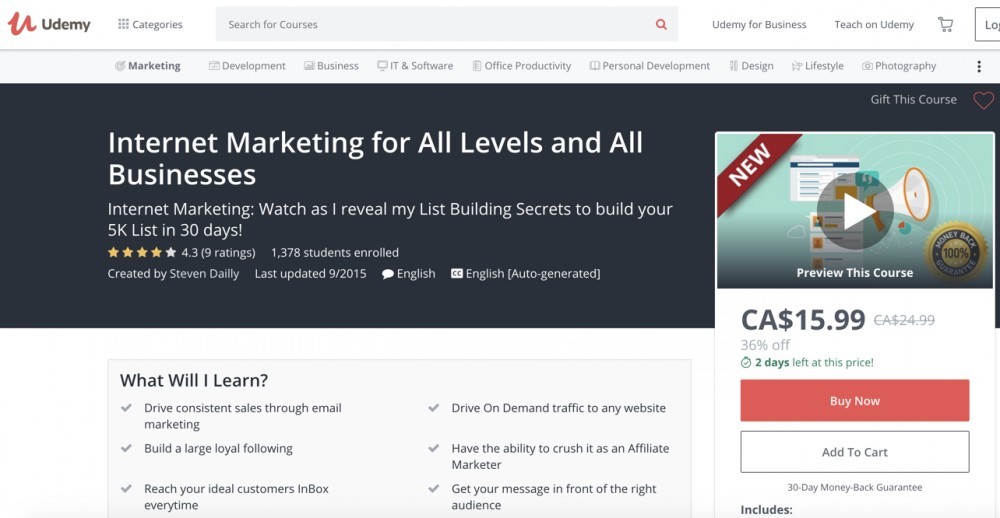 Free trial: Yes, you can view some courses before you buy.
Cost efficient: Kind of, $15-200 per course.
Clear What They Offer: Yes
Who It's For: General Affiliate Marketing Skills
Everything You Need to Run Business: No, there will typically be lots of extra costs.
Quick Review: Udemy is a wide open education platform, with training resources across a breadth of topics. You can purchase individual courses and training within the network. Some affiliate marketing training is really high quality, however, it does lack the fundamental tools to build an affiliate marketing business, for example, websites, hosting and the all important research tools. That being said, the courses are a pretty good education, however, you will find that there will be many costs beyond that.
Withing Udemy you will also have to pay for every course, so be aware that you will not be accessing a platform where you have all the training you need. You will need to take this into consideration.
Affilorama.com: Have a long-standing track record in the affiliate space
Free trial: Yes, limited free access (including their forum)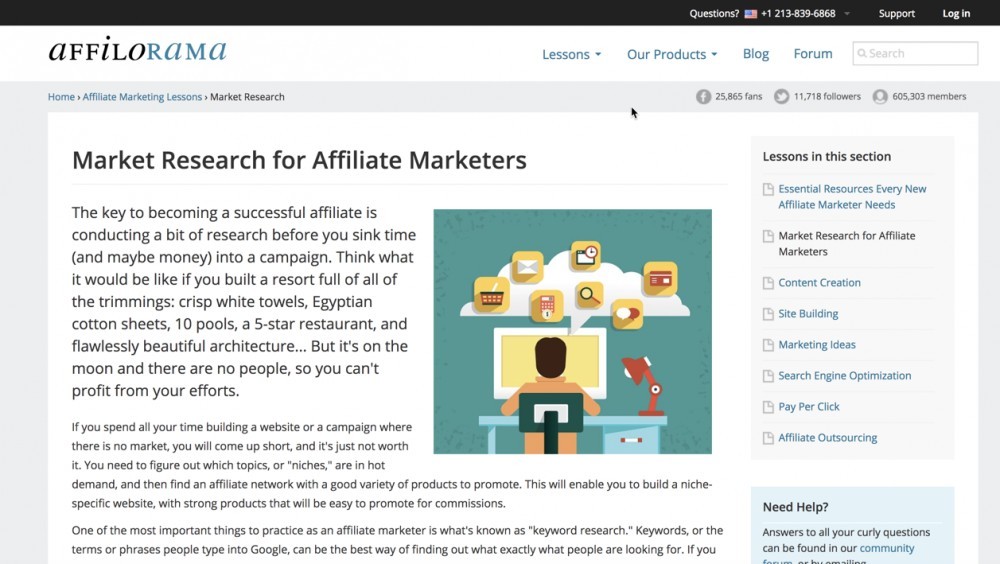 Cost efficient: Fairly, $67 per month (+ $1,000+ in up sells)
Clear What They Offer: Yes
Who It's For: Beginner to Intermediate Affiliate Marketers
Everything You Need to Run Business: No, there will typically be lots of extra costs.
Quick Review: Affilorama was founded by Mark Ling who is an expert in the affiliate marketing space. It is one of the few programmes that has lasted since the 2000s. The re is result of its long-standing success is due to its great service and cost-efficient price. Unlike many affiliate education companies in the industry, they actually offer a free trial – something that says a lot about a company!
Although Affilorama has lagged a little recently it is still up there and consistent within the industry. Do bear in mind that you will have additional costs outside of the initial $67 per month.
So as you can see, there are appropriate services available if you want to learn how to build an affiliate marketing business and truly one that will actually generate you revenue. There is a right way to build an affiliate business and a wrong way, most companies simply do not cut it (the 3 mentioned above do though).
Why Most People Fail Affiliate Marketing.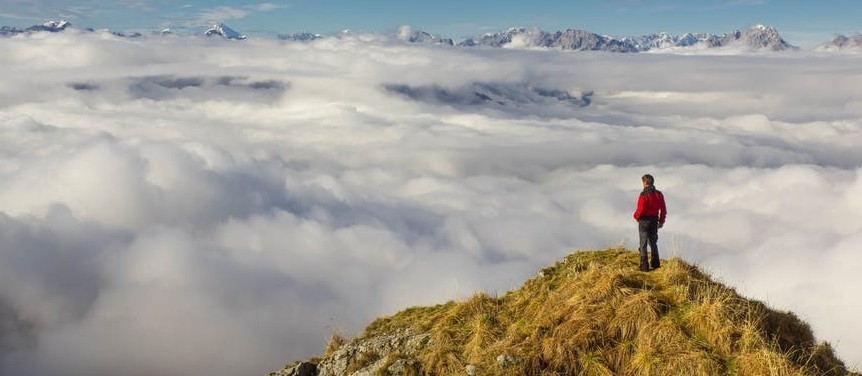 Patience is imperative to grow a successful business. Growing and succeeding in business is not the same as working 9-5. The 2 cannot be compared. Success will not come instantaneously and neither will financial success. Before you establish a business and promote affiliate programmes, you have to have a substantial presence on line. You have to have a website with good content. A good foundation built. That is exactly what is taught within Wealthy Affiliate, however, most newcomers to the affiliate marketing industry never get to that point because they are not equipped with the proper tools and training to allow them to get them there.
Future Success
Once you have your foundation of your business mapped out, you can then begin generating success and building a business online. This success will snowball and before long, you will see your traffic and revenue grow. It will all come together with dedication, grit, self-determination and a lot of hard work.
So please, promise me that you are not going to treat this like a job. It isn't, affiliate marketing is a business and the time and energy you put into your respective business today, typically takes 3-4 months to really start to materialize and show you the fruits of your labor.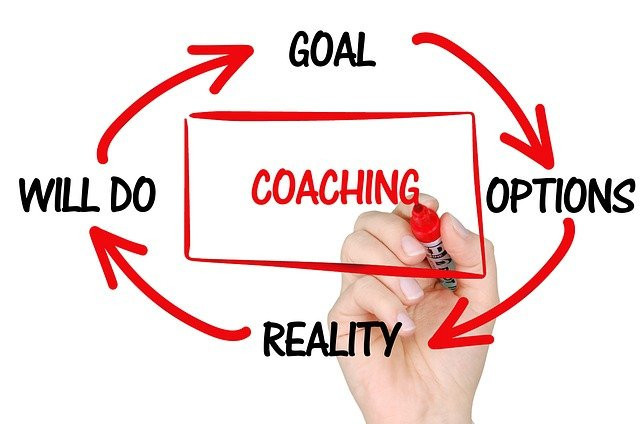 If you want my personal help and coaching and to get started for free, then simply sign up to Wealthy Affiliate and set-up your account. Once you have done this, you will have direct to the most comprehensive and elite platform for affiliate marketers in the world and I will be on hand to support you on your WA journey.