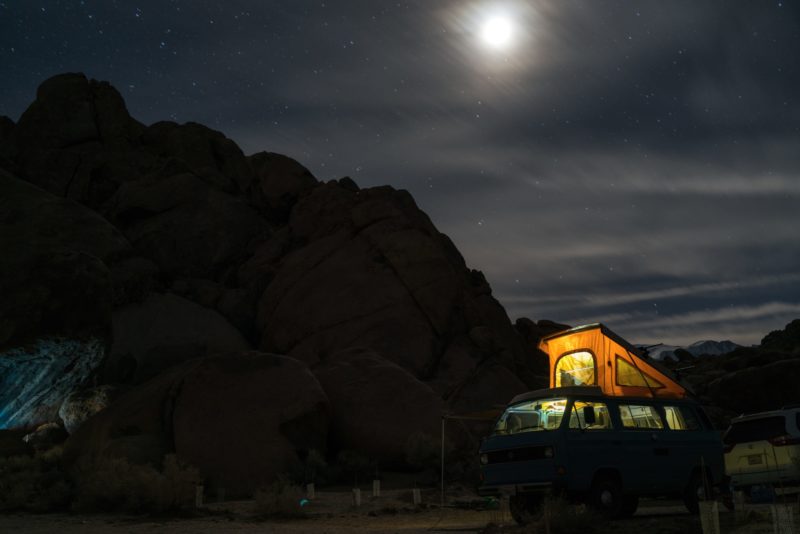 Van life is a lifestyle in which people literally live out of their van. People who live this way aspire to wake up wherever they want, travel wherever they want, and do pretty much whatever they want. It is a nomadic lifestyle… but it still has bills! Can you really make money while living van life?
And if so, how can you do it?
How To Make Money While Living A Van Life

The Basics: You Need Something Portable
Start A YouTube Channel
Become A Freelancer
Become A Photographer
Write Ebooks
Find Social Media Sponsors
Blogging
Become A Transcriber
Start A Drop Shipping Business
Find Seasonal Work
My Personal Thoughts About The Best Way To Make Money While Living Van Life
Our Final Opinion Of Making Money While Living Van Life
How To Make Money While Living A Van Life
Van life is an interesting, and very freeing concept.
Travelling wherever you want, going wherever you want to go, earning your way doing your own thing, paying very cheap bills and living a life of adventure… there really isn't anything wrong with it.
But there is one little problem.
If you plan to travel all the time, how are you going to earn enough money to live on?
If you aren't going to be staying in the same place, how can you expect to hold down a job and pay the bills?
These are very good questions. And in this post, we are going to give you several different options for how you could potentially make money while living a 'van life.'
Let's talk about that!
The Basics: You Need Something Portable
The most important part of this entire thing is to find a source of income that can travel with you.
Whether it is online, or a remote job… the goal is to be able to have the freedom to go where you want, when you want, without being required to show up at a certain specific time and place, and work for a regular job.
With that being said, here is a collection of potential businesses and side hustles that might work very well to help you bring in some income while you travel and live your nomad lifestyle.
Start A YouTube Channel
You can make money on YouTube by starting a channel and publishing videos on a regular basis.
After a while, you will get the option to monetize your videos. YouTube will show ads, and you will earn a certain portion of the money those ads generate!
This can be an awesome way to build up an income as you live a nomadic lifestyle… especially if you document that experience on YouTube!
The only downside is that it takes a while to get rolling. You won't make money right away with it.
Become A Freelancer
Are you really good at designing beautiful websites, internet marketing, writing, video editing, or some other skillset?
If so, then you could to earn extra money, and eventually build it into a full-fledged business of your own!
You can get started on a website like Upwork. But honestly, there are all kinds of companies out there looking for professionals and creatives to help them.
Become A Photographer
One cool thing about life on the road is that you will get the chance to see all kinds of new and different things.
But if you are passionate about photography, you can take advantage of it by photographing those new and different things, using those photos as a portfolio, and then hiring out to do more of that kind of photography over time.
You can even make money with stock photography if you know what you're doing, and aren't afraid to put in the time and effort!
Write Ebooks
There are a number of ways to earn money with ebooks.
If you have knowledge about a specific topic that can help people to solve their problems, then it is highly likely that you might be able to leverage this by writing, and publishing, your own ebooks to sell online.
You can sell ebooks in a number of ways, and there are all kinds of options for marketing them.
And best of all, they will continue to earn money for you for years to come!
Find Social Media Sponsors
If you do a good job of documenting your vanlife travels on social media, you are bound to build-up a following.
And eventually, you may be able to leverage this by getting sponsorships for posts.
There are companies that will pay you to plug their goods and services… and sometimes, these opportunities pay pretty well!
Finding sponsors is not always easy. Most vanlifers do not necessarily seek them out. But it is possible to turn this into a pretty lucrative side hustle.
Blogging
Blogging might be one of the better ways to earn residual side-income while living life on the road.
You can start a niche affiliate site and blog, and earn commissions on products that you include in your posts.
You can also use a blog to content-market and sell your own digital products. These could include ebooks, courses, essays, or anything else you might create and sell.
The great thing about blogging is that it is highly searchable. And in most cases, it can start making money in a year or less!
The bad news is that they do require a lot of time and effort. If you drop the ball and don't blog regularly, your site won't grow… and you won't gain any more authority in your niche.
True blogging power comes from publishing well-written, useful, valuable, optimized content on a consistent, regular basis… as often as possible!
Become A Transcriber
Believe it or not, there is a pretty big market for people who can take YouTube videos or audio recordings, and transform them into beautiful, well-worded blog posts.
These types of jobs require writing and editing skills. But aside from that, they are pretty easy!
You can find such jobs on sites like problogger.
But you can also find them by browsing other job listings online, getting plugged into freelance communities, and looking at other online job boards.
All you really need to start this hustle is a laptop!
Start A Drop Shipping Business
Drop shipping is different from affiliate marketing, but for some people, it actually works a lot better!
You need to work to grow a drop shipping business, and you will usually need to grow it from scratch and invest a bit of money into it to get it off the ground.
Sites like Shopify can really help you to get a start on something like this.
The big downside to drop shipping is that it takes a pretty in-depth knowledge of marketing to make it work.
It isn't super-easy, and it will require you to dig in, practice, and learn about how to actually make it profitable.
Find Seasonal Work
When passing through a particular area, you can sometimes find awesome seasonal work to help you save up money for the coming year.
This could include working for a local business, helping out during busy seasons, gardening, working events, etc.
These types of gigs can be difficult to find, however… and your best bet may be to assimilate into the local culture and ask around.
You might be surprised at what you can find if you are willing to dig around a bit, get to know people, and socialize.
Some gigs like this also come around every year… meaning that you can come back annually for a more stable source of income during those weeks or months!
My Personal Thoughts About The Best Way To Make Money While Living Van Life
Making money while living on the road can be a challenging thing.
But thankfully, with the internet and the rise of opportunities to integrate digital life into our everyday lives, this is becoming less and less of a problem.
There are more remote jobs available than ever before. There are also tons of freelance opportunities, as long as you know where to look for them.
As a general rule, it is usually advisable to approach this kind of thing from two different avenues.
You want to…
Have a stable source of income that you can rely on now while you get a longer-term prospect up and running
Always be working on your longer term, residual-income projects to help you level-up your life and make more money in the long-run
If you stick to this plan, you can absolutely make money while living that nomadic van life!
Just remember to keep your eyes open, and don't stop looking for income just because you have found something for now.
You want to diversify and have a few different things going all the time. The faster you get to that point, the faster you'll be able to recover if you lose one source of income that you thought you were going to be able to rely on.
Our Final Opinion Of Making Money While Living Van Life
Are these the best options for making money while on the road?
There are a lot of ways to make money online. Some are good, some not, but ALL of them are still just trading hours for dollars.
Starting your own affiliate website really is the best way to build passive income and "make money while you sleep". Affiliate websites earn income in every timezone, and can be instantly accessed by billions of smartphones across the globe!
What's up ladies and dudes! Great to finally meet you, and I hope you enjoyed this post. I started my first online business in 2010 promoting computer software and now I help newbies start their own businesses. Sign up for my #1 recommended training course and learn how to start your business for FREE!
I've been building profitable affiliate blogs for more than a decade, and built six-figure blogs in a wide variety of niches, including computer software, self help, and home & garden topics. I do things a bit differently, and I hope you like my perspective and my style of teaching.