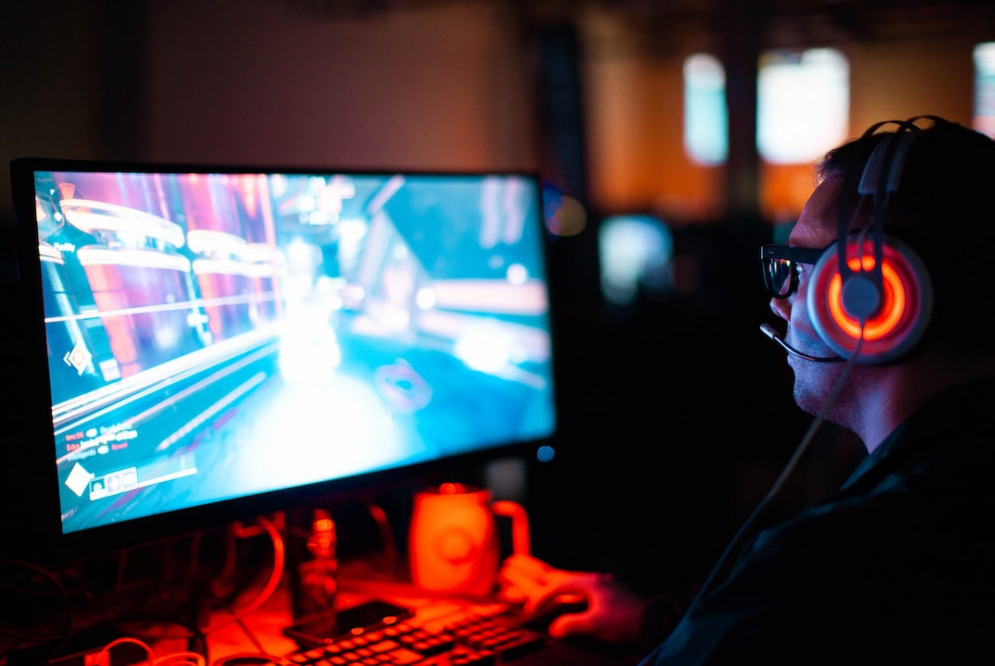 Did you grow up playing video games just to be told to "get a job" or do something that'll actually pay the bills? Well, times have changed. Now, you can legitimately make money playing video games.
Yep – that's right. All those years of practicing your aim on Call of Duty, increasing your reaction time on Grand Theft Auto, and sharpening your creative strategy on Minecraft are now considered valuable skills you can use to earn money while you game.
So what changed? Not only has the video game industry boomed in recent years, but the number of ways you can make money gaming has too.
Now there's influencer marketing, in-app cash rewards, streaming, YouTube, eSport tournaments, and many more ways you can tap into the gaming industry and monetize your gameplay.
Read more below to discover all the ways in which gamers can make money by turning their favorite hobby into a jobby (both online and off).
How To Make Money Playing Video Games

How Much Money Can You Make Playing Video Games?
How To Start Making Money Playing Video Games

10 Ways Gamers Make Money

1. Start A Video Game Blog
2. Live Stream Your Gameplay
3. Create A Video Game YouTube Channel
4. Compete in eSports Tournaments
5. Start A Gaming Patreon
6. Become A Gaming Quality Assurance Tester
7. Seek Out Brand Sponsorships For Gamers
8. Earn Cash Rewards Playing Games Online
Final Thoughts – Can You Make Money With Video Games?
How To Make Money Playing Video Games
How Much Money Can You Make Playing Video Games?
While gaming is a billion-dollar industry, how much you can personally make will vary widely depending on the type of video game job you do. Could you make enough to pay your keep and make a decent living?
For example, in an interview with The Hollywood Reporter, Twitch streamer Ben Lupo earns up to a staggering $15,000 per hour just by broadcasting his gameplay to his 3+ million followers.
With that kind of income, it's safe to say you can play video games for a living. (And that's just one way you can make money gaming!)
Will the average gamer make that amount of money in their lifetime? Probably not. But that doesn't mean you can't also build up your video game empire.
The secret to building a following? There is none. You just have to start right now and stay consistent in creating and publishing content people can't get enough of.
How To Start Making Money Playing Video Games
What do you need to start earning from playing video games? To be a gamer, you gotta game. That means having all the necessary equipment, which requires a bit of an upfront investment.
You don't need to have the best of each item – but you do need to have high-quality gear that'll at least allow you to have a chance against your competitors.
If you're wanting to make money gaming online, then you'll need a proper video game setup. Preferably one that's both functional and aesthetic (especially if you're planning on streaming or making videos).
Here's a quick gaming equipment list to help get you started:
Super speedy internet connection (having zero lag is important)
Video game console of choice (e.g. Xbox One, PS5, Nintendo Switch, PC)
High-quality webcam
Microphone
Headset w/mic or headphones
HDMI video capture card
Accessories (i.e. keyboard, mouse, gaming chair, blue light gaming glasses)
Side note – can you earn money by playing games without investment? Sure you can. In most cases, video game content creators start with what they have. Growing a social following rarely costs actual money – only your time.
Beyond your equipment, you'll need to find opportunities in the gaming world where you can monetize your skills.
Below are the top ways gamers make money – feel free to take a peek and see which career path would suit you best!
What's most important is that you match your style of gaming and work ethic. If you're camera-shy, no reason to record yourself gaming and live stream to an audience – right?
10 Ways Gamers Make Money
1. Start A Video Game Blog
Blogs are one of the most lucrative ways to make money online from home. The top bloggers are earning up to $100k per month!
If you love writing and want to combine your passion for video games with the written art, then you should consider starting a blog.
The key to growing a successful affiliate website is to pick a niche and publish high-quality and valuable content on a consistent basis. For example, love The Legend of Zelda? Then you could start a blog targeting fellow Zelda fans and write up fun and informative posts about The Kingdom of Hyrule. Not sure what to name your geeky gaming blog? Here are 50 gaming blog name ideas.
You can make money as a video gamer blogger through these methods:
Affiliate Marketing – make money by linking to the top gaming affiliate programs and earn commissions on sales
Display Ads – earn passive income from the ad clicks your website generates
Sponsorships – get paid by gaming brands to promote their products
Sell Digital Products – create and sell gaming ebooks, cheat sheets, walk-throughs, etc, on your blog
If you don't want to start your own blogging business, but still enjoy writing, then you should consider becoming a freelance writer so you can get paid to write gaming articles for others.
2. Live Stream Your Gameplay
Prefer to skip the writing and instead create entertaining visual content? Then consider making money as a video game streamer.
Thanks to platforms such as Twitch, Facebook Gaming, and YouTube, you can make money streaming your live or recorded gameplay.
If ever you catch yourself thinking, "But who would want to watch me play games when they could be playing their own?" Turns out, a lot of people. Some of the top streamers are earning up to $500,000 per month (and beyond).
How is that even possible, you ask? Streamers get paid by:
Their fans' donations or tips
Display ads (similar to blog ads, but with typically lower RPM's or earning rate per 1000 views)
Patreon donations or subscription earnings
Affiliate marketing
Brand sponsorships
Earnings can really rack up once you have a large following. Take KittyPlays, for example. She has over 1.1 million followers and records over 4-hour streams playing the FPS (first-person shooter) game Valorant. Add some fun commentary and cool gameplay, and voila. Money.
Streaming on Twitch is the easiest way to get started, but you can also branch out and upload your recorded streams to Facebook Gaming and YouTube to extend your reach.
3. Create A Video Game YouTube Channel
Besides Twitch, YouTube is the largest go-to platform for gaming. What's cool about YouTube is that you don't have to necessarily go live to earn money.
You could just love video games that you create in-depth video game review videos with voiceover, video game recap plays, or even start a channel curating video game music playlists! One example of a successful video game YouTuber is Zeltik. He publishes weekly videos of everything Legend of Zelda – from insane game theories to reaction videos, secret tips, and more.
The main way gamers make money playing video games on YouTube is through:
Video display ads (you must first be eligible to join YouTube's Partner Program)
Inserting affiliate links into your video descriptions
Sponsored video content
Linking out to a Patreon or PayPal
Like a blog, it takes time before you can start earning money on YouTube. Generally speaking, they say you need to have 1 million views to earn $1,000 (that's from ad earnings). If you're not a big YouTuber, luckily you can still make money even with a small-medium size channel.
4. Compete in eSports Tournaments
All of the ways to earn money playing video games mentioned above are all about video game content creation. But what if you're already an elite or pro gamer? How can you monetize your gameplay? Hint: go straight for gold.
Competing in eSport tournaments is one way to prove the world wrong about gamers not getting a real job that pays the bills.
OK, sounds epic and exactly the type of gaming job you'd thrive in. But how do you get into eSports as a career?
Pick a video game niche (i.e. massive multiplayer online (MMO), FPS, real-time strategy (RTS), etc)
Practice, practice practice
Hire a gaming coach (another way you can earn money related to this field!)
Attend eSports training camps and events
Gain a social following (i.e. Twitch, YouTube) to attract an audience and sponsors
Join a team or start your own
Compete in online tournies
Stay involved in the community
Professional gamers really do this as their full-time job, practicing and training for more than 40+ hours per week. What's at stake?
$34 million. Not kidding – it's the largest prize pool in eSports history! While not every eSports earnings are that much, you can imagine just how big and lucrative this industry is.
Additionally, you can bet on eSports or even promote eSports affiliate programs to supplement your income.
5. Start A Gaming Patreon
Patreon – is it a legit way to make money? If you are a creator producing content, then Patreon is a fantastic way to supplement your income because it allows you to offer additional value for a minimal monthly fee.
Not to abuse The Legend of Zelda references, but here's an awesome example of how one YouTube creator, Henriko Magnifico, designed his Patreon page in LOZ fashion to attract subscribers.
As you can see, he used rupees as tiers for membership levels ranging from $1/month (green rupee, like in the game) up to a gold rupee for $100/month. Each level "unlocks" new goodies. Henriko offers Nintendo Radio, 4K texture packs, custom video game songs, and more.
6. Become A Gaming Quality Assurance Tester
Yes – you can actually earn a decent salary as a video game tester. What do QA testers do?
QA testers have the responsibility of playing – and testing – video games to ensure quality control. Does the game lag? Have sequence errors? Causes confusion?
You literally get to play the game's story, characters, and levels, to report on any errors, bugs, etc, in addition to your personal feelings/thoughts about the game. While you wouldn't exactly be playing video games for leisure – you're still getting paid to game.
QA game testers can get paid hourly or by salary, but you can expect to earn anywhere between $35 and $50 per hour!
To find work in this field, make sure to reach out to indie brands, large gaming studios (AAA games), or find jobs on marketplaces such as Flexjobs.com.
7. Seek Out Brand Sponsorships For Gamers
Sponsorships can account for a big part of a gamer's overall earnings. As a streamer or eSports gamer, sponsors or advertisers can pay you thousands of dollars for just one social media shout or brand feature.
In fact, out of the $900 million dollar industry, sponsorships account for at least 70% of generated income.
It's not like you can get sponsorships out of nowhere – so how do you get them?
The main way to attract sponsors is by garnering lots of social media attention. You can get sponsorships whenever you create content for:
Blogs
TikTok
YouTube
Twitch
Instagram
Podcasts
Facebook
How much you charge on each platform will vary. Stats to consider are your followership/subscriber count, engagement rate, audience, quality of your content, and your experience.
8. Earn Cash Rewards Playing Games Online
Last but not least, if you'd prefer to hide behind your phone playing games online then you can still earn money doing that. It won't be as much, but hey – money's still money!
Apps and websites such as Swagbucks, InboxDollars, and Gamehag allow you to earn money in-app. The most popular one out of them all, though, is Mistplay.
With Mistplay, you can simply earn money playing games on your mobile phone. How much can you earn playing Mistplay? Reviews say around $50 bucks per month in rewards.
While that's not a lot, it's a good side hustle for teens to earn spending money or to save up for school supplies or going out with friends.
Here are 20+ more mobile app games that pay you real money to play!
Final Thoughts – Can You Make Money With Video Games?
If it isn't clear by now, you can definitely make money playing video games!
Gaming is no longer something you can do for fun. If you have an entrepreneurial spirit or creative flair, there's no reason why you shouldn't be able to monetize your gameplay.
The industry is extremely popular and lucrative, so if you're on the fence about plugging in and going for it – know that there's no better time to get started than right now.
What's up ladies and dudes! Great to finally meet you, and I hope you enjoyed this post. I started my first online business in 2010 promoting computer software and now I help newbies start their own businesses. Sign up for my #1 recommended training course and learn how to start your business for FREE!