Social media management is a crucial part of any website administrator's work nowadays. No website can stand a chance at gaining sufficient exposure without having its social media presence properly managed.
Any website, whether run by a team or an individual, has to have its content shared on multiple social platforms with adjustments being made to make it fit into the various platforms. Facebook, Twitter, Instagram, and LinkedIn, as well as the many other social networks, differ in terms of format, tags, etc. Optimizing content for each platform separately is crucial for both professionalism and engagement.
Even the feature images appearing with the content on each platform will need to be different in many cases. There are many tools required for this to take place effectively. No one can be manually editing and reformatting their content and still manage to maintain a round-the-clock social media presence.
That requires professional scheduling and editing tools that you will only find in social media management plugins.
Equally important to being able to schedule and edit your content is being capable of monitoring its performance. Social media, in particular, are pretty vibrant and involve many metrics and indicators, and reading your different audiences correctly and knowing how to address each group of them is crucial to the success of your social media strategy.
Having a tool that will monitor your content's performance and, perhaps, offer you recommendations on how to act according to the findings will substantially boost your level of effectiveness.
Over and above that, social media involves a lot of direct interaction between you/your brand and customers since they will, ideally, be interacting with your content. That will definitely necessitate that your team is available in time in order to respond to them. This will require you to be able to monitor their performance as well. For all of these features to come together in one place, you will need to a comprehensive social media management plugin. Here are 5 of the top social media management platforms on the market right now.
Best Social Media Plugins
HootSuite
Blog2Social
Sprout Social
Viralwoot
Coschedule
1. HootSuite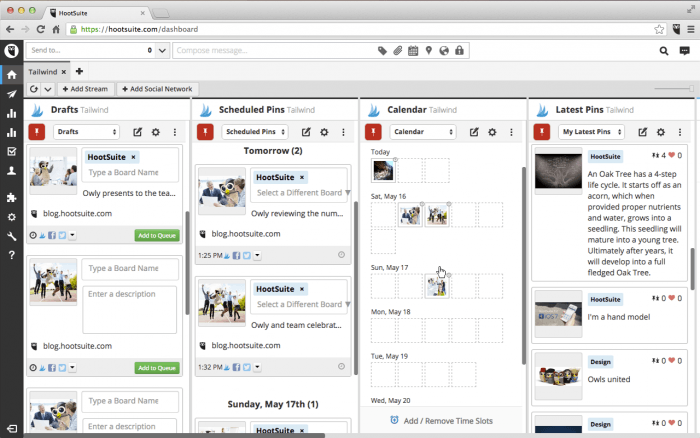 HootSuite isn't just a plugin. It's actually a whole social media management platform. It integrates perfectly, however, with WordPress and has to be mentioned in this article. First of all, Hootesuite can totally transform your scheduling game, enabling you to stay present during every moment throughout the whole week without having to worry about consistency.
You can schedule hundreds of social media posts and messages at once. The scheduled content is all displayed in a list with thumbnails and overviews, making it easy for you to scan through it. The best thing is that you can do all of that through the HootSuite mobile app or the Hootlet extension, and so there probably won't be a situation where you will find the platform inaccessible.
In terms of content curation, Hootsuite is equally a blessing. You can run searches through Hootsuite for posts from all over the internet using keywords or hashtags that can be scheduled for reposting.
All of the pre-approved content is put into a shared content library that you and your team can access, tag, and search through, as well as view its usage stats. Through the Hootlet extension, you can schedule content from any website on the internet for reposting on yours. You can also use Hootsuite to access content that is stored on any of the major cloud file services, including Dropbox, Google Drive, and Microsoft OneDrive.
That can be done right through your dashboard. The platform also enables you to connect all of your social media tools in one place. More importantly, you get to customize the team permission settings for each piece of scheduled content so that you can safeguard yourself from posting mistakes.
Analytics enjoy a special level of importance particularly when it comes to social media and content management. HootSuite provides you with snapshots of your key activity on Facebook, Twitter, and Instagram. It can also give you unlimited reports on any of the relevant indicators. The reports can be exported into multiple formats, including Excel, PDF, and CSV.
You'll also be able to monitor your team's performance and see how long their responses take and how effective they are at resolving problems. The platform also gives you the capability to control the permission for posting.
2. Blog2Social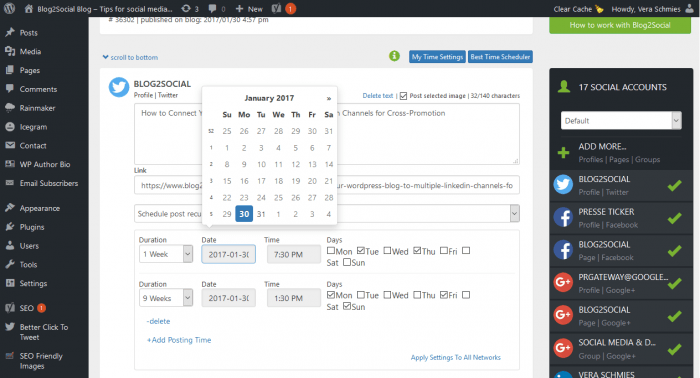 Blog2Social lets you connect your website to any of the social media platforms that you're using. You can connect it to pages, profiles, or groups on any of Facebook, Twitter, Google+, LinkedIn, Instagram, Flickr, Pinterest, Tumblr, Reddit, Medium, Torial, Diigo, Delicious, or Xing. The plugin lets you automate your sharing on all of these platforms, and you can easily schedule an unlimited number of posts beforehand.
You can even do so with multiple accounts from the same network. Blog2Social doesn't only facilitate sharing but rather reformats your blog posts so they are optimal for each social network that you are sharing to.
The premium version of the plugin lets you choose the post formats yourself. The free plugin allows you to customize the posts for each network. For example, you will need to add certain hashtags for Instagram sharing while the Twitter sharing will need to have mentions added to the post. Blog2Social enables you to do so.
The plugin also allows you to choose images pretty easily. You can choose different images for each social network, too, if you're using one of the premium versions. The Premium Smart lets you choose different images from the same blog post for each network whereas the Premium Pro lets you choose any image from your entire media gallery.
All of the versions come with an analytics tool that constantly feeds you with comprehensive reports on the performance of your social media content. If you have members of your team connected to the plugin, each of them will get to view reports on their own content, while you will get to track all of the posts.
3. Sprout Social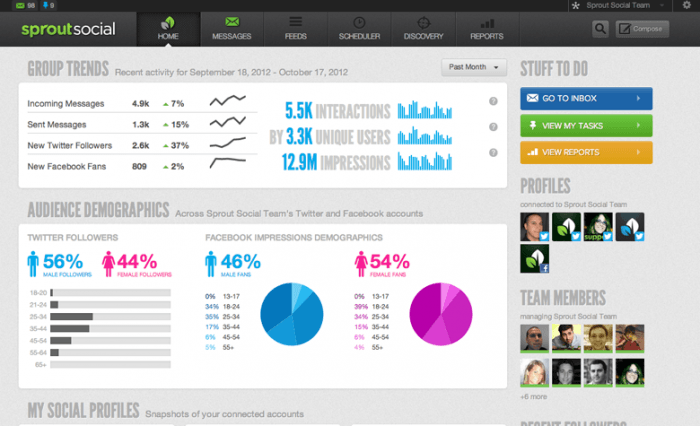 Sprout Social is a comprehensive social media management platform just like HootSuite, but its focus on analytics made its analytics tool as valuable as a separate plugin.
The most important thing of all is that the folks who developed Sprout Social totally realized when they were creating it the paramount importance of speed in social media. It enables you to monitor your brand's online performance and presence in real time. There are standard, premium, and custom reports on the key social metrics with varying degrees of detail and complexity.
The reports cover Facebook, Twitter, Instagram, and LinkedIn. You can receive insights on messages, track specific URLs, and analyze content by tags. These features will definitely boost your strategic decision-making capabilities.
The platform also facilitates social media scheduling and content management. It handles visual content particularly well, enabling you to store, edit, and publish images through the Sprout's Asset Library.
You can even edit images there. Sprout Social allows you to add filters or text, as well as make general adjustments and image optimization for social media. The content schedule is displayed in a way that lets you view your posts quite easily with short previews, thumbnails, and icons for the social networks that each post will be shared on.
Sprout Social facilitates social media engagement just as effectively. First and foremost, it brings all of your messages across all of the social media platforms that you are using into one place, enabling you to mark, tag, and filter messages, as well as monitor keywords and hashtags all from the same dashboard. You can also audit your team's performance.
4. Viralwoot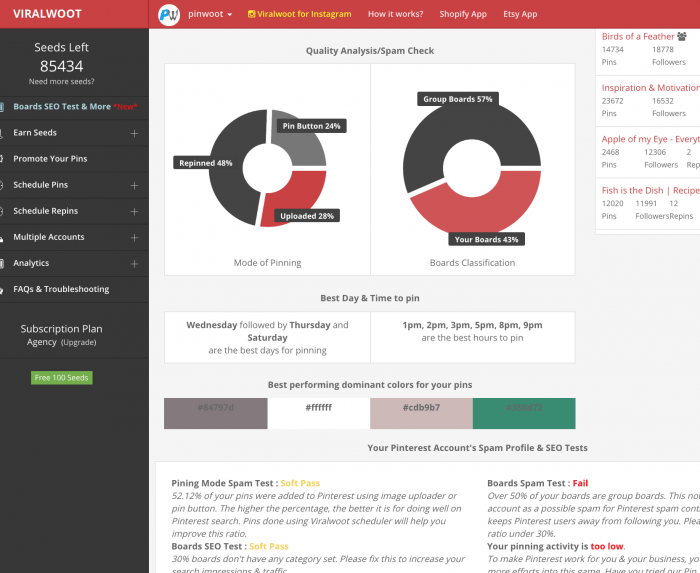 If a large part of your brand's social media activity and presence involve Pinterest, then you should definitely consider this platform. Viralwoot is focused on enabling users to automate as much of the social media management tasks as possible in order to let them focus on the more creative aspects of the work like audience engagement, for instance.
The Schedule Pins feature makes scheduling a piece of content no more than a single step away and using the platform's Google Chrome extension, you can instantaneously schedule pins as you surf the internet. While scheduling content, you can upload images from Viralwoot's 21+ integrated apps to serve as the content's feature image.
These apps include Facebook, Twitter, Instagram, Google+, and Pinterest. You can also search on Google for images and pin them on the spot.
Viralwoot has a Smart Engine feature that can decide for you what the ideal scheduling pattern would be for your particular audience. The platform also lets you connect an RSS feed in order to make the automation process more time-efficient. Moreover, you can run several Pinterest accounts with different time zones from inside the same Viralwoot account.
That would benefit you, of course, if you are targeting audiences from multiple countries. Because it allows users to pin so much content on so wide a range of audiences, Viralwoot constantly provides you with an overview of your scheduled content, whether on a weekly or a monthly basis.
Managing pins and boards and editing them separately or in bulk is quite simple through Viralwoot. Old pins can be scheduled for reposting just like the new ones, too. All of these capabilities require that you be able to keep track of their effectiveness. That's why Viralwoot provides an influence score that takes into account multiple dimensions and factors and brings them all into one number that you can make sense out of. You will be able to look up the individual factors that made up the influence score anyhow.
You can track all of the basic data through your dashboard in spreadsheet format, and you will also be updated on the key social metrics like follow ratio, comments, average repins, etc.
Last and perhaps most importantly, Viralwoot is smart enough to issue recommendations on when it's best to pin and what colors are to be used based on the insights gathered. It also helps you avoid being flagged as spam and takes care of the content's SEO for you.
5. Coschedule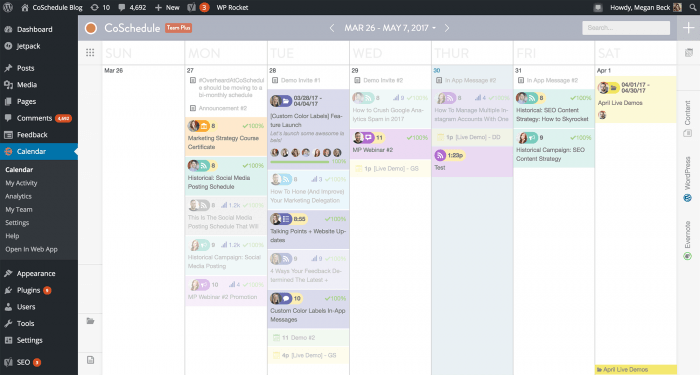 Coschedule is aimed at letting you bring all of your social media management tools and platforms into one place with a unified dashboard. It enables you to do so not only with social media posts but also with emails and events. The schedule displays the content in a way that is very organized, thus enabling you to have an overview of it without confusion.
Scheduling through Coschedule takes no more than a few drags and drops. The Coschedule plugin facilitates that for Twitter, Facebook, LinkedIn, Instagram, Pinterest, RSS, and many other networks and platforms.
The schedule items can also be labeled quite easily, which helps determine the function/category of each piece of content on the schedule. On top of that, you can monitor your team's performance through the schedule metrics. Fortunately, though, with all that data stuffed into one calendar, CoSchedule's search features are advanced enough to help you easily filter it.
The Best Time Scheduling feature will help you schedule content for the time slots where it is expected to garner the highest level of engagement. There is another smart feature called ReQueue that automatically fills in the gaps in the schedule using already-posted content that would work in these particular slots.
ReQueue performs other functions as well, which include spam-detection and filtering, social automation, and most importantly, it enables you to divide your audience into custom groups for more effective promotion.
You can schedule countless posts at a time very easily, and with CoSchedule's ultra-robust analytics you will be able to monitor the effectiveness of your schedule as it executes. The reports generated by CoSchedule include graphs that will help you present the soundness of your strategy.
What's up ladies and dudes! Great to finally meet you, and I hope you enjoyed this post.  Sign up for my #1 recommended training course and learn how to start your business for FREE!