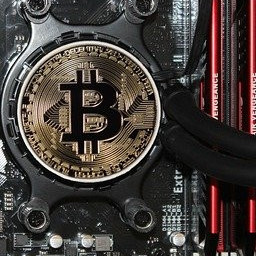 The best blockchain affiliate programmes are transparent and secure.
Blockchain is a list of records, or blocks, that are usually associated with bitcoin or another cryptocurrency and are linked using cryptography. Experts can view the blockchain to see patterns and get a feel for what's going on in the cryptocurrency world.
Affiliate Links Without Traffic Won't Earn You A Dime
See how the pros are cashing in with simple affiliate websites using my recommended affiliate training.
Includes, live help, tech support, and step by step lessons!
It's tricky, but it can be lucrative, too. Blockchain companies now offer security solutions for blockchain or build the blockchain networks and then support and help to operate them. Cryptocurrency is only about a decade old, but there are new currency and blockchain companies emerging all the time.
For affiliate marketers, finding a good blockchain technology partner is one way to break into a fairly new market with a potential for super growth. If you're interested, read on to learn about these top 10 blockchain affiliate programmes, and how they can impact your affiliate marketing efforts.
Blockchain Affiliate Programmes
1. Hoqu
Hoqu provides a unified account so affiliates can reach several networks without a lot of hassle.
Commission: 0.5%
Cookies: Unknown
Hoqu is advertised as the world's first decentralised marketing platform, where affiliates and merchants can interact directly without needing a broker. The Smart contracts used on this platform save merchants about 45% of their advertising budget.
Affiliates can join this programme for free, which is a big deal in the blockchain and cryptocurrency industry. Hoqu also offers a unified account, so affiliates can reach several networks without a lot of hassle. There's also a built-in tracker to help affiliates monitor how well their campaigns are doing.
Reasons To Promote Hoqu: The decentralised approach to blockchain creates more efficiency for both affiliates and the merchants they work with.
2. Affiliate Coin
Affiliate Coin has a 98% efficiency rate.
Commission: Unlisted
Cookie: Unknown
Affiliate Coin is a blockchain-based affiliate programme that, like Hoqu, is decentralised. This company also uses Smart Contracts and has a potential turnover of $200 billion a year. The cryptocurrency used on this platform is Ethereum. Commissions are deposited to an Ethereum wallet.
Affiliate Coin has a 98% efficiency. The smart contracts help to decrease fraud, make payments transparent, and provide better customer experience. This company also uses Smart Matches to bring together merchants and marketers that will be a good fit for each other. It also expands traditional affiliate potential from pay-per-click and pay-per-sale to pay-per-action, as well.
Reasons To Promote Affiliate Coin: The Smart Matches system could help affiliates find solid partners without a lot of hassle. The expansion to a pay-per-action model could bump up affiliate earnings, too.
3. Changelly
With the Changelly widget, customers can make trades immediately, and affiliates make money without sending their visitors away from their website.
Commission: 50%
Cookie: 90 days
Changelly is an instant exchange program that offers affiliates two ways to make money. The first way is to place the Changelly widget on your website. When people click and make an exchange, such as from Bitcoin to Ethereum, you get 50% of the profit. The second way is an exchange button with a referral link.
One nice thing about Changelly is that it works with more than 140 different types of crypto-currencies. Transactions take from 5 to 30 minutes and cost a flat rate fee of 0.5%.
Reasons To Promote Changelly: The 50% commission and 90-day cookie length are both decent. The widget idea is also great because customers can make exchanges right away without having to go Changelly's external website.
4. Attrace
When a customer uses your affiliate link with Attrace, the payout is immediate.
Commission: Unlisted
Cookie: Unknown
Attrace is a blockchain company with a customised blockchain that allows direct interaction between affiliates and the merchants they partner with. The commission rate is a float $0.5%. Unlike many affiliate programmes, the payout with Attrace is immediate.
Because of the open nature of this company and its smart contracts, it's easier for affiliates to join the programme, and the high network fees are gone.
This company is still evolving. The first release of the publisher and merchant dashboard occurred in June 2019, and the full operational Attrace network is scheduled to go online in August 2019.
Reasons To Promote Attrace: Commissions from Attrace are paid out immediately in normal currency.
5. Coinbase
Coinbase works to make trading cryptocurrency an easy and trustworthy experience.
Commission: 50% for three months
Cookie: Unlisted
Coinbase helps customers trade cryptocurrencies like Bitcoin, Litecoin, Ethereum, and XPR. The system is set up to help promote cryptocurrency as the new financial system and get people who haven't yet used or traded cryptocurrency to give it a try.
Affiliates earn money when a new customer starts trading with Coinbase through affiliate promotions. The commission rate is 50% of the customer's trading fees for the first three months.
Reasons To Promote Coinbase: Coinbase works to make trading cryptocurrency easy even for beginners. This could help to convert some customers who might otherwise be a bit jittery about trying a new financial platform.
6. Bitcomo
Bitcomo has 60 million unique visitors daily.
URL:
Commission: Unlisted
Cookie: Unknown
Bitcomo uses open source block chain so that all data is statistically sound and transparent to everyone using the system. This cuts back on fraud, which was an issue in this industry in the past.
With Bitcomo, affiliates are paid instantly whenever their promotions bring in new customers. Payments come as BM Coin payments, which is an internal network currency.
Bitcomo works with around 150,000 affiliates and webmasters, experiences more than 60,000 conversions each day, and has 60 million unique visitors daily.
Reasons To Promote Bitcomo: Collectively, the Bitcomo team speaks more than 40 languages, so getting support for customers all around the world is likely. This could result in even higher conversions across the globe. However, it's difficult to tell how much you could make as an affiliate, both because the commission rate isn't listed and because payments come as cryptocurrency.
7. Local Bitcoins
Local Bitcoins is easy to work with and relatively easy to understand.
Commission: 20%
Cookie: 3 months
Local Bitcoins is one of the more up-front, easier-to-understand blockchain companies that offer affiliate programmes. With Local Bitcoin, it's clear from the beginning that your payments will come as Bitcoin deposits, and that affiliates get paid daily.
This company is a person-to-person trading site where users can post the bitcoins they have for trade and what their exchange rate and payment methods will be. Your affiliate earnings start when customers sign up through your affiliate link and make trades. You get 20% commission on the value of those trades, every time they trade, for a year.
Local Bitcoins is another decentralised blockchain company, so the deals are fast and transparent.
Reasons To Promote Local Bitcoins: This company is easy to work with and easier to understand than some of the other blockchain companies. It's also nice to get a feel for how much you can make, even if it's in Bitcoin, and the 20% commission is a nice rate.
8. RefToken
RefTokens are part of the Ethereum blockchain.
RefToken specialises in connecting app developers who use blockchains with marketers who can help their ideas spread across the globe. As another decentralised blockchain company, this business also uses smart contracts that allow merchants and affiliate marketers to make deals without a middleman.
RefTokens are built on the Ethereum blockchain and traded under the name REF. In 2018, 1 million REF were in circulation.
Reasons To Promote RefToken: Because RefToken is part of the Ethereum blockchain, this could be a good option for new customers who like the idea of Ethereum better than other cryptocurrencies. However, this is another company where it's difficult to tell how much you could make as an affiliate.
9. Xcoins
Xcoins is notable because of its lifetime cookie.
Commission: 50%
Cookie: Lifetime
Xcoins is a peer-to-peer Bitcoin trading site that has a high rate of repeat customers. 70% of new customers who trade come back to the site to trade again the next day.
This company offers a commission of 50% on all transaction fees, which are around 5% of the total trade rather than the 1% that's offered by many other companies.
Reasons To Promote Xcoins: Besides the high commission rates, Xcoins is notable because of its lifetime cookie. This means that any time a customer uses the site, no matter how many times they've used it or how long it's been, the referring affiliate will still earn commissions.
10. Coinmama
Coinmama has a high spending limit, so customers can buy a lot of Bitcoin at once.
Commission: 15%
Cookie: Lifetime
With Coinmama, affiliates get paid in Bitcoin every month. Because the commissions are unlimited, affiliates continue to make money from repeat customers. The more customers they refer, the more they can earn, which means monthly affiliate earnings can grow significantly over time.
Coinmama is a worldwide company serving around 190 different countries and 1.5 million people. There's a high spending limit with this company, so customers can buy a lot of Bitcoin at once—and this could translate to more affiliate earnings.
Reasons To Promote Coinmama: The lifetime cookie length is one of the biggest perks, and the 15% commission is nice, too.
Affiliate Website Ideas
Now that you've read about the top 10 blockchain affiliate programmes, it is up to you to see how you can use them in your affiliate marketing efforts?
Many of these companies pay out in cryptocurrency, so finding a way to fit them in with your normal niche market websites could be a little tricky at first, and it could involve promoting pairs of items together. Here are a few ideas to get you started.
If you have a gaming website, you could promote online gambling and gaming sites that allow users to pay in cryptocurrency. You could also promote websites like Coinmama or Xcoins to allow customers to get more Bitcoin or other currency quickly. This has the added benefit of transferring your gaming referrals to another one of your promotion ideas, so you can make money from a single customer on multiple websites.
If you have a niche market website that focuses on finding the best gifts for people you care about you could promote websites like egifter.com that allow customers to purchase gift cards with cryptocurrency. Then you could also promote websites like Changelly to allow customers to buy more Bitcoin on the spot if they need it.
Young people are very interested in using crypto as an investment vehicle, or even as a retirement hedge. A niche market website that focuses on helping women ages 18-30 learn to invest wisely in their futures could promote companies like Coinbase that are easy to work with and understand. Books and videos by financial gurus like Suze Orman could be featured here, as well as promotions for retirement systems and loan companies.
Boost Your Affiliate Earnings
These 10 affiliate programmes are just the beginning of what's possible. There are literally hundreds of ways to earn affiliate commissions with your website, including product reviews, top 10 lists, how-to guides, and more.
But what about traffic and conversions? How do you make sure your affiliate links get clicked?
So… are you ready to have YOUR VERY OWN WordPress website built and launched in under 10 minutes?
It's easy at Wealthy Affiliate. Take a look at this video and you will find out exactly how to build a FREE Affiliate website on the Wealthy Affiliate platform, easily and quickly. This is where you can begin the process right NOW . . .
Wealthy Affiliate Training Video – Create a FREE Website
As you can see, it is simple and FREE to get started today.
Join Me. Join Our Community.
There is No obligation. No credit cards. It is Simple and FREE and can be done in 3 simple steps:
STEP 1: Start building your FREE website at SiteRubix.com.
STEP 2: Create your account for $0.
STEP 3: Access your 2 FREE Websites, an Entire Training Platform and a global community of support.
The decision to join is in your hands but I can honestly say that you will not regret it and you won't look back once you have joined. It's a total no brainer. Once you join, it really is as easy as 1-2-3 and you will have your website built and launched ready to learn, earn and grow.
Help Whenever You Need It
Once you join through the Wealthy Affiliate platform, you will be amazed at the support you have within the platform. It really is second to none. I can say with absolute certainty and from personal experience that this is the best training and mentorship platform for building a successful business online, hands down.
I look forward to welcoming you and to supporting your success!
Please feel free to leave any comments below.