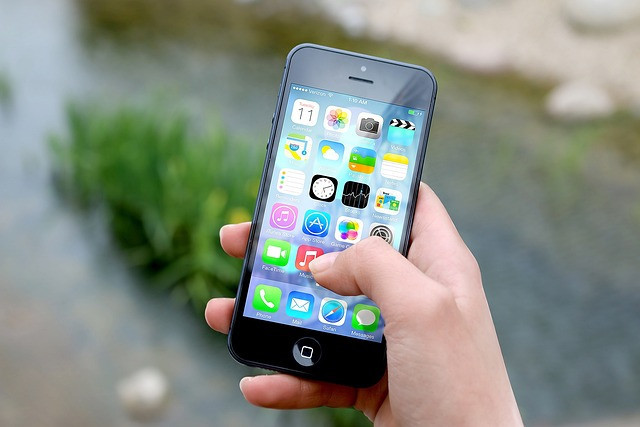 —>>Includes, live help, tech support, and step by step lessons!
An average cell phone bill costs around $80 per month, which can add up to more than $57,000 over 60 years. The cell phones themselves aren't cheap, either. An iPhone 11 can cost as much as $1,149, and a Samsung Galaxy S20 costs around $1,400. Accessories such as cases, mounts, and Bluetooth speakers can add up, too.
The cell phone industry is a lucrative business with room for affiliate marketers who can link customers to the products they want through the best cell phone affiliate programs. If you're interested in making money from cell phone-related sales, read through this list of the top 10 cell phone affiliate programs. As you read, think of some ways you can use these programs with your affiliate websites. I'll share some of my own ideas at the end of this article.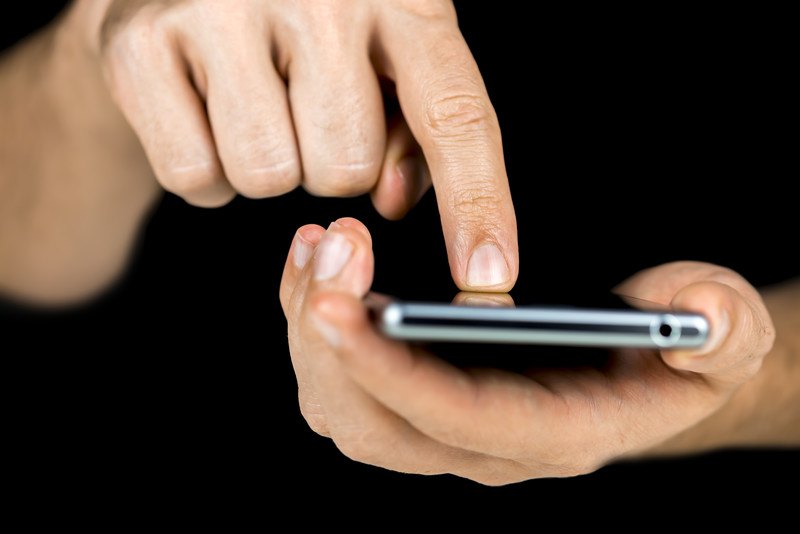 Cell Phone Affiliate Programs
Xfinity Mobile
Gazelle
Best Cellular
Cellular Abroad
Sprint
Mobile Phones Direct
Mint Mobile
Case Station
Great Call
Otterbox
1. Xfinity Mobile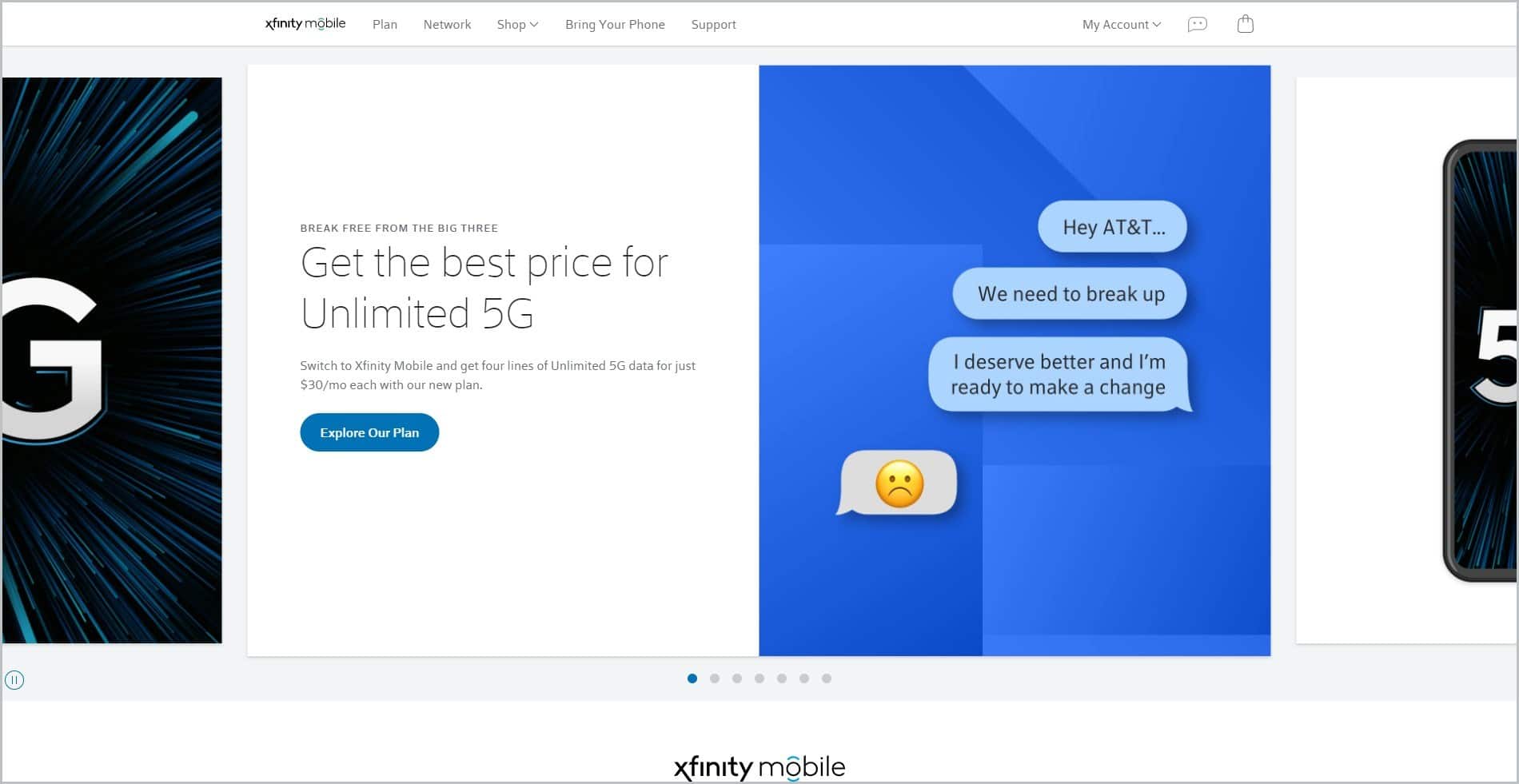 Commission: up to $135
Cookie: 30 days
Xfinity Mobile offers a reliable 5G LTE network available to Xfinity Internet customers – Unlimited or By the Gig data options. These allow users to switch between them once every billing cycle to see which one works best for them. Their 5G LTE network can be access to 18 million hotspots nationwide.
Their Unlimited 5G which costs $30/mo per line when you get four lines with their new plan pricing will give you new ways to save. You are always connected with their powerful nationwide 5G network and millions of secure WiFi hotspots included at no extra cost.
Xfinity Mobile runs its affiliate program via FlexOffers.
Why You Should Promote Xfinity Mobile: You can save more with their multi-line pricing, match your specific needs, and enjoy the freedom to switch between By the Gig or Unlimited.
2. Gazelle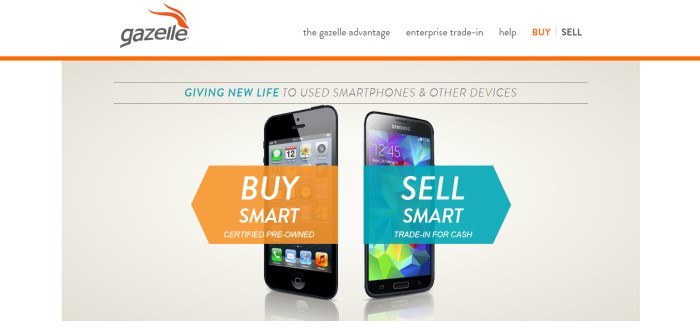 Commission: 5%-10%
Cookie: 60 days
Gazelle is a technology store that sells pre-owned electronics. This company specializes in several brands of mobile devices, including iPhones, Samsung phones, Google phones, iPads, iPods, and MacBooks.
Gazelle started out as an online trade-in service that allows customers to trade in used phones the same way they'd trade in a used car. Affiliates can earn a 10% commission on all trade-ins. They earn a 5% commission on sales of pre-owned items.
Affiliate marketers receive a monthly newsletter that contains marketing materials, including codes, content, and special promotions.
Why You Should Promote Gazelle: The ability to trade in mobile phones for upgraded versions could appeal to customers because it could save them money on new devices. Being able to buy pre-owned devices also helps cut back on consumerism. The cookie length is great, too.
3. Best Cellular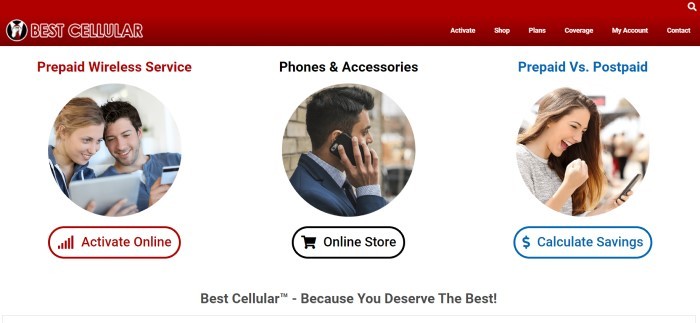 Commission: 10%
Cookie: 89 days
Best Cellular offers a prepaid wireless service as well as cell phone accessories, signal boosters, and prepaid plans. Customers can shop in the online store, activate their prepaid plans online, or compare the advantages and disadvantages of pre-paid and post-paid plans.
This company's affiliate program works best with white-hat affiliate SEO practices, and affiliates have access to training articles to help them make the most out of the program. Affiliates have a payout threshold of $10 per month, and they must disclose their affiliate links.
Why You Should Promote Best Cellular: The website has great information for helping customers compare pre-paid and post-paid cellular plans and prices. The service is affordable, too.
4. Cellular Abroad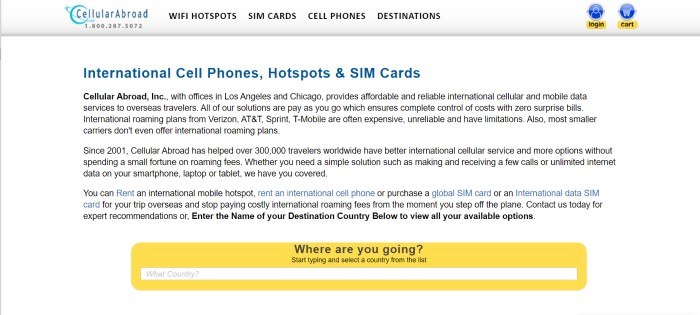 Commission: 20%
Cookie: Unknown
Cellular Abroad offers cell phone products and services for people who are traveling internationally. Affiliates earn commissions on all products, including hot spots, sim cards, talk time vouchers, and cell phones. Customers can shop for phones to rent or to buy, as well as for products that can help them in specific destinations.
All of the solutions offered by Cellular Abroad are pay-as-you-go, so customers can pay for the services that meet their needs without worrying about surprise bills later.
Why You Should Promote Cellular Abroad: This company saves customers a lot of money on roaming charges, which could appeal to a great number of travelers. The ability to rent or purchase equipment is another plus. For affiliate marketers, the 20% commission rate is great, too.
5. Sprint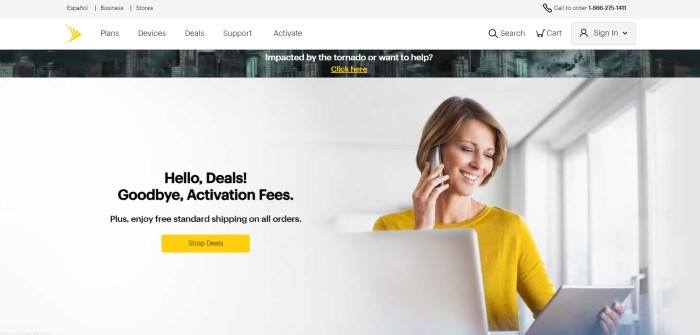 Commission: $25-80
Cookie: 30 days
Sprint is one of the most well-known cellular providers in the United States.
Affiliates can make money with Sprint when they refer customers who open up a new line of services. The commission rate is $25 for customers who bring their own phones and $80 for customers who purchase or lease a phone through Sprint.
Affiliates are given marketing materials such as banner ads, text links, logos, and web-exclusive offers. They also get technical support through Partnerize, which administers Sprint's affiliate program.
One great thing about this company is that it donates to the 1Million Project Foundation, which works to give mobile devices and high-speed internet access to high school students without internet access at home. Sprint also offers discounts to men and women in the armed force and donates to other charitable causes.
Why You Should Promote Sprint: Because it's a well-known brand, customers could feel comfortable clicking through affiliate links to make a purchase with Sprint. The charitable donations and support for military personnel could also be converting factors for some shoppers.
6. Mobile Phones Direct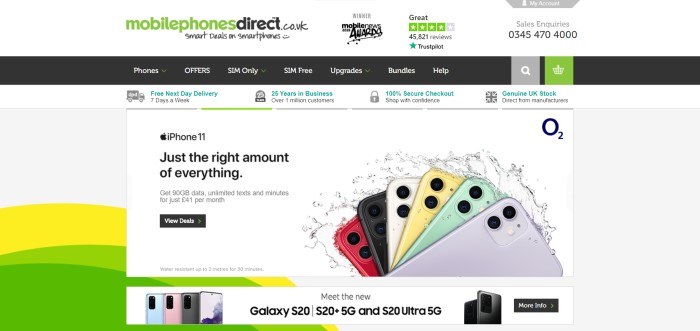 Commission: 5% on accessory sales, £30 for contract sales and upgrades
Cookie: 45 days
Mobile Phones Direct is a cell phone affiliate program offered through Webgains, which is a UK-based affiliate company. With Mobile Phones Direct, affiliate marketers help promote mobile phone contracts, PAYG handsets and accessories, SIM free phones, and more.
This company can offer contracts with or without free gifts, and it also provides customer savings over the major cell phone networks. Customers can also get free next-day delivery.
Besides the 5% commission on accessory sales and £30 for contracts, Mobile Phones Direct also offers a commission of £10 on SIM only sales and £20 on SIM free sales.
Why You Should Promote Mobile Phones Direct: For affiliate marketers, the commission rate and cookie length are nice. Customers could enjoy affordable prices and free next-day delivery, too. The fact that it's based in the UK means affiliates might have to target their marketing geographically with this program.
7. Mint Mobile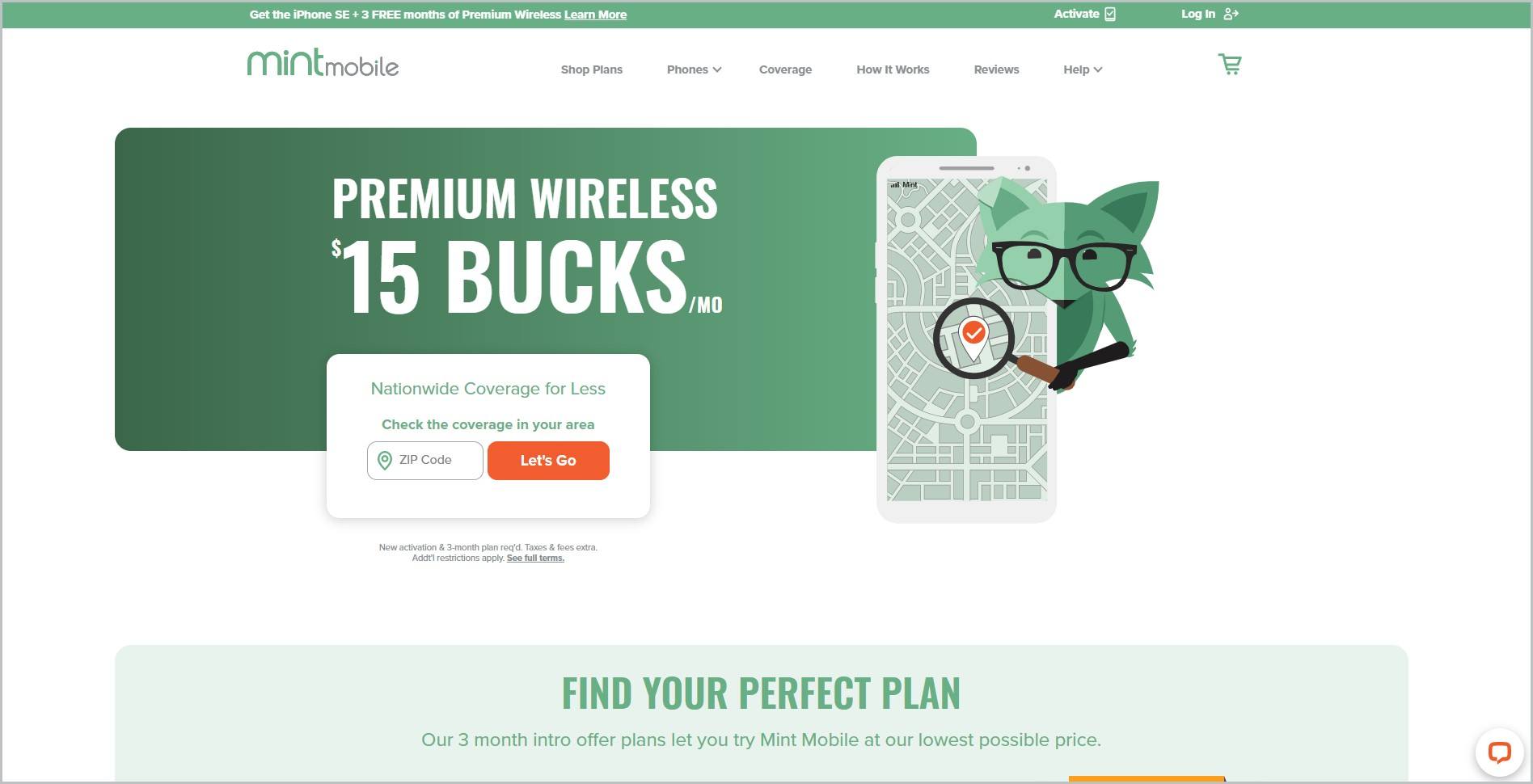 Commission: $20
Cookie: Unknown
Mint Mobile offers an affordable, easy, and online way to get premium and crazy-fast 4G LTE service – for as little as $15 per month. There are no retail stores and no inflated prices, just huge, direct-to-you savings on unlimited nationwide talk and text.
Their plans come in 3, 6, and 12-month options, there are also no contracts and no overages. Mint Mobile believes that there is no one-size-fits-all, so one can choose their own data.
They have partnered with Radius Impact to run their affiliate program where one can earn a commission for every new Mint Mobile customer referred to their website who purchased a plan.
Why You Should Promote Mint Mobile: It's great to offer alternatives and quit overpaying for wireless and start saving on phone bills instead. The company also has the backing of Ryan Reynolds.
8. Case Station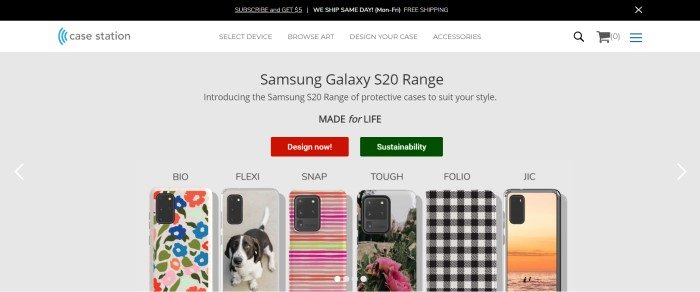 Commission: Unlisted
Cookie: Unknown
Case Station is a cell phone case company that specializes in custom-designed cases. Customers can browse through existing art or upload their own designs to get the cases they want. Case Station also sells accessories such as power chargers, charging cables, and screen protectors.
One nice thing about this company is that it provides free shipping, and orders placed Monday through Friday are shipped the same day the order is placed. Customers also get $5 when they sign up for this company's email list.
Affiliates can link directly to the products they want to promote.
Why You Should Promote Case Station: The artistic nature of these cases could appeal to some shoppers, and the ability to upload your own art to use could be a converting factor for artists. This company doesn't list its commission rate or cookie length, though, so there's no quick way to get a feel for how much you could make with Case Station.
9. Great Call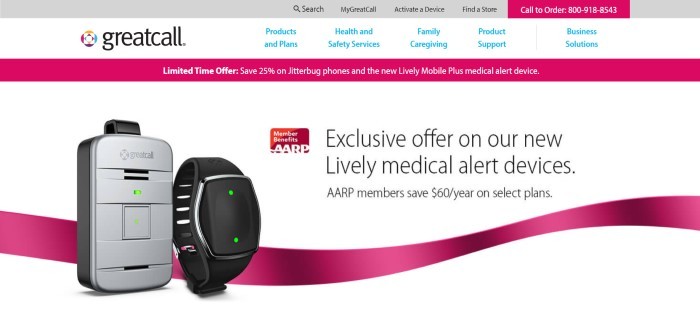 Commission: $75
Cookie: 45 days
Great Call caters to the aging crowd in the United States with cell phones for seniors and a mobile medical alert service. Cell phone products include the Jitterbug Flip, Jitterbug Smart2, Lively™ Mobile Plus, and Lively™ Wearable 2. Depending on the item, these products contain features like brain games, 5Star Urgent Response, and fall detection. Customers can compare devices and phones on the website.
The affiliate program is run through CJ Affiliate. Affiliates are provided with marketing materials and reporting tools.
Why You Should Promote Great Call: The phones are designed for the needs of seniors, which could fit well with some targeted affiliate websites. The commission rate and cookie length are great, too.
10. Otterbox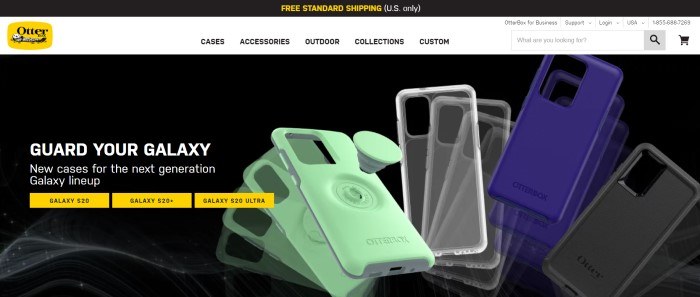 Commission: 10%
Cookie: 30 days
Otterbox sells cell phone cases and accessories that are designed to protect expensive technology investments. This company offers cases for the most well-known smartphones, including brands such as iPhone, Blackberry, Palm, Nokia, Samsung, and Motorola. Customers can browse through design collections such as Disney or Star Wars to find products they really like.
One interesting thing about this company is that it also has a section for outdoor adventures, where it sells coolers and water bottles.
Orders of $70 or more get free shipping in the United States. Otterbox runs its affiliate program through FlexOffers.
Why You Should Promote Otterbox: The fun case collections could help convert some shoppers, and the outdoors section could bump up shopping cart totals from some customers.
Affiliate Website Ideas
Now that you've read about the top 10 cell phone affiliate programs, you can decide what niches to target with your affiliate marketing strategy. For example, if you're into licensed characters like Marvel and Star Wars, you could promote products like Otterbox collection cases or licensed apparel and novelty gifts. You could also feature programs for movies, music, video games, and the technology needed to play them, such as gaming consoles, stereo systems, and laptop computers.
Another idea is to feature safety products for children and seniors. Programs like Great Call could be promoted on a website like this one, along with smartphone watches or necklaces for children. You could also include programs for developing and maintaining cognitive health, dietary supplements, and furniture with rounded edges.
One final idea is to focus on living within a tight budget. Programs that can save customers money, such as Gazelle, could be promoted here. You could also feature budgeting software, payday loans, and online consignment shops.
Boost Your Affiliate Earnings
These 10 affiliate programs are just the beginning of what's possible. There are hundreds of ways to earn affiliate commissions with your website, including product reviews, top 10 lists, how-to guides, and more
But what about traffic and conversions? How do you make sure your affiliate links get clicked?
I used the affiliate training here to turn my brand new website into a six-figure income generator in less than two years. Build a business, not just a pocket-money side project!
What's up ladies and dudes! Great to finally meet you, and I hope you enjoyed this post. I started my first online business in 2010 promoting computer software and now I help newbies start their own businesses. Sign up for my #1 recommended training course and learn how to start your business for FREE!
I've been building profitable affiliate blogs for more than a decade, and built six-figure blogs in a wide variety of niches, including computer software, self help, and home & garden topics. I do things a bit differently, and I hope you like my perspective and my style of teaching.