Approximately 24 Million people play golf in the United Stated each year. It is a highly competitive game that requires a lot of equipment to get started. Which means there are a lot of people getting new clubs or replacing old equipment each year.
However, that's not where the fun starts. Consider what types of people play golf, and what their goals are. For example, a person who wants to pay golf to get better is different from a person who wants to play golf to relax. A young girl playing golf has a different set of product needs versus an older man.
See how the pros are cashing in with simple affiliate websites using my recommended affiliate training.
Includes, live help, tech support, and step by step lessons!
Whatever niche you go with, you should check out these 10 great golf affiliate programmes to help monetise your website.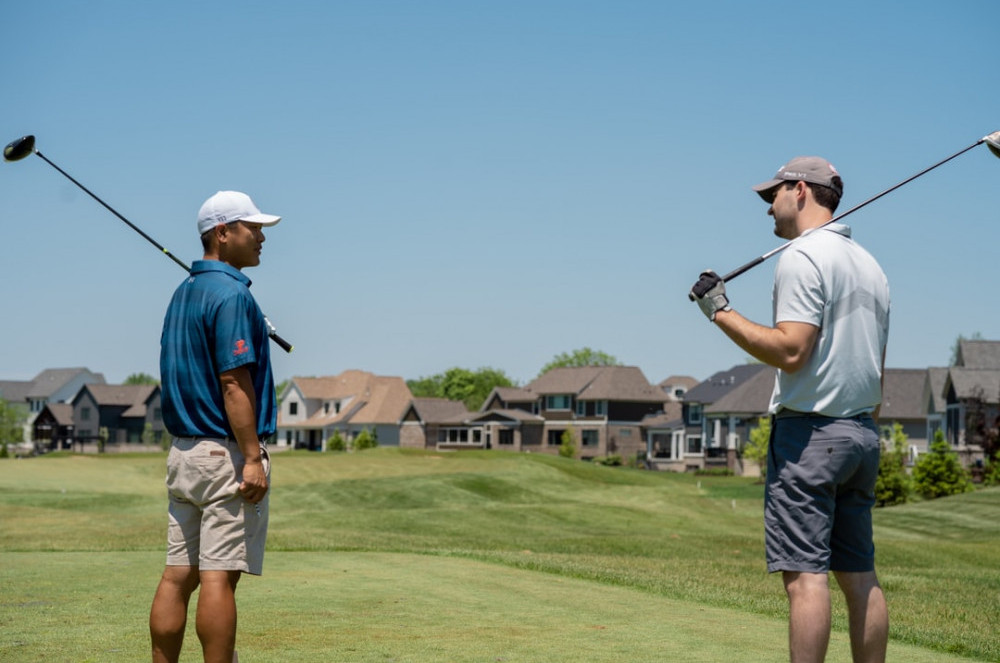 Golf Affiliate Programmes
Golf Outlets USA
Golf Outlets USA sells golf equipment for less than any other vendor online. They have very loyal customers because of it. Some of them even buy from them in bulk and resell the items for a profit. They have an excellent conversion ratio because when most people compare their prices to the competition they end up buying from Golf Outlets USA.
Affiliates receive 10% commissions on all sale from links on your site. The average order is $100 so you would earn $10 from that sale. The cookie life is 30 days. Golf Outlets USA provide the links that you can cut-and-paste to use on your website. You sign up for their affiliate programme with Commission Junction or Affiliate Future.
Reasons To Promote Golf Outlets USA: Loyal customers, discount prices and a great commission rate for affiliates to profit from.
Bonus: Golf Outlets USA prices are so low that people buy things in bulk to resell them! Plus they offer a very high 10% commissions for their affiliates
Austad's Golf
Austad's Golf is a family-owned golf retailer that has been in business since 1963. They are an authorised retailer for all the top golf brands. They are committed to providing their customers with the best deals and will match any local or prominent national competitor's price for an identical item in stock or refund you the difference within 15 days of your purchase. Austad's Golf also lets you return products even if you played it with their 20/20 Playability Guarantee. You have 20 days to return clubs if they don't perform to your liking for store credit less a 20% restocking fee.
Affiliates receive a base 7.5% commission with potential of up to 9% for sales over $5,000. The average order amount is $145 and the cookie life is 60 days. Austad's Golf has exclusive promotions just for their affiliates and variety of promotional tools, banners, and text links for you to use to market their website.
Reasons To Promote Austad's Golf: Family owned company, price match and 20/20 Playability Guarantee, good commission rates and long cookie life for affiliate to benefit from.
Take Note: Austad's Golf's high average order amount combined with its generous commission rates make it worth checking out.
Rain or Shine Golf
Rain or Shine Golf is America's #1 indoor golf store. They want golfers to enjoy the game all year long with their large selection of indoor putting greens, hitting mats, golf nets, golf simulators and more. They have strategic relationships with some of the best brands to offer the lowest prices you will find anywhere and they back that up with their price match guarantee.
Their affiliate programme is a great way for bloggers, publications, or YouTube influencers to earn money promoting golf products. Earn 5-10% commissions based on monthly sales amounts. The cookie life is 30 days. Affiliate are payed out via PayPal on the 1st of every month with a $20 minimum payout amount.
Reasons To Promote Rain or Shine Golf: Lowest prices anywhere, good commission rates and month long cookie life.
Bonus: Rain or Shine Golf offers indoor golf solutions so you can golf all year round. Affiliates receive 5-10% which can mean very high payouts for items like golf simulators and golf nets and mats.
Swing Man Golf
Swing Man Golf's Swing Speed Training Programmes are some of the best in the world. The average member swing speed gain is 12-16 mph (30-40 yards) in the first 30 days. They receive outstanding feedback from their customers for this one of a kind product. The programme has less than 1% return rate and conversions rate of over 5%. They also have other very successful golf training programmes and products.
Affiliate receive an incredibly high 75% commission on the Swing Speed Programme. The commission rates vary on their other products. The cookie life is 30 days. Swing Man Golf used Infusionsoft to manage their affiliate programme and offer direct deposit, affiliate payouts, real-time reporting and much more.
Reasons To Promote Swing Man Golf: Insane commission rate, incredibly low return rate and very high customer satisfaction.
Take Note: While Swing Man Golf's commission rate is extremely high, they only sell golf instructional programmes and products. It's probably best to use this affiliate programme along with a few other programs that sell golf equipment and gear to maximum your earning potential.
The Golf Warehouse
The Golf Warehouse took its first order in April 1998. They were one of the world's first online golf retailers and have become Golf's #1 online superstore. They have over 230,000 square feet of warehouse space for their golf related products. TGW.com offers over 40,000 items and great customer service and support to all of their customers.
Affiliates receive 6.5% commission on all sales. The cookie duration is 30 days. Affiliates have access to the daily product catalogue and marketing materials to help them promote TGW.com. You can sign up for their affiliate programme through Viglink or Commission Junction. However CJ only offers a 3% commission rate on sales.
Reasons To Promote The Golf Warehouse: Golf's #1 online superstore, generous commission and a month long cookie life.
Take Note: The Golf Warehouse was one of the first online stores and is still well-known and respected today. They offer a great affiliate programme, but have a closed PPC policy. So make sure to read through their terms and condition to avoid deactivation.
TaylorMade
TaylorMade is one of the top brands in golf. They have been committed to creating the best performing golf products in the world since 1979. TaylorMade makes products to help players of all skill level improve their golf game.
Affiliates receive very good retail commissions starting at 6%. The cookie duration is 30 day. TaylorMade uses Commission Junction to run their affiliate programme. To sign up, search for them in the Advertiser section. When you sign up, you also receive access to their Canadian programme. You can also join their sister brands affiliate programmes: Adidas Golf, Ashworth, and Adams.
Reasons To Promote TaylorMade: Top brand in golf, long cookie life and generous commission rates for affiliates to benefit from.
TaylorMade is a top brand in golf that is always coming up with new products to help players improve their game. You can also join their sister brands affiliate programmes to market more top golf products.
Golf18Network
Golf18Network is one of the golf industry's most profitable affiliate programmes. They offer the best prices for tee times that can be found anywhere online. Every tee time you book with Golf18Network gets you closer to free golf. For example, book 5 tee times this year and get a $15 credit for you next round of golf.
Affiliates can earn up to 6% of net revenue per order with a cookie duration of 21 days. Golf18Network uses Commission Junction to manage their affiliate programme. They have eye-catching banners and offer special promotions to help motivate your viewers to try out Golf18Network. You can also use their custom tee time booking widget on your site so visitors won't have to leave your site to book a tee time.
Reasons To Promote Golf18Network: Very profitable affiliate programme, generous commission rates and a custom booking widget for affiliates to take advantage of.
Bonus: Visitors don't even have to leave your site to book a tee time and you earn a great commission every time they do.
TrendyGolf
TrendyGolf carries the latest golf fashion clothing from around the world. Some of their brands include Hugo Boss, Puma Golf, Ralph Lauren RLX, Polo Golf, Lacoste, and many more. They are the #1 premier golf fashion apparel online retailer in the US.
Affiliates receive a competitive commission of 6%. The average order value is over $250 with an average conversion rate of 2%. The cookie life is 30 days. You can sign up for their affiliate programme by searching for them in the Advertisers section on Commission Junction.
Reasons To Promote TrendyGolf: Top golf fashion brands, very high average order value and a competitive commission rate for affiliates to profit from.
Take Note: TrendyGolf offers their affiliate great marketing tools and support through Commission Junction. It is important to note though that they have some SEO marketing restrictions. So be sure to read through their rules before you start promoting their site.
Golf Shoes Plus
Golf Shoes Plus offers their customers a specialised viewing of each golf shoe manufacturer's complete catalog of golf shoes and other golf accessories. While they do not stock every size golf shoe provided in the catalogue, they do maintain a golf shoe inventory of over 12,000 pairs in their retail store and warehouse. They also have clearance at up to 70% off retail.
Affiliates receive 5% of sales with a cookie duration of 10 days. You can sign up for their affiliate programme on Commission Junction. Affiliates receive access to all their marketing materials on CJ along with support from their staff.
Reasons To Promote Golf Shoes Plus: Extremely large selection of golf shoes, generous commissions and a good cookie life.
Take Note: Golf Shoe Plus has a huge selection of golf shoes for you to promote with a generous 5% commission amount. While they do carry other golf products, it's probably best to join a few other programmes that have a larger selection of golf clubs and accessories as well.
Fairway Golf USA
For over 25 years Fairway Golf USA has been selling the finest in premium golf clubs, and accessories, and apparel. They specialise in custom-made club and Japanese imported golf clubs. Some of the top brands they carry include Titleist, Scotty Cameron, Vokey, Callaway, Mizuno and TaylorMade. They are the leading seller of hard to find Japanese brands like Fujikura, Miura, and EPON. Fairway Golf USA is known for their low pricing and expertise in the Japanese golf market.
Affiliates receive 4-10% commissions. You get the full 10% for the first 60 days after you sign up. The cookie duration is 60 days. Affiliates get access to their datafeed with over 95,000 SKU's you can promote plus a large selection of banners and text links. Fairway Golf USA runs a number of promotions throughout the year to help increase your commissions. You also get a $5 bonus for each sale over $200.
Reasons To Promote Fairway Golf USA: Bonus for sales over $200, 10% commissions for the first 60 days and a huge database for affiliates to promote.
Fairway Golf USA offers their affiliates great promotions to help them increase their commission and rewards them when they have high value sales over $200.
Affiliate Website Ideas
Now that you've had time to check out these top 10 golf affiliate programmes, it's time to find a golf niche to focus on. To stand out against the competition is easier to focus on a highly searched but more specific niche like discount golf clubs. Golf Outlets USA would be a great affiliate programme to use because of their incredibly low prices and loyal customer base. Affiliates get 10% of sales for 30 days.
Another niche idea is golf shoes. Golf Shoes Plus has an impressive selection of over 12,000 pairs of golf shoes and offers their affiliates 5% commissions. For high commissions but a more limit selection, you could also promote Golf Outlets USA with a 10% commission rate.
Golf training aids are also a very good niche for people looking to improve their golf game. Swing Man Golf's Swing Speed Training Programmes offer affiliates an incredible 75% commission on sales. Along with golf training aids, you could focus on indoor golf training aids with Rain or Shine Golf. They offer 5-10% commission rates.
Boost Your Affiliate Earnings
These 10 affiliate programmes are just the beginning of what's possible. There are literally hundreds of ways to earn affiliate commissions with your website, including product reviews, top 10 lists, how-to guides, and more
But what about traffic and conversions? How do you make sure your affiliate links get clicked?
So… are you ready to have YOUR VERY OWN WordPress website built and launched in under 10 minutes?
It's easy at Wealthy Affiliate. Take a look at this video and you will find out exactly how to build a FREE Affiliate website on the Wealthy Affiliate platform, easily and quickly. This is where you can begin the process right NOW . . .
Wealthy Affiliate Training Video – Create a FREE Website
As you can see, it is simple and FREE to get started today.
Join Me. Join Our Community.
There is No obligation. No credit cards. It is Simple and FREE and can be done in 3 simple steps:
The decision to join is in your hands but I can honestly say that you will not regret it and you won't look back once you have joined. It's a total no brainer. Once you join, it really is as easy as 1-2-3 and you will have your website built and launched ready to learn, earn and grow.
Help Whenever You Need It
Once you join through the Wealthy Affiliate platform, you will be amazed at the support you have within the platform. It really is second to none. I can say with absolute certainty and from personal experience that this is the best training and mentorship platform for building a successful business online, hands down.
I look forward to welcoming you and to supporting your success!
Please feel free to leave any comments below.