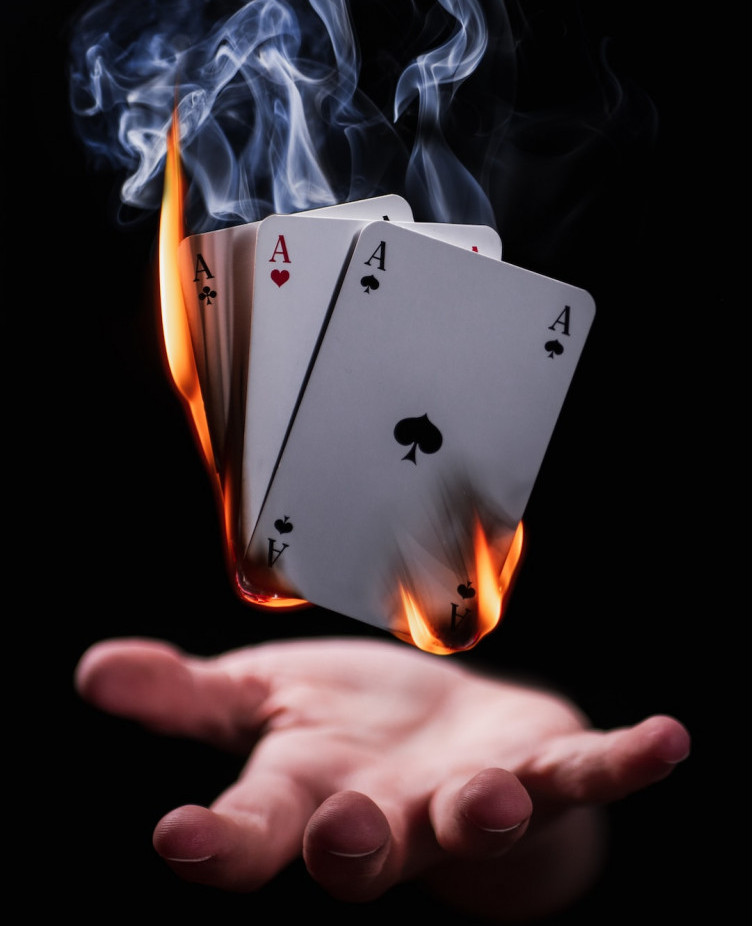 When I was a teen, a traveling magic show gave a presentation at my school. I was impressed at the hypnotherapy, the subtle mind control, and the illusions. Years later, I had the opportunity to talk to someone who was opening a magic dinner theater in a growing suburb. I was fascinated with the time this man had taken to learn the skills he needed to build a strong, stable business with magic.
See how the pros are cashing in with simple affiliate websites using my recommended affiliate training.
Magic can have a wide range of meanings, covering topics ranging from Harry Potter to street shows. There are card tricks, stage shows, mind-reading, and mind-control techniques called mentalism, and even energy magic, in which practitioners draw on the natural world to find solutions to life's problems.
In this list of the top 10 magic affiliate programs, you'll see a sampling of what's available for affiliate marketers who want to dive into this industry. I'll also share a few niche marketing website ideas to help get you started.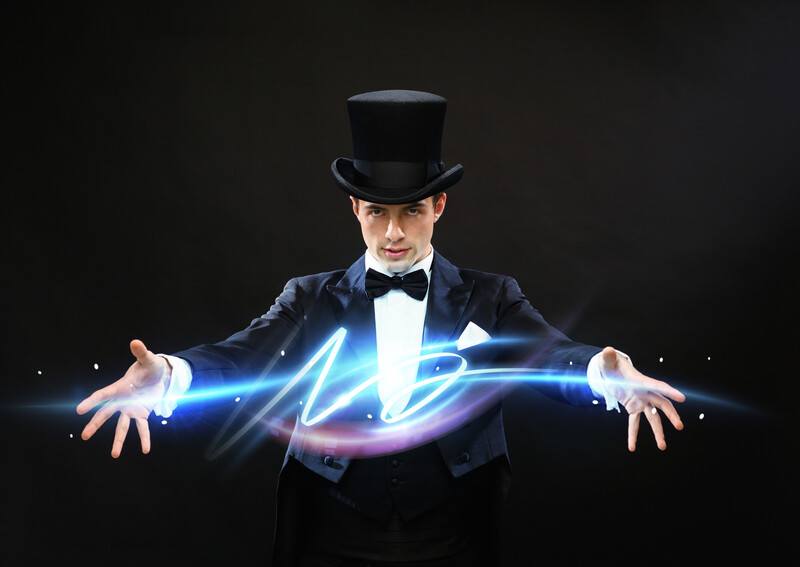 Magic Affiliate Programs
Pro Magic Live
MJM Magic
Master Mentalism
Merchant Of Magic
Jassher Magic Shop
Wonder Wizards
SS Magic Shop
Malloy Modern Magic
Magic World
ClownAntics.com
1. Pro Magic Live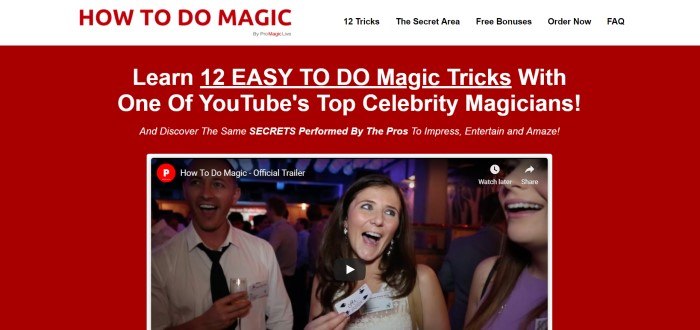 Commission: 50%
Cookie: Lifetime
Pro Magic Live is an online magic trick website hosted by Jay Jay, one of the top magic trick performers and teachers on the internet. Jay Jay has more than 1 million views on his YouTube channel, Free Magic Live. Pro Magic Live is where students can get access to tricks from his professional set.
There are more than seven hours of training videos on Pro Magic Live. Products include tricks such as The Revelation Effect, in which would-be magicians learn to read the minds of their audience, card location tricks, and more. The full How To Do Magic course costs around $40, and customers have instant access to the course once they sign up.
Why You Should Promote Pro Magic Live: The 50% commission and lifetime cookies are hard to pass up.
2. MJM Magic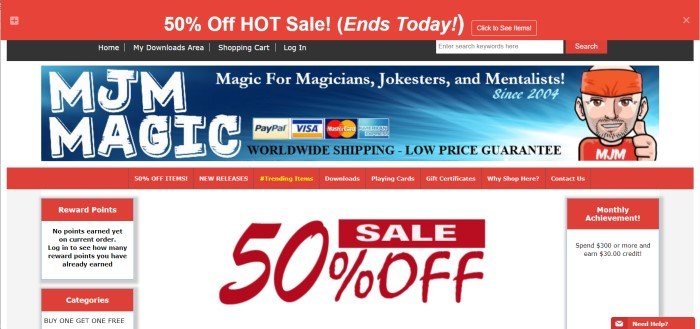 Commission: 10%
Cookie: 7 days
MJM Magic is a shopping website for magicians, jokesters, and mentalists. Products include downloadable training videos, as well as novelty items such as mini-coins, playing cards, and gimmicks such as the Crazy Cube Royale, which is designed to help magicians read minds.
In the downloads area, members can purchase videos to learn specific tricks or even specific types of tricks. Many of the videos cost $5-10. This company also sells e-books covering different magical topics, including how to open and close a magic show. One of the most unique products in the downloads section is a multimedia package to help magicians grow their businesses.
Why You Should Promote MJM Magic: The wide variety of magical props and training videos that customers can choose from could bring in repeat customers and bump up shopping cart totals.
3. Master Mentalism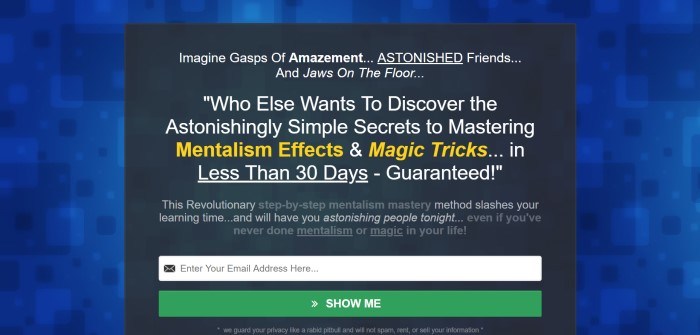 Commission: 72%
Cookie: Unknown
Master Mentalism is a 30-day program to help new magic students learn magic tricks and the art of mentalism quickly and easily.
The commission is high, but the website itself is sparse. Interested parties have to leave an email address to find out more, including how much the program costs. There is a 60-day money-back guarantee, and customers who purchase the program also get a book containing 500 card tricks and a free month-long trial membership in Mesmerize Monthly, a magic coaching club that can cost around $97 a month.
Master Mentalism runs its affiliate program through FlexOffers.
Why You Should Promote Master Mentalism: The 72% commission is one of the biggest perks of being an affiliate with this company. Once you're signed up as an affiliate, you're also eligible for contests and bonuses.
4. Merchant Of Magic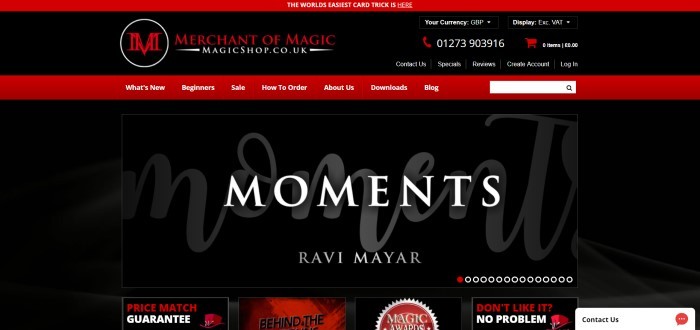 Commission: 5%
Cookie: Unknown
Merchant of Magic is a magical supply shop based in the UK. The website includes a special section for beginners, where they can download e-books and training videos to help them learn magic tricks. The books and videos go up through advanced levels, as well, so magicians can keep learning.
Besides the training options, this store sells playing cards, accessories such as clothing and posters, collectibles, and props for tricks like multiplying wine bottles.
Customers can shop by genre, which includes topics such as hypnotism as well as magic tricks.
Why You Should Promote Merchant Of Magic: The wide variety of training videos and books makes this a great shop for customers who are just starting out in magic tricks and want to learn a little bit of everything. This could result in higher shopping cart totals.
5. Jassher Magic Shop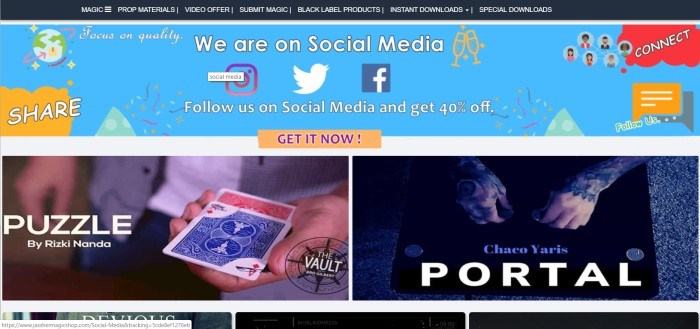 Commission: 6%
Cookie: Unknown
Jassher Magic Shop is another online magic supply store where magicians can get the props they need for their tricks. Customers can shop by parlor and illusion tricks, card tricks, and close-up magic. Products include items like silk scarves, card decks, ropes, cups, balls, and coins. Jassher's Magic Shop also carries a large selection of downloadable videos.
One of the most unique features about this shop is that customers and upcoming magicians can submit their own magic tricks. If they're approved, they can be sold in the Jassher Magic Shop.
Why You Should Promote Jassher Magic Shop: The ability to submit your own magic with the possibility of selling it here makes this company stand out.
6. Wonder Wizards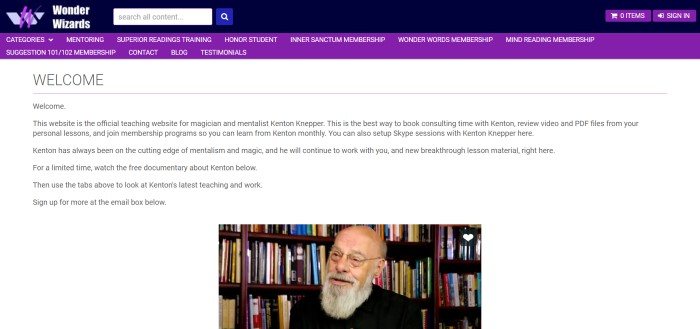 Commission: 10-20%
Cookie: Unknown
Wonder Wizards is the official training website of Kenton Knepper, a magician and a mentalist. On this website, potential magicians can book personal consulting time with him, join monthly membership programs where they can continue learning from him, and view PDF files and other materials from his courses.
There are several monthly membership groups: The Inner Sanctum, Wonder Words, and Mind Reading, as well as Suggestion 1 and Suggestion 2. Most membership groups cost around $16-22 per month.
The affiliate program has three tiers. At the silver level, affiliates earn 10% commission. Once the affiliate makes $1,000, he or she becomes a gold affiliate and makes a 15% commission. The platinum level, which gets a 20% commission, is reached when an affiliate makes $2,000 in sales in any 30-day period.
Why You Should Promote Wonder Wizards: The commission rate is nice, and if affiliates are bumped up a level, they stay at that level for a minimum of three months.
7. SS Magic Shop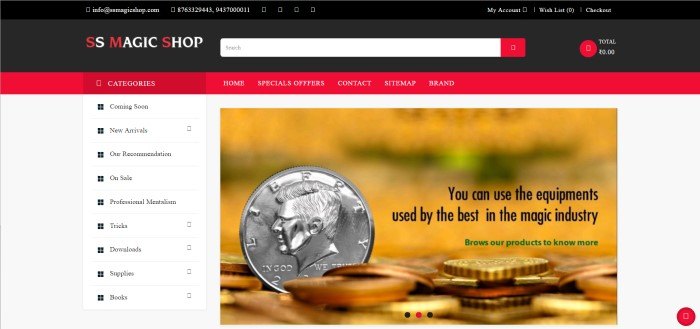 Commission: 5%
Cookie: Unknown
SS Magic Shop has a great interface for shoppers, with filters that allow them to search by the type of tricks they want to perform, downloads for continued learning, books, and supplies.
There are more than 175 downloads available from the website and 118 card trick products alone. Other products include close-up magic tricks, mentalism items, money magic, street magic, and parlor magic. The professional mentalism section has several products for people who are serious about mind-reading and other aspects of mentalism.
Why You Should Promote SS Magic Shop: The easy shopping, wide variety of magic trick products, and slight focus on mentalism could attract magicians who target certain areas of magic performance, so this could be a good website to use with a niche marketing website.
8. Malloy Modern Magic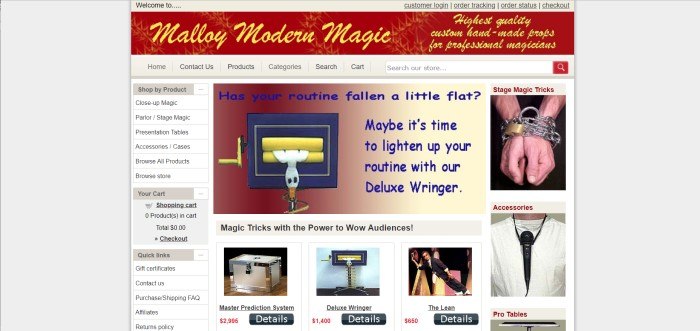 Commission: 10%
Cookie: Unknown
Malloy Modern Magic carries magic trick props and supplies that are intended to boost excitement and renew magic performances that are getting stale. The focus is on parlor and stage magic, but customers can also shop for close magic items. This store carries some top-of-the-line accessories, tables, and magician's cases.
One nice thing about this website is that the products are generally for serious magic students, so the prices are relatively expensive. For example, the Master Prediction System currently sells for $2,995, and the Lean costs $650.
Why You Should Promote Malloy Modern Magic: The 10% commission rate is decent, and because the products are on the high end, affiliates can get a nice bump in revenue with just one or two sales.
9. Magic World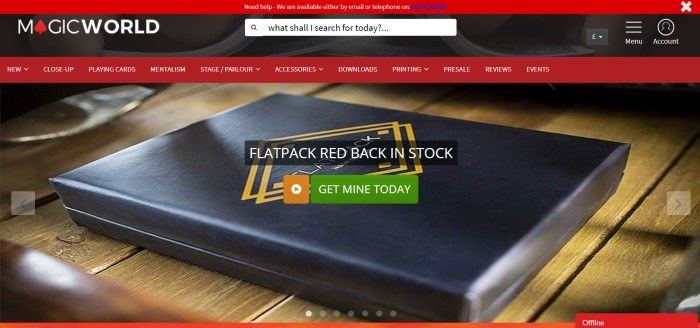 Commission: 10%
Cookie: Unknown
Magic World is a magic shop based in the UK that sells magic supplies online. Customers can shop for mentalism items, close magic, parlor magic, playing cards, and accessories. Like many magic shops, there is also a section for downloads explaining how to do specific magic tricks. There are 235 pages of downloadable videos and 39 pages of tricks that could be fun to use at a children's party.
One thing that sets Magic World apart is the fire magic, which is found under the accessories section. Products in the fire magic category include everything from novelty ways to shoot confetti to fire cans, smoke cubes, and pyro-plastic.
Magic World's affiliate program is administered by ShareASale.
Why You Should Promote Magic World: The fire magic sets it apart from many other magic shops, but there is also a wide enough variety that customers could stay on the website and keep adding items to their shopping carts.
10. ClownAntics.com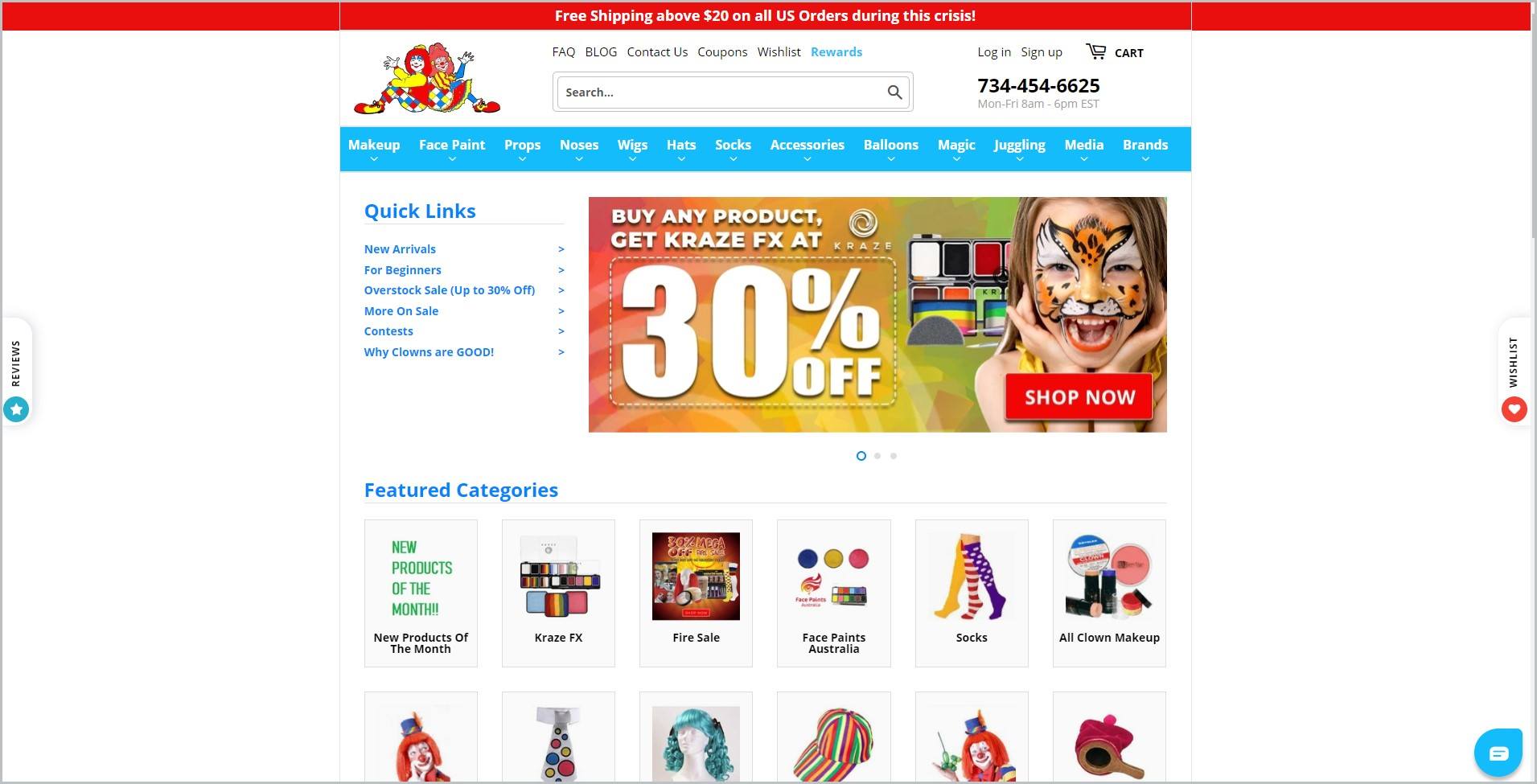 Commission: 10%
Cookie: Unknown
ClownAntics.com offers supplies that you'll need to put on a clown magic show including magic tricks that you can learn from home. They have the largest clown supplies selection of over 5.000 products. From makeup to socks, as well as media such as magic trick books and clown music.
Their clown magic tricks are easy to learn and come with full instructions making entertaining with clown magic doable and a fun experience for their customers. They offer a same-day shipping guarantee and free shipping within the US for purchases over $50.
ClownAntics.com's affiliate program offers you a 10% commission on sales except for drop ship items. Affiliates will be treated as part of their marketing team and will be offered loads of content to help with their success in the online marketplace.
Why You Should Promote ClownAntics.com: The company has been in business since 1988, they also carry a wide selection of products and brands.
Affiliate Website Ideas
Now that you've looked at the top 10 magic affiliate programs, where will you start to use these types of ideas in your own niche marketing efforts? I have a few ideas for you to get you started.
First of all, think past the children's magic shows to teaching children to do magic themselves. A website like this one could sell child-oriented magic trick kits, as well as books and videos on developing mentalism at a young age. A website like this could also promote stage clothes for children, entrepreneurial programs for children, and stereo systems that they could use as they practice their own magic shows.
Another niche website idea focuses on providing company retreats. A website like this could promote local or traveling magic and hypnosis shows. It could also feature resorts, golf clubs, and event planning services like parties and awards ceremonies.
One further niche market idea would merge the idea of mentalism with hypnotherapy and neuroscience. A website like this one could focus on all the mysteries of the brain. Mentalism magic could be promoted here, and so could hypnotherapy programs, neurofeedback equipment and software, and online courses designed to help customers become certified NLP practitioners or hypnosis experts.
Boost Your Affiliate Earnings
These 10 affiliate programs are just the beginning of what's possible. There are hundreds of ways to earn affiliate commissions with your website, including product reviews, top 10 lists, how-to guides, and more
But what about traffic and conversions? How do you make sure your affiliate links get clicked?
I used the affiliate training here to turn my brand new website into a six-figure income generator in less than two years. Build a business, not just a pocket-money side project!
What's up ladies and dudes! Great to finally meet you, and I hope you enjoyed this post. I started my first online business in 2010 promoting computer software and now I help newbies start their own businesses. Sign up for my #1 recommended training course and learn how to start your business for FREE!