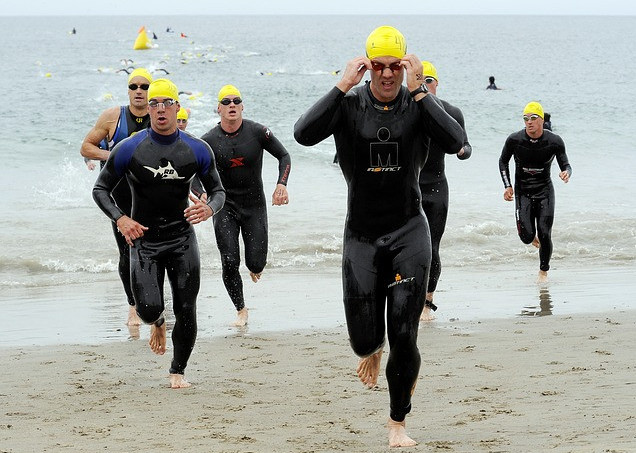 A triathlon is an endurance multisport race that combines swimming, cycling, and running all in the same event. The international distance triathlon consists of a 0.9-mile swim, a 24.8-mile bike ride, and a 6.2-mile run. Training and race gear can include everything from triathlon suits, goggles, bicycles, helmets, running shoes to heart rate monitors and distance trackers like Garmin or Fitbit. It is a great niche to target because of the time and commitment needed to train, athletes are likely to buy more expensive, high-quality equipment and gear that will help them reach their race goals. Check out these 10 great triathlon affiliate programmes.
See how the pros are cashing in with simple affiliate websites using my recommended affiliate training.
Includes, live help, tech support, and step by step lessons!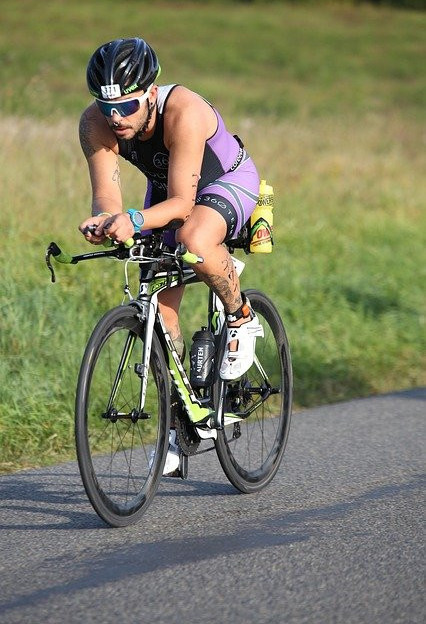 Triathlon Affiliate Programmes
blueseventy
blueseventy developed the first triathlon-specific wetsuit for a competitive advantage
blueseventy is the industry leader in technical triathlon and swimming products. They design their swim skins and wetsuits for maximum comfort and flexibility for a competitive edge. Their products are trusted by world-class athletes who have earned World and Olympic victories.
They have an average order size of $180 with a 2% site conversion rate. blueseventy has partnered with AvantLink to run their affiliate programme. They provide their affiliates with a great selection of marketing and real-time tracking tools.
Reasons To Promote blueseventy: Triathlon wetsuit world leader, high average order and a generous commission rate for affiliates to profit from.
Bonus: Affiliates can also promote their one year warranty, same day and international options.
Triathlete Sports
Triathlete Sports is the ultimate online destination for triathlon gear
Triathlete Sports makes it fun and easy to shop for triathlon products at great discounts. They carry all of the top triathlon brands like DeSoto, 2XU, Zoot, Fuel Belt, and TYR. Customers can take advantage of their price match guarantee, a rewards programme, free shipping on orders over $99, and easy returns.
They use ShareASale to manage their affiliate programme. Triathlete Sports selection of popular items includes triathlon wetsuits and clothing that are priced at $500+. Affiliates have access to all the creatives and affiliate tools needed to start promoting right away.
Reasons To Promote Triathlete Sports: Deals on triathlon gear, top brands and high ticket items for affiliates to market and profit from.
Bonus: They stock triathlon gear for every skill level and price point with excellent customer service to help you find exactly what you are looking for.
runnerinn
runnerinn is one of the top online running stores in the world
runnerinn is the online running and triathlon shop of tradeinn. They offer high quality running gear at the lowest prices guaranteed. Customers can search their inventory of 71,060+ products from almost 1800 brands.
Their affiliate programme is hosted on AvantLink. runnerinn provides their affiliates access to their official text links, banner ads, and their product data feeds. Affiliates earn commissions from all sales not just from the products they promote on their website.
Reasons To runnerinn: Triathlon shop, over 710,000 products and 13 online stores for affiliates to promote.
Bonus: Affiliates can also promote any of their other 12 online specialty stores in the same affiliate programme.
Wiggle
Wiggle offers incredible deals on bikes and triathlon products
Wiggle offers the best prices on the top gear for triathletes and other active people. They carry everything you need for training and races including road bikes, components, accessories, apparel, and more. They have in-depth product reviews and a helpful team of experts to help you find the right gear for your needs.
They use Awin to run their affiliate programme. Wiggle offers their affiliates an opportunity to benefit from their strong conversion rates and high average order values. Affiliates can utilise their range of banner ads, text links, frequent promotions, and full product data feeds to help them promote.
Reasons To Promote Wiggle: Comprehensive selection of triathlon products, expert advice and no reduced commissions on select SKUs.
Bonus: They have no restrictions on SKUs or product categories so affiliates earn the same commission rate on every product.
Speedo
Speedo is the #1 swimming brand in the world that is on the forefront of swimwear technology
Speedo is passionate about supporting swimmers of all skill levels. They develop innovative swimwear with advanced materials that are designed to help you reach your goals. Their line of triathlon products includes wetsuits, compression shorts, singlets, caps, swim fins, goggles, and much more.
Their affiliate program is powered by Pepperjam. Speedo gives their affiliates access to a wide variety of coupons, banner ads, text links, and their data feed with over 6,000 products. Their responsive affiliate management team is available to help with everything from setup to suggestions on how to optimise your campaigns.
Reasons To Promote Speedo: Leading swimwear brand, designed to perform and exclusive offers for affiliates to promote.
Bonus: Affiliates can also promote their free shipping offer on orders of $100+.
Competitive Cyclist
Competitive Cyclist has everything you need to go biking
Competitive Cyclist carries premium road bikes, accessories, and apparel for triathlon training, races, and other types of outdoor biking adventures. They are owned by Backcountry.com, a trusted source for outdoor gear. All of their products are backed by their unconditional lifetime return policy.
Affiliates can sign up with Impact Radius or AvantLink. Competitive Cyclist has an average order size of $250. They provide their affiliates with their complete data feed with all SKUs with no restrictions or reduced commissions on any items they sell.
Reasons To Promote Competitive Cyclist: Over 3000 triathlon products, large average order size and higher commissions available for affiliates.
Bonus: Top performing affiliates can receive increased commissions of 8% or more.
Chain Reaction Cycles
Chain Reaction Cycles is the largest online bike store in the world
Chain Reaction Cycles is on a mission to inspire your next cycling challenge with high-quality products at the best possible prices. Their most popular triathlon gear includes road bikes, time trial bikes, racewear, aero bars, and wetsuits. They offer free worldwide shipping on orders over $49 and 365-day returns.
They use Awin to manage their affiliate programme. Chain Reaction Cycles offers high onsite conversion and a huge selection of the top biking brands. Affiliates have access to their daily updated product feeds and frequently updated creatives to help them promote.
Reasons To Promote Chain Reaction Cycles: Best prices on the top brands, free international delivery available and commissions based on site type.
Bonus: They offer the fastest delivery to get you back on your bike as soon as possible.
Sunny Sports
Sunny Sports provides an enjoyable shopping experience for all your outdoor equipment needs
Sunny Sports sells a wide variety of outdoor products all at competitive prices. Customers can take advantage of their closeout prices on their triathlon wetsuits, shorts, and singlets. They also offer exceptional customer service, the best price guarantee, fast delivery, and worry-free returns.
They have teamed up with AvantLink to oversee their affiliate programme. Sunny Sports has a loyal fan base which leads to more conversions and higher commissions. They have created an extensive library of marketing materials and state of the art reporting tools.
Reasons To Promote Sunny Sports: High-quality brand name outdoor products, competitive prices and great average order sizes for affiliates to profit from.
Bonus: They also provide affiliates with best practices and tips to help them succeed with their programme.
ACTIVE Advantage
ACTIVE Advantage helps you save money on races, travel, and more
Active Advantage is the official membership program of ACTIVE.com. They offer exclusive savings and support for endurance athletes. Their programme benefits include no processing fees on event registration, your 3rd race free, hotel discounts, free gear, and more.
Their affiliate programme is hosted on ShareASale. Active Advantage is looking to partner with affiliates who can help them increase trial signups for the membership programme. Affiliates can find all the tools and marketing materials they need on their easy to use affiliate dashboard.
Reasons To Promote Active Advantage: Exclusive event discounts, free products, services and a generous flat fee commission.
Bonus: Affiliates earn a $10 commission fee every time one of their referrals signs up for their $99 trial membership.
Polar
Polar employs 1200 people, has 26 subsidiaries globally, and manages a distribution network in more than 80 countries
Polar offers a comprehensive product range and essential support and advice – from improving an athlete's sports performance to helping people live a healthier lifestyle and aiding rehabilitation and weight management. At Polar, they believe that heart rate can help you train and recover smarter, hence the heart rate training.
The polar affiliate programme is managed by ShareASale. Affiliates will get a 10% commission with a 30-day cookie to ensure you get all the credits you deserve plus monthly newsletters to alert you of new product offerings and promotions.
Reasons To Promote Polar: Known globally, 40-year legacy, free shipping promotion.
Polar is committed to supplying over 35,000 retail outlets in more than 80 countries worldwide.
Affiliate Website Ideas
Now that you've read about 10 great triathlon affiliate programmes, it's time to pick a niche to target. You could focus on triathlon wetsuits. Blueseventy creates triathlon-specific apparel trusted by world-class athletes. Affiliates earn a very generous 10% commission rate. More wetsuit info can be found in the scuba diving breakdown.
Triathlon bikes are a great high ticket item to promote. Competitive Cyclists has a great selection of triathlon bikes, apparel, and gear. They offer a 5% commission rate to their affiliates.
You could also target triathlon training equipment like watches and wearable tech to track your training sessions. Wiggles offers a wide variety of triathlon training equipment. Affiliates earn 1-4% commissions based on their site type.
Boost Your Affiliate Earnings
These 10 affiliate programmes are just the beginning of what's possible. There are literally hundreds of ways to earn affiliate commissions with your website, including product reviews, top 10 lists, how-to guides, and more
But what about traffic and conversions? How do you make sure your affiliate links get clicked?
Well… are you ready to have YOUR VERY OWN WordPress website built and launched in under 10 minutes?
It's easy at Wealthy Affiliate. Take a look at this video and you will find out exactly how to build a FREE Affiliate website on the Wealthy Affiliate platform, easily and quickly. This is where you can begin the process right NOW . . .
Wealthy Affiliate Training Video – Create a FREE Website
As you can see, it is simple and FREE to get started today.
Join Me. Join Our Community.
There is No obligation. No credit cards. It is Simple and FREE and can be done in 3 simple steps:
The decision to join is in your hands but I can honestly say that you will not regret it and you won't look back once you have joined. It's a total no brainer. Once you join, it really is as easy as 1-2-3 and you will have your website built and launched ready to learn, earn and grow.
Help Whenever You Need It
Once you join through the Wealthy Affiliate platform, you will be amazed at the support you have within the platform. It really is second to none. I can say with absolute certainty and from personal experience that this is the best training and mentorship platform for building a successful business online, hands down.
I look forward to welcoming you and to supporting your success!
Please feel free to leave any comments below.