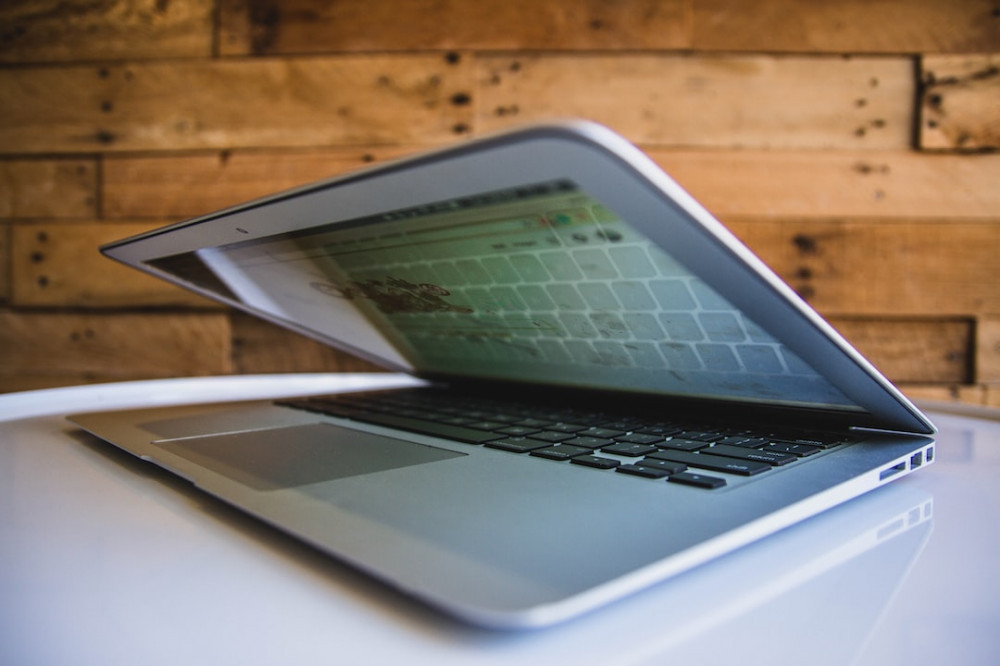 Blogging is more than just cranking out an article and hitting publish. There's marketing, SEO, keyword research, promotion, sourcing images, creating graphics, and much more that goes into the job. Sometimes it can be overwhelming. But thanks to the best blogging tools available at your fingertips, even newbie bloggers can craft, create, write, edit, and analyze with much more ease and efficiency.
What's more, blogging tools are getting more popular and effective at what they intend to do. With so many budding professional bloggers, there's a huge market for making the process as streamlined as possible. It's thanks to these blogging tools that people like me can create a full-time income from writing and publishing content online.
If you want to start a blog, whether for personal or professional reasons, then make sure to take advantage of these best blogging tools below to jumpstart your journey.
15 Best Blogging Tools To Boost Productivity

1. Canva
2. Grammarly
3. Google Analytics
4. SEMRush
5. Google Keyword Planner
6. Tailwind
7. All-in-One SEO
8. Tasty Pins
9. Hootsuite
10. MailerLite
11. Sumo
12. Social Share Buttons
13. Google Workspace
14. Image Compressors
15. Google Search Console
Which Blogging Tool Is Best?
15 Best Blogging Tools To Boost Productivity
1. Canva
Canva is a graphic design platform and one of the must-have blogging tools that every blogger should include in their arsenal. It is simply the best for creating all types of graphics you could need for your blog – social media headers, Pin images, e-books, freebies, media kits, cards, business cards, and so much more.
Everyone loves Canva because of its extremely easy UI. It's also 100% free to use unless you want to upgrade your account for $12.95/month to access additional features like special fonts, preset brand colors, and Pro images (sourced via Getty Images).
2. Grammarly
Then vs. than, to vs. too… no matter if you graduated with a degree in English or not, you will make silly grammatical errors when you blog. Even the best bloggers will publish articles with mistakes here and there. It happens to everyone. But thanks to a little virtual writing assistant called Grammarly, you don't have to painstakingly proofread your articles anymore.
Grammarly will highlight misspelled words and awkward sentence structures as well as catch any grammar faux-pas. (Funnily enough, it's even red-lining the word Grammarly thinking I misused a word).
If you want to just focus on your writing without worrying about your grammar too much, then Grammarly's free basic plan is one of the best blogging tools to keep your writing clean and correct.
3. Google Analytics
Every blogger needs an analytics tool in order to track, edit, and study which published articles are ranking and where blog traffic is coming from. Google Analytics is the number one recommended blogging tool for just that. While the reporting isn't always 100% perfect, it's virtually stacked with some of the best data analytic features on the web.
Plus, if you ever want to monetize your site through display ads, the ad network in question will likely want access to your Google Analytics dashboard to check if your site is hitting the minimum sessions threshold as well as if there are any "red flags" coming from your site. Best of all, GA is completely free!
Once you get over the initial learning curve, you'll soon realize how powerful Google Analytics can be for scaling your blog traffic.
4. SEMRush
SEMRush is one of the most trusted blogging tools in the world to accomplish everything a blogger or marketer needs – analyze your competition, track your website performance, perform in-depth SEO and keyword research, and more.
The only downside to SEMRush, and its alternatives like Ahrefs or Moz, is the pricey monthly subscription fee. But as most professional bloggers would agree, it more than pays for itself.
If you want your content to have a chance at ranking against your top competitors, you should seriously consider investing in one of these blogging tools.
5. Google Keyword Planner
If you can't afford one of the above SEO/keyword research tools, your next best blogging tool to do such research will be Google Keyword Planner. Keyword Planner allows you to track historical trends for keywords as well as search for new keyword ideas you might not have considered before.
It is an easy and free blogging tool to use when you have no other option, or just want to get a better overview of historical, trending, or forecasting metrics for a particular keyword or idea. If you are a marketer using Google Ads, you will become very familiar with Keyword Planner.
6. Tailwind
The Tailwind App is a visual marketing suite that allows you to schedule your Pinterest and Instagram accounts. This might sound fairly basic, but Tailwind is a must-have in your blogging toolkit.
That's because Pinterest is an extremely effective social app/platform for bloggers since it acts as a visual search engine.
With Tailwind, you can automate your Pinterest scheduling so you can reach more people by doing half the work. It also allows you to pin your creations in niche-tight "Tailwind Communities" (formerly Tribes) that are led by fellow bloggers.
With Tailwind, you could potentially double or triple your blog traffic and it would only cost you $9.99/month. Worth it? I think so.
7. All-in-One SEO
If you're blogging on WordPress.org (and I seriously hope you are), then an essential blogging tool to download is an SEO plugin. There are currently two that are more or less equally used among bloggers worldwide – Yoast SEO and All-in-One SEO (AIOSEO).
Both enable you to do one major thing: track your SEO performance on your blog, as you write and draft your articles. These SEO tools make sure that your website is optimized to rank in SEO.
Using one won't guarantee that your posts will rank, but without it, you're kind of publishing in the dark.
8. Tasty Pins
Another blogging tool about Pinterest Pins? Yep! Tasty Pins is a super helpful and easy-to-use plugin that allows you to optimize your blog images for Pinterest.
This allows your images to be readily pinned and optimized for pinning on Pinterest (without having to go into Pinterest and add Title and Description manually for each image).
Also, while your images are optimized for Pinterest SEO, the plugin allows you to use the Alt Txt for web SEO. Before Tasty Pins, bloggers used to have to write in a Pinterest-friendly description into the alt txt of each image, but that was inevitably bad for blog SEO.
Thanks to Tasty Pins, now you don't have to choose between which SEO to optimize for – you can do both! And it only costs a low annual fee of $29 USD.
9. Hootsuite
Hootsuite, Sprout Social, Buffer, Later… These are other social media schedulers and management tools you should consider adding to your blogging toolkit.
Unlike Tasty Pins or Tailwind, these schedulers allow you to connect your Facebook business page, Twitter account, and more, essentially allowing you to manage multiple networks and profiles (if you have several or are a Virtual Assistant).
As you can see above, there are many social media management tools to choose from. Each has slightly different features, but overall don't vary from one to another all that much. I put Hootsuite as the featured blogging tool of choice since it is one of the first management tools to become wildly successful.
10. MailerLite
MailerLite is one of the best blogging tools to use in order to nail down your email marketing strategy. Compared to other email marketing tools like ConvertKit or Mailchimp, MailerLite is most-loved and used by both new and advanced bloggers thanks to its competitive prices, intuitive UI, and attractive email sign-up forms.
With MailerLite and ConvertKit, you get 1,000 free subscribers before you need to switch to a paid plan, whereas with Mailchimp you get 2,000 on the free plan.
However, MailerLite and ConvertKit have a bit more advanced features that aid bloggers to do their jobs easier – like email automation and funnels, advanced embed forms, and more.
It doesn't matter so much which one you choose to use, just as long as you use at least one email marketing tool to reach your blog subscribers.
11. Sumo
Sumo comprises of many services – such as Sumo Share, AppSumo, SendFox, and KingSumo – that all greatly help boost bloggers' productivity. Here is a quick overview of everything you can do in the Sumo family:
Even if you don't use all of them as a blogger, you should consider using one!
12. Social Share Buttons
Speaking of social shares, you can use Sumo Share or opt for another service. Popular social share plugins for bloggers are Social Warfare and Easy Social Share Buttons for WordPress, among others.
Psychologically, visibly seeing social share buttons (and their social counts for each platform) influences users who visit your blog to consider your article(s) to have more authority and trustworthiness.
For example, if you land on a blog article that has 0 social shares and another with 1.3k, which one are you more likely to keep reading?
13. Google Workspace
Google Workspace, formerly known as G Suite, is a collection of productivity and collaboration tools by Google that help people all over the world to write, edit, create, and organize their content.
There are over a dozen included applications in Google Workspace, but the best blogging tools to use are:
Docs – essentially the cloud-based version of Microsoft Word.
Gmail – keep all your business emails organized and sync your brand email to your account.
Drive – access your most important docs, images, and folders from any device as long as you're signed in to your Google account.
Calendar – for keeping track of those blogging goals!
Sheets – Google's equivalent of Excel.
Forms – create custom surveys and questionnaires for free.
Slides – make visually engaging PowerPoint presentations.
Keep – organize your blogging content in to-do lists and cute sticky notes.
14. Image Compressors
Every blogger needs to use an image compressor tool before uploading their images into their blogs. Compressed images reduce the file size by around 75% in most cases.
As a blogger, site speed is crucial and by compressing your images you are allowing your blog to load faster (which is a good sign in Google's eyes!).
The best free image compressors to upload and compress all your blog images into are CompressJPEG and TinyJPG. Both allow you to upload approximately 20 images at a time and bulk download with a light .zip file.
15. Google Search Console
The last, but potentially best, blogging tool to use as a new or experienced blogger is none other than Google Search Console.
Search Console (formerly Webmaster Tools) allows you to analyze and check the visibility of your website traffic and check the indexing status of your posts/pages.
It all sounds a bit complicated at first, but being able to analyze the data on Search Console can help you to scale your blog by analyzing what is ranking well and what is just out of view.
Ultimately, you need to be using this blogging tool if you want to optimize your blog's Search performance, rankings, and traffic.
Which Blogging Tool Is Best?
You certainly don't need to use all of these blogging tools above. Use just what you need to get started. If you download or purchase subscriptions for all of them, you may feel overwhelmed.
Most bloggers build up their blogging arsenal slowly overtime. In that case, bookmark this post to keep handy whenever you feel ready to upgrade your blogging essentials toolkit!
Are there any other must-have blogging tools not mentioned above? Drop your suggestions in the comments below.
What's up ladies and dudes! Great to finally meet you, and I hope you enjoyed this post. I started my first online business in 2010 promoting computer software and now I help newbies start their own businesses. Sign up for my #1 recommended training course and learn how to start your business for FREE!