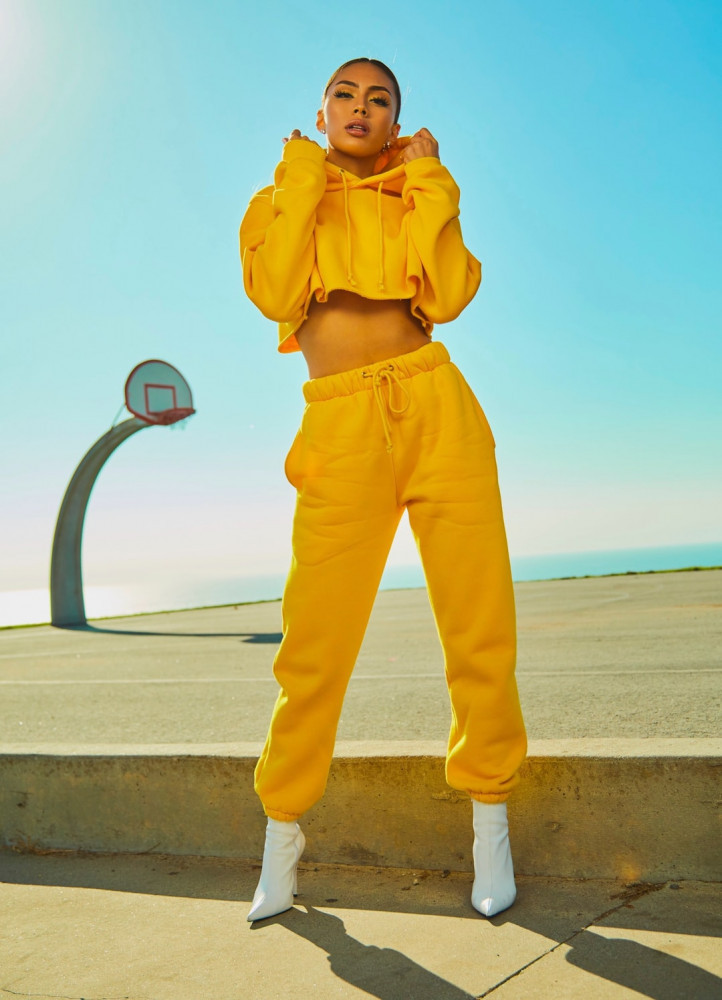 As more and more people turn to the online world to start a business, the blogging industry continues to rise as one of the most popular ways to turn passion into profit, which is exactly what fashionistas who enjoy creating content can do! Fashion blogging is a leading industry in and of itself with thousands of fashion bloggers taking their personal style online for all the world to see. So if you have a unique voice and eye for fashion, starting a fashion blog can earn you lots of money.
But before you can start making money from your blog, you'll want to dive head-first into the plethora of fashion affiliate programs that you can join and eventually earn from long-term.
Affiliate Links Without Traffic Won't Earn You A Dime.
See how the pros are cashing in with simple affiliate websites using my recommended affiliate training.
Here are some of the top fashion affiliate programs to spice up your affiliate marketing closet! If checking out these amazing products and services below gets you excited at the idea of making money promoting them, then you should definitely start a fashion affiliate blog.
Fashion Affiliate Programs
SHEIN
Banana Republic
Urban Outfitters
Lulus
DressLily
Stella & Dot
StyleWe
GoJane
Old Navy / The Gap
American Apparel
Shopbop
Karina Dresses
Evolve Fit Wear
Mala Collective
Frank And Oak
Eddie Bauer
Hudson's Bay
RoseGal
J.McLaughlin
REVOLVE
Ashbury Skies (BENDY)
Wool and the Gang
Boohoo
Trunk Club
Newchic
Reebok
Warby Parker
Tea Collection
Zappos
Nordstrom
Johnston & Murphy
RageOn
The RealReal
Ericdress
Jane
River Island
Ivory Ella
ModCloth
Cupshe
Choies
WOLACO
Hari Mari
Zaful
Maurices
Lane Bryant
MR PORTER
Stevie Sister
1. SHEIN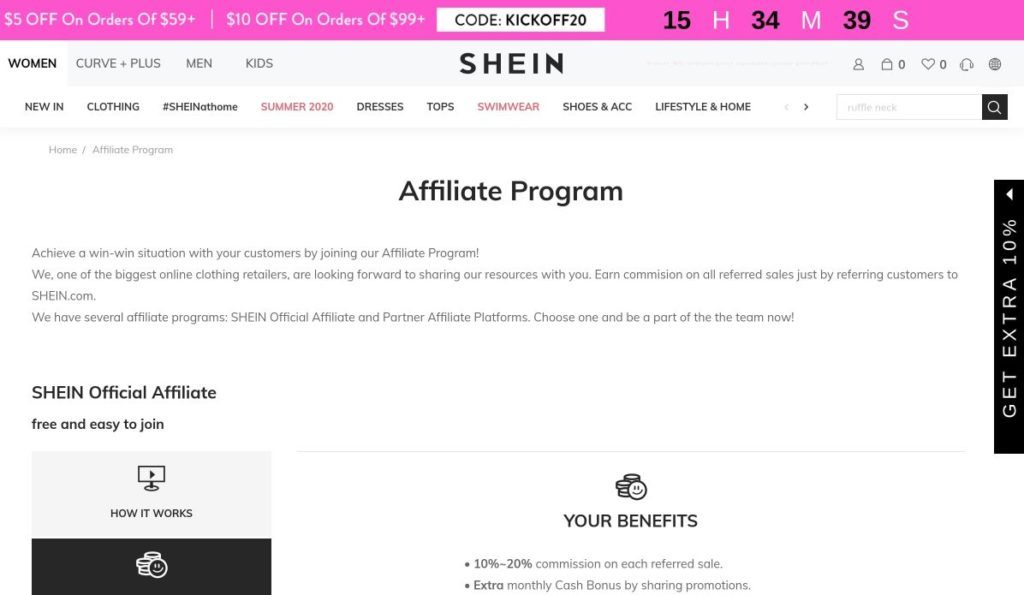 Commission: up to 11%
Cookie: 30 days
SHEIN is a leading fast fashion e-commerce platform that got its start in 2008. It has since seen huge success across the world for having affordable, trendy styles particularly for teens and women but not excluding men's and kid's apparel and a variety of fashion accessories. The company takes pride in its long-held philosophy that, "everyone can enjoy the beauty of fashion."
Why You Should Promote Shein: One of the biggest online fashion retailers, high commission rates, decent cookie duration.
2. Banana Republic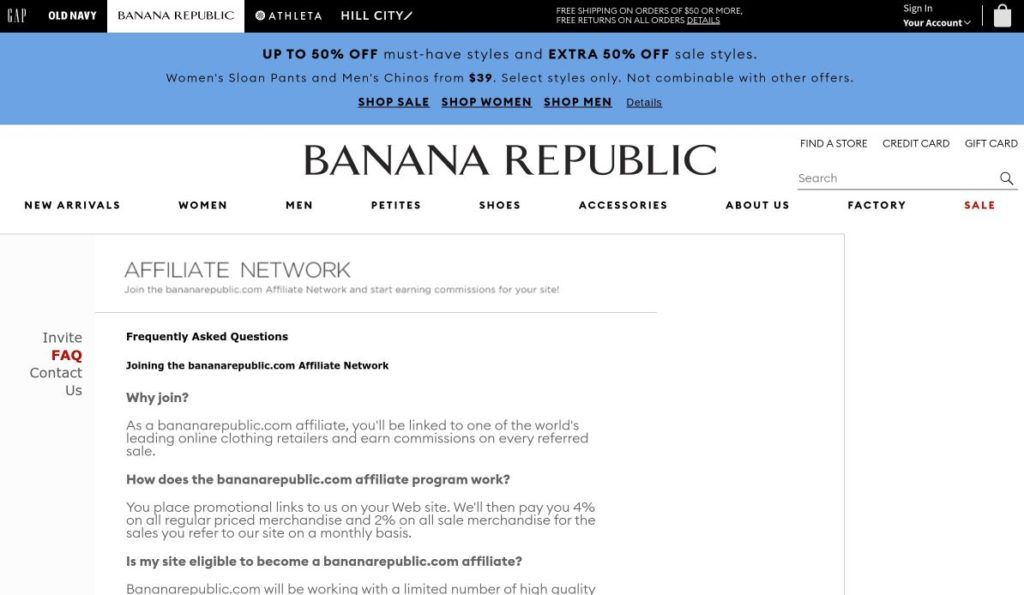 Commission: 2-4%
Cookie: 24 hours
Banana Republic is one of the leading brand names in fashion. The company was founded by two creative Californians who, through their individual explorations throughout the world, came to the conclusion that fashion should have "no boundaries." Banana Republic has been in the fashion world ever since 1978!
Why You Should Promote Banana Republic: As a leading international name in the fashion industry, they have a trusted audience and a stark reputation which makes promoting their apparel a bit easier.
3. Urban Outfitters

Commission: 5%
Cookie: 24 hours
Urban Outfitters is a leading fashion and lifestyle retailer with a focus on inspiring well-curated hipster-inspired apparel and apartment accessories to teens and young adults. The company got its start in the 1970s when alternative fashion became an outlet for creative self-expression.
Why You Should Promote Urban Outfitters: They have a dedicated audience base and curated branding that helps push high conversions on commissions.
4. Lulus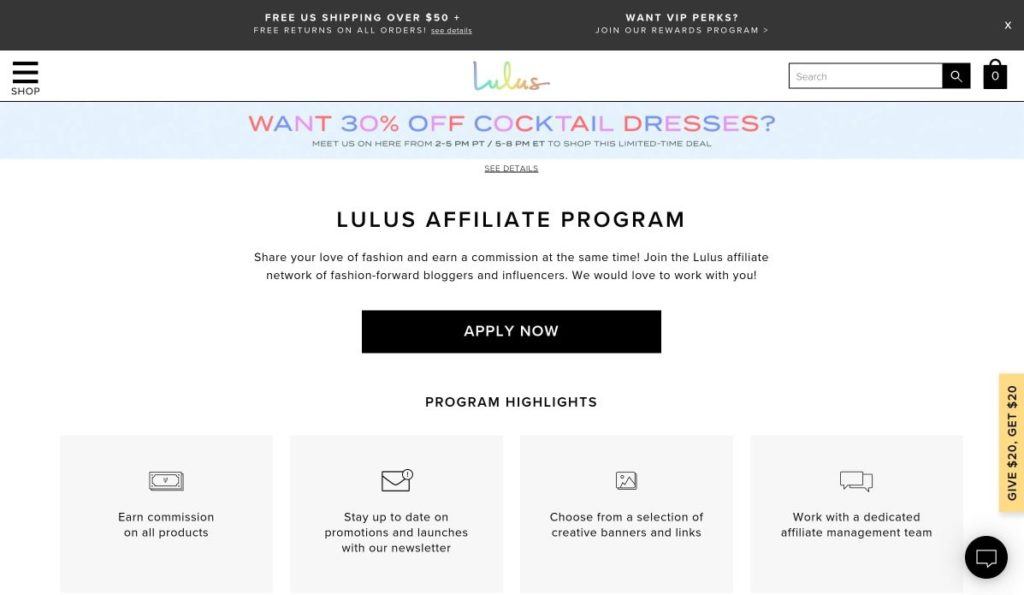 Commission: 7%
Cookie: 30 days
Lulus is a popular fashion affiliate program for luxury fashionistas on a budget. Their company is based in California but has a wide audience from all over the world. Lulus emulates a style that's chic and modern. Though they got their start as a brick-and-mortar fashion store in the 90s, eventually they decided to go all-digital in 2008. They haven't looked back since! Lulus use Pepperjam to run their affiliate program.
Why You Should Promote Lulus: They strive to provide decent commissions on all Lulus products and have an experienced affiliate team on hand to help whenever you have questions.
5. DressLily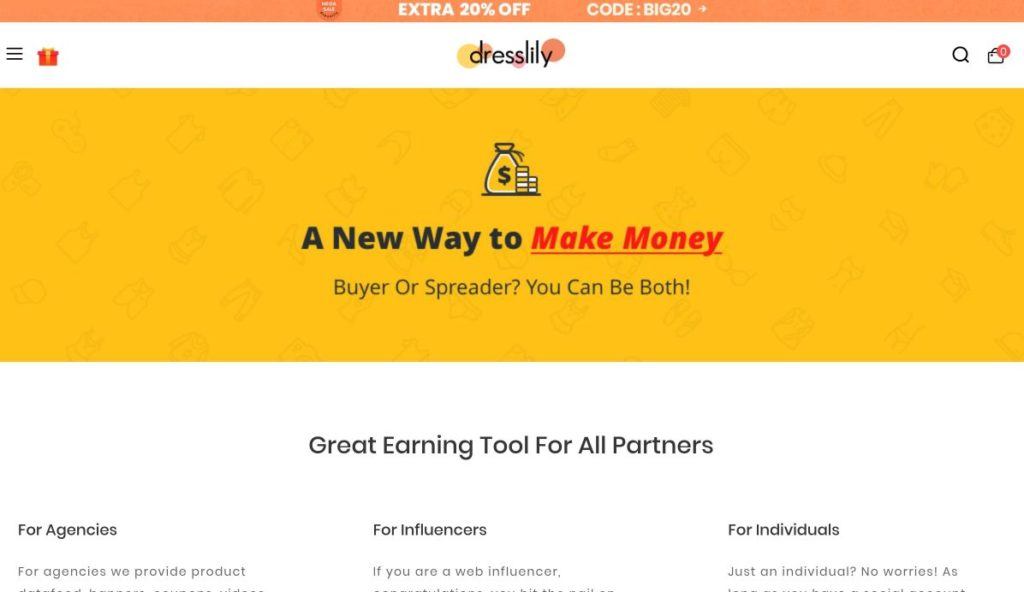 DressLily is a women-focused online fashion retailer that caters to women of all sizes and cultures. They got their start just seven years ago and have since made great strides in the online fashion industry. Ultimately, their goal is to make women feel and look confident and powerful, no matter the jean size. Their motto is, "Praise Every Body!"
Why You Should Promote DressLily: Long cookie duration and they allow bloggers with 2000+ followers/subscribers to apply to receive free items for review.
6. Stella & Dot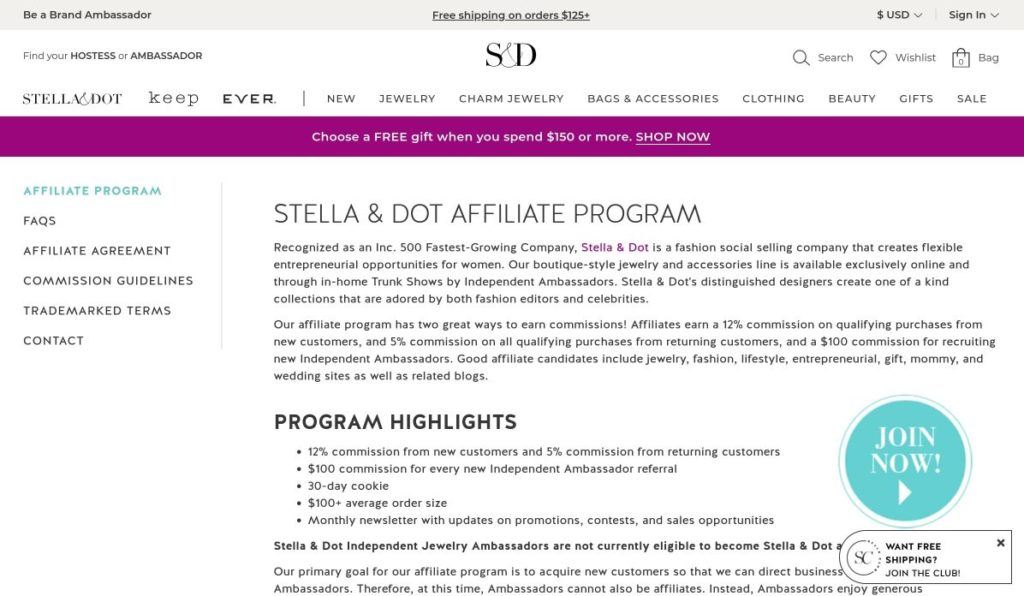 Commission: 12% new customers / 5% returning
Cookie: 30 days
Stella & Dot is an online-exclusive fashion and social selling retailer that specializes in boutique clothing, jewelry, and accessories. They are committed to playing an active role in social responsibility by employing and empowering women through ethical sourcing and production. As they put it, "Integrity is always in style."
Why You Should Promote Stella & Dot: They are one of the fastest-growing fashion social retailers and have an average order size of over $100, resulting in high commissions.
7. StyleWe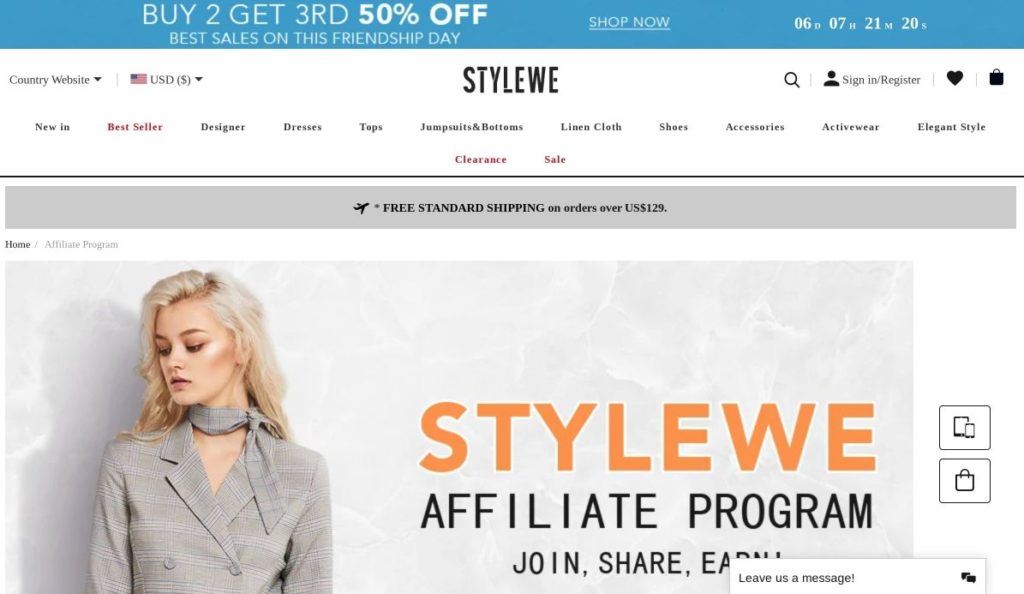 Commission: 8%-12%
Cookie: 30 days
StyleWe is a unique online fashion retailer that connects over 400+ individual designers with customers all over the world. The company is driven by the idea that people can finally wear designer clothes without breaking the bank or only enjoying window-shopping during Fashion Week. Their leading philosophy is "Designers at Your Fingertips."
Why You Should Promote StyleWe: High conversions on tiered commissions, great marketing, and personable and diverse fashion choices.
8. GoJane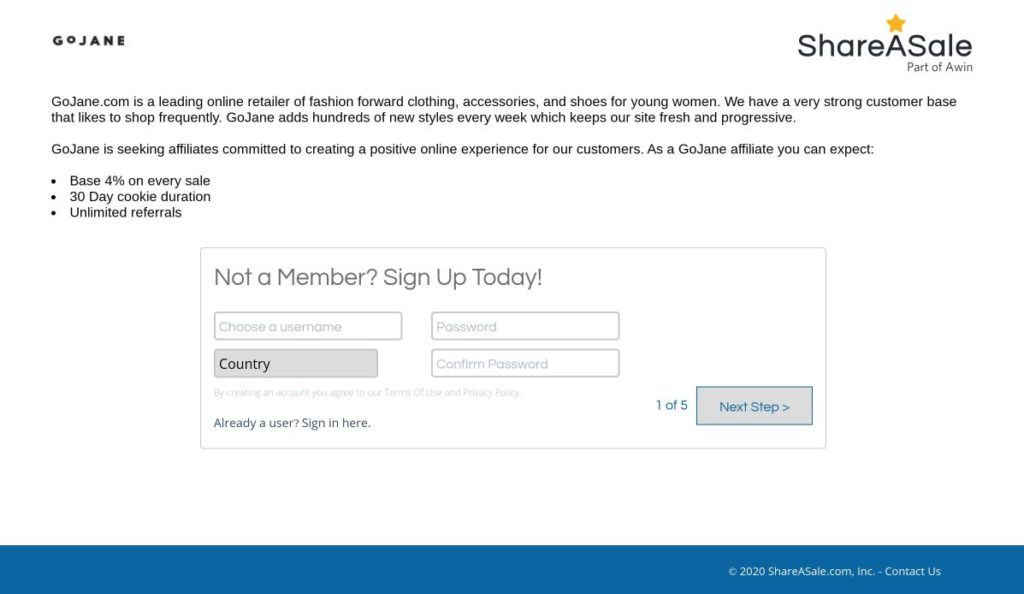 Commission: 4%
Cookie: 30 days
GoJane is a large online fashion retailer selling women's shoes, clothes, accessories, shoes, and more. The company strives to stock the newest must-haves and trends in fashion and has a wide follower base and a large social media following with 200k+ Instagram followers.
Why You Should Promote GoJane: Widely-known fashion brand, decent 30-day cookie commission, offers the latest in fashion trends which helps with conversions.
9. Old Navy / The Gap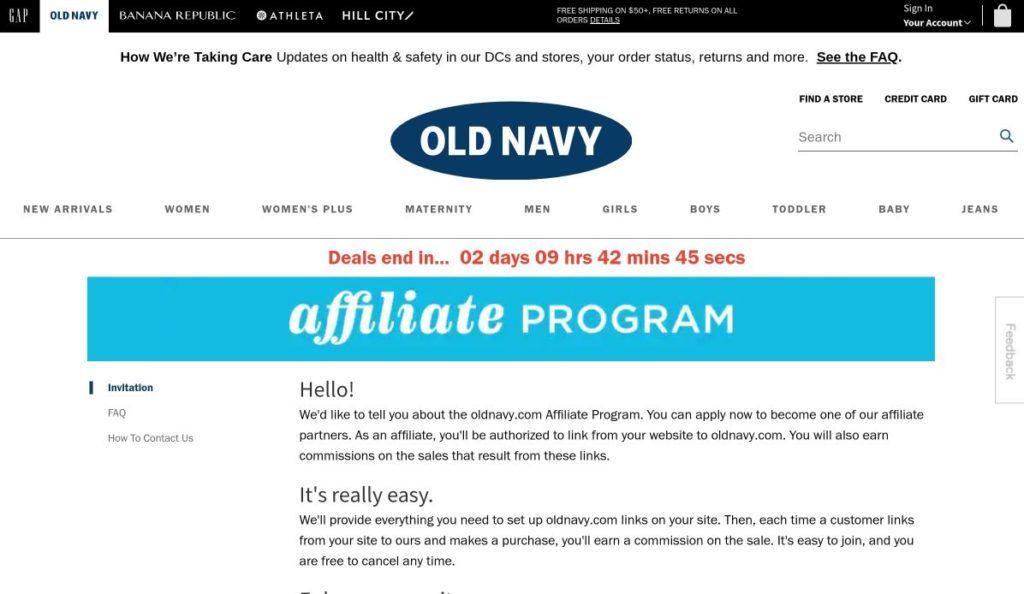 Commission: 2%
Cookie: 24 hours
Old Navy and The Gap are two highly recognizable leaders in the fashion industry. While Old Navy targets families and children, The Gap caters to young adults in their 20s and 30s. The original company was founded over 50+ years ago and has since divided into seven unique brands that are now sold and marketed around the world.
Why You Should Promote Old Navy / The Gap: Although they have low commissions, their fame in the fashion world is undeniable which helps boost your fashion affiliate commissions.
10. American Apparel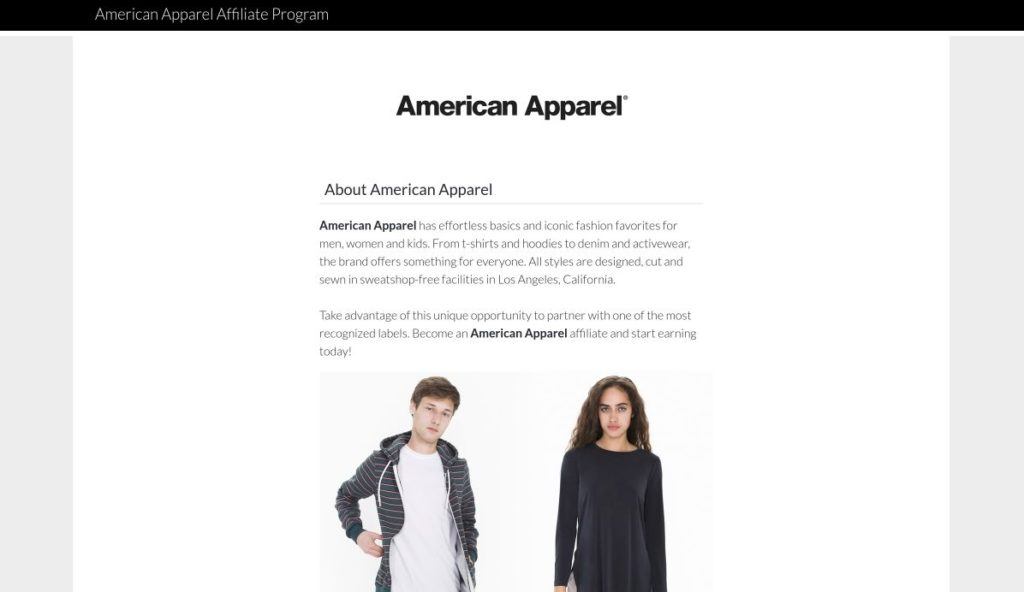 American Apparel was once one of North America's largest fashion manufacturers. The company has since seen a rise a fall since it got its start in Los Angeles, California in 1989, including two bankruptcies. However, their apparel still remains available exclusively online where it continues to sell "effortless basics" in their sweatshop-free facilities in LA.
Why You Should Promote American Apparel: Leading name in activewear, basics, and swimwear. Designed, sewed, and manufactured in the USA.
11. Shopbop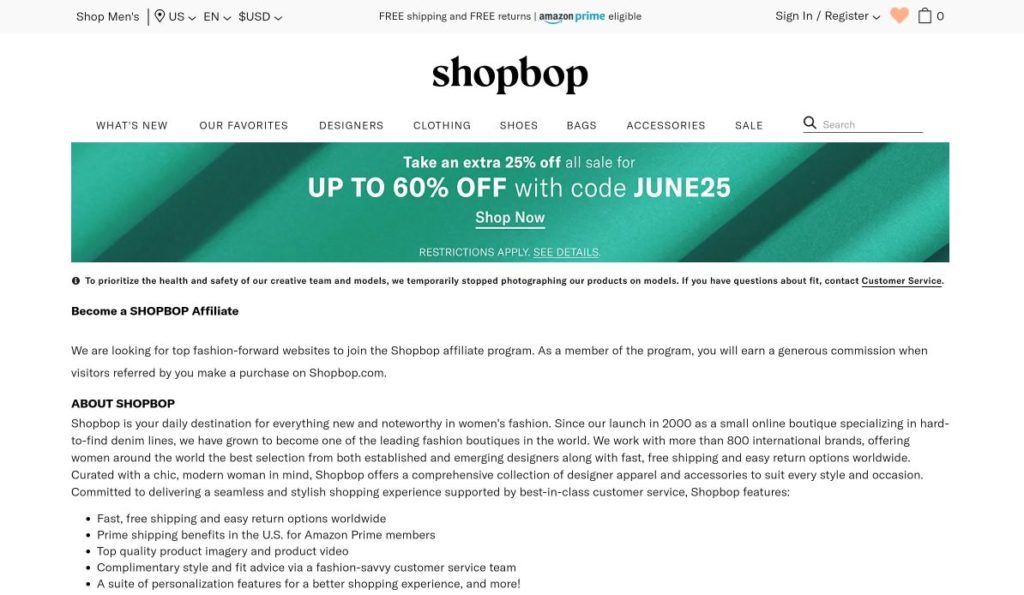 Shopbop is a leading fashion-forward online boutique selling primarily boutique and designer clothing for women around the world. The company started small in 2000 but has since grown to work with over 800+ brands in the fashion industry. They offer free shipping and returns for users of Amazon Prime in the United States.
Why You Should Promote Shopbop: Low commissions but integrates with Amazon Prime to deliver fast and free shipping and returns (great marketing strategy for bloggers).
12. Karina Dresses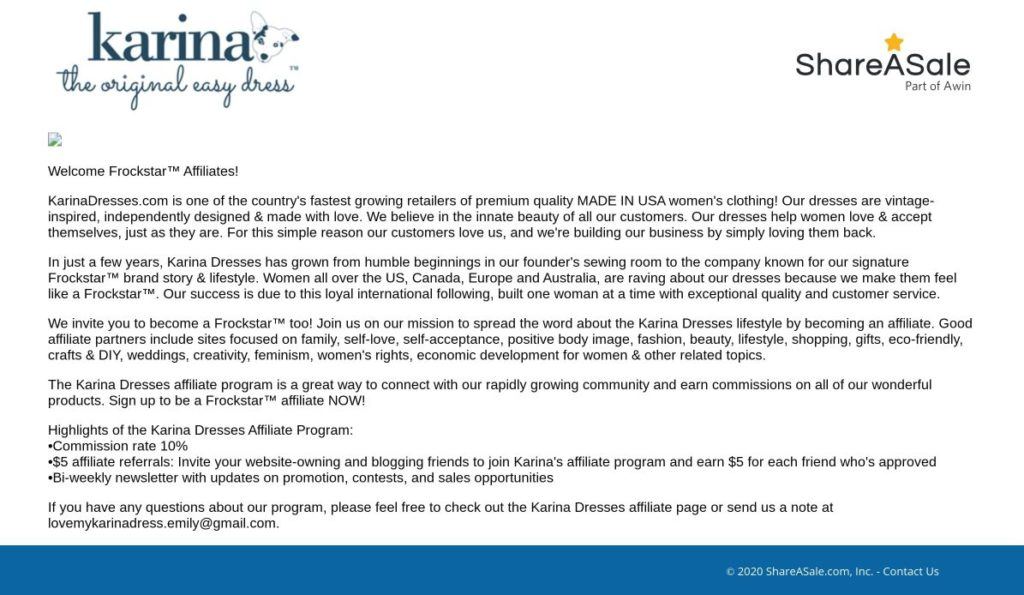 Commission: 10% per sale, $5 affiliate referrals
Karina Dresses sells made in USA dresses for women of all sizes. Their company got a humble start before marketing their apparel and "Frockstar" manifesto which they believe makes women feel self-loved and empowered while fostering human connectedness.
Why You Should Promote Karina Dresses: A trusted online brand with great commission rates, cookie duration, and a strong follower base of like-minded women.
13. Evolve Fit Wear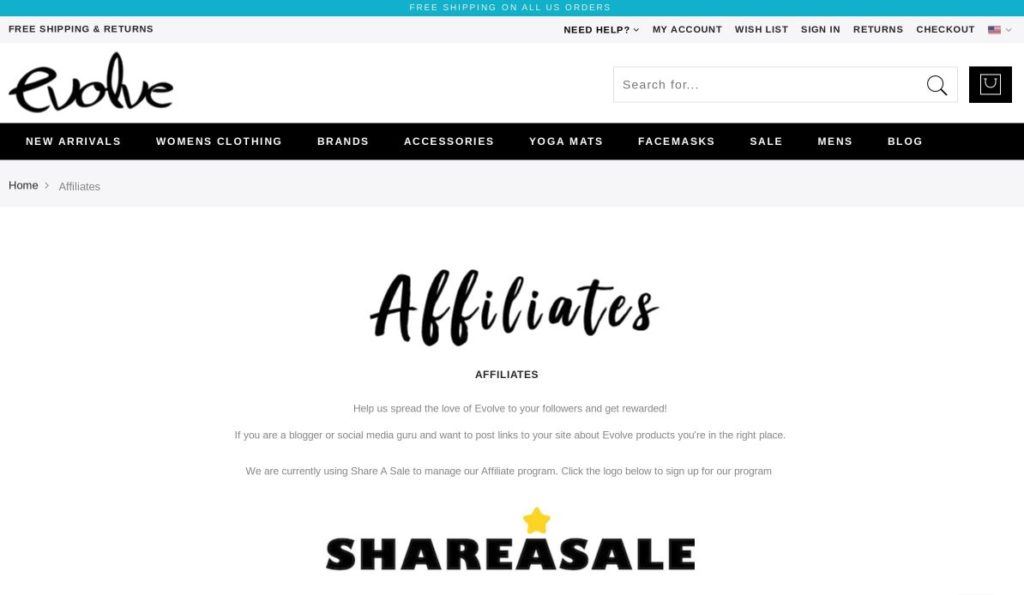 Commission: up to 10%
Cookie: 30 days
Evolve Fit Wear is one of the top fashion affiliate programs for fitness apparel and activewear online. Their company endeavors to support women-owned or eco-friendly businesses that also manufacture in the USA. Although they are based out of Oregon, the company offers worldwide shipping for a $15 add-on.
Why You Should Promote Evolve Fit Wear: Huge collection of activewear, offers decent commission with incentives and useful
14. Mala Collective
Mala Collective is the brainchild of owner Ashley Wray who created this brand to inspire others to live with intention. Her company is a leading online retailer for authentic mala beads and healing gemstones, among other meditation products. Mala Collective got its start on the tropical island of Bali, Indonesia where it continues to inspire a more mindful lifestyle.
Why You Should Promote Mala Collective: High commission rates, authentic and inspiring product and marketing, decent cookie duration.
15. Frank And Oak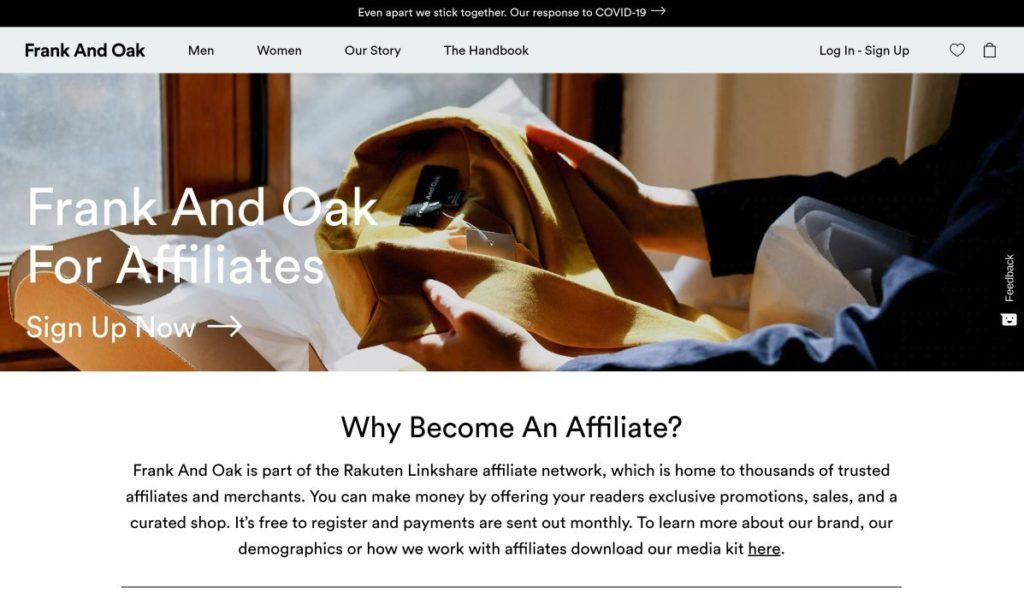 Commission: 10% new customer orders / 5% on repeat customers
Cookie: 30 days
Frank And Oak is the result of two long-time childhood friends Ethan Song and Hicham Ratnani, who created the company in 2012 in Montreal. Frank + Oak caters to eco-conscious men and women with an eye for style and design. Sustainability is a part of every aspect of their business; from their warehouses and stores right down to the very thread and needle.
Why You Should Promote Frank And Oak: They are a leader in the online sustainable fashion community with a loyal customer base. They also provide good commissions on new and repeat customers.
16. Eddie Bauer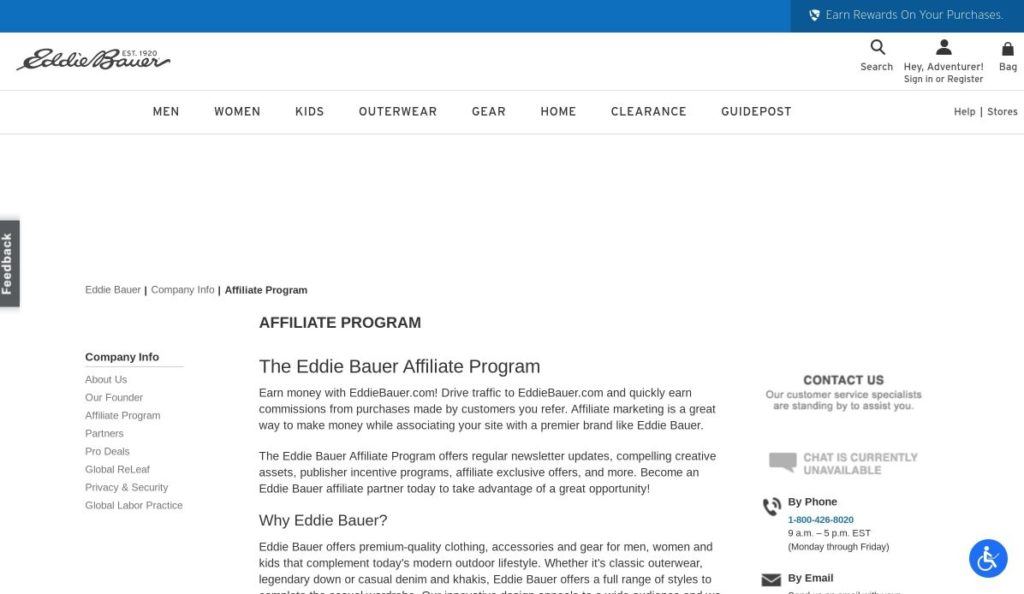 Eddie Bauer is a leading outdoor retailer for men, women, and kid's apparel that specializes in modern and classic outerwear. They're not just any apparel boutique, though. Eddie Bauer, the founder, was an outdoor guide himself who inspired the company to heed the advice of fellow outdoorsmen and athletes which they later used to develop innovative designs for both outdoor gear and clothing. They used FlexOffers to run its affiliate program.
Why You Should Promote Eddie Bauer: Leading name in the outdoor fashion niche with high conversion rates and customer loyalty.
17. Hudson's Bay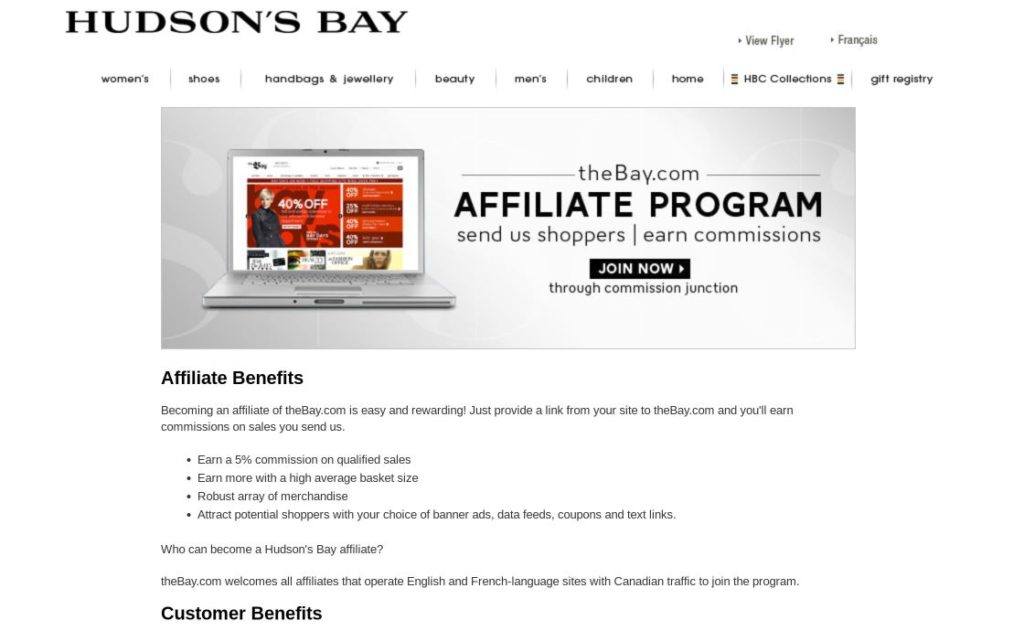 Commission: 5%
Cookie: 7 days
Hudson's Bay, known more as just "The Bay" is an iconic department store chain in Canadian culture. The Hudson's Bay Company is actually the oldest company in all of North America founded in 1670 with its first department store opened in 1881 in Winnipeg, Manitoba, Canada. The Bay sells all sorts of handbags, women's and men's apparel, and more.
Why You Should Promote Hudson's Bay: A true Canadian icon, Hudson's Bay brand speaks for itself. Great for sizeable audiences from Canada.
18. RoseGal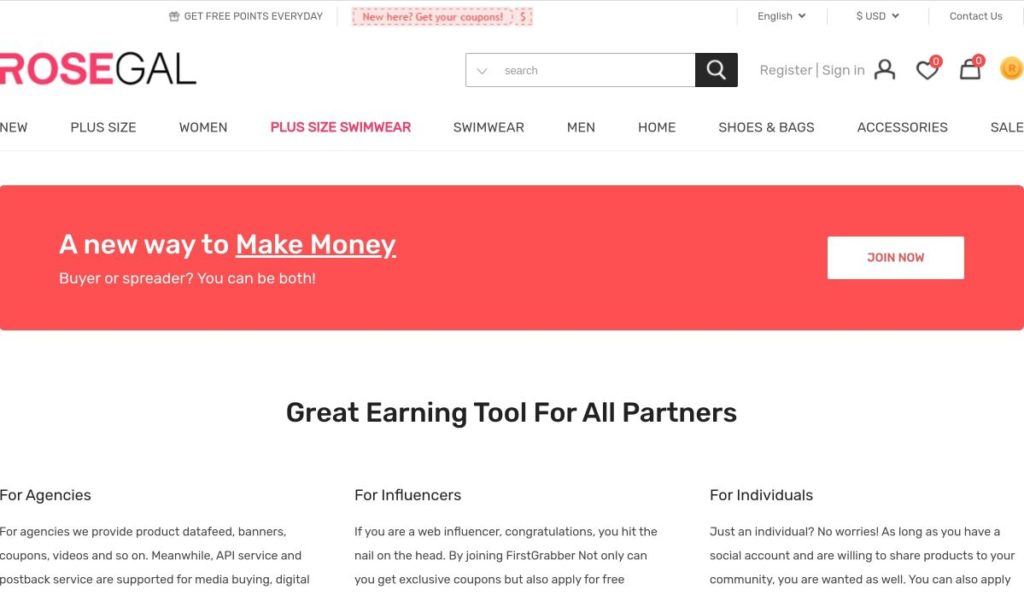 Commission: 6-18% tiered rates, up to 25% for coupons
Cookie: 30 days
RoseGal is a high-in-demand online retailer selling vintage and chic plus-size apparel on a budget. RoseGal was actually started by a group of close friends who wanted to highlight how Big Is Beautiful while marketing for a classic vintage line of affordable clothing and swimwear that never goes out of style.
Why You Should Promote RoseGal: They have high conversions, creative tools bloggers can use to promote, and special commission incentives for rewards.
19. J.McLaughlin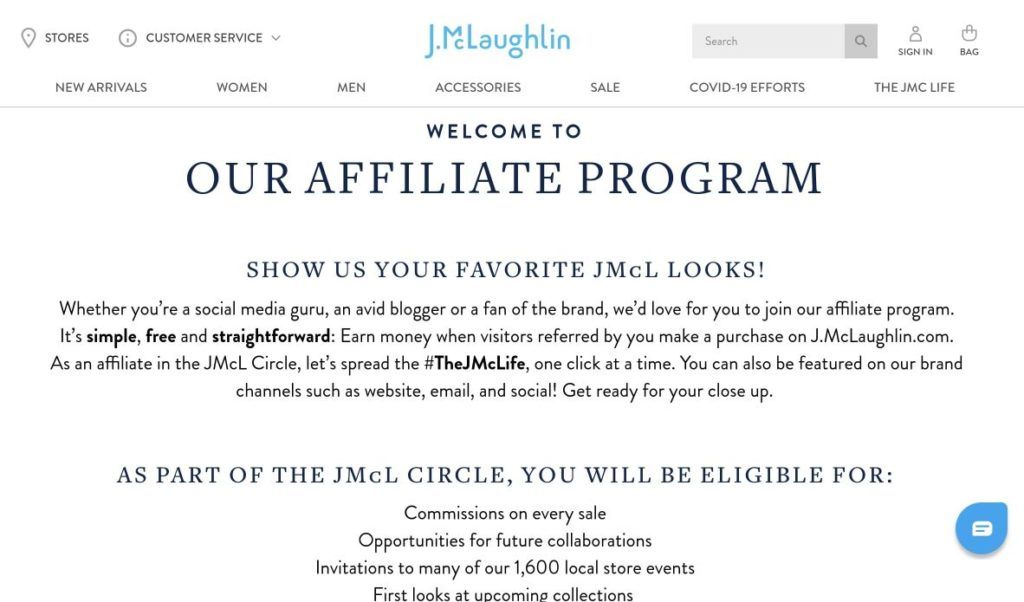 J.McLaughlin is a brand built by two visionary brothers, Jay and Kevin, in 1977. They envisioned creating a line of classic and tasteful sportswear for men and women. J.McLaughlin is a well-trusted brand across the United States. They have over 140 department stores – each building is specially curated and designed to represent the neighborhood it dwells in.
Why You Should Promote J.McLaughlin: High commissions on every sale, whether new or repeat. Affiliate incentives like collaboration opportunities and invites to store events.
20. REVOLVE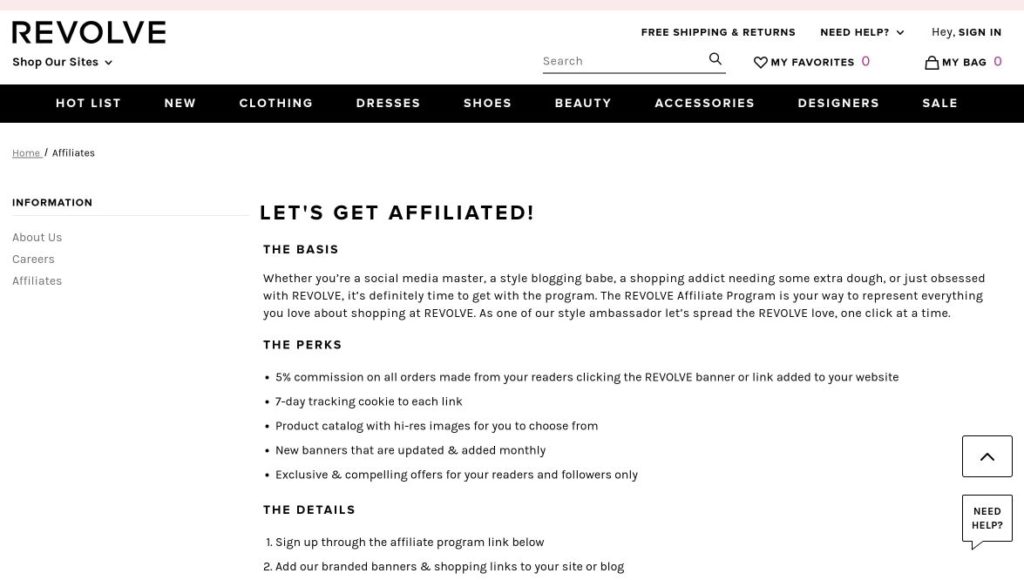 URL: REVOLVE Affiliate Program
Commission: 5%
Cookie: 7 days
REVOLVE is a leading online apparel retailer that got its start in 2003 by two friends. The brand is home to a collection of over 500 fashion designer brands in women's and men's apparel and beauty niches. The company currently has a network of 1000 team members ready to assist you in your shopping and over 4 million followers on Instagram.
Why You Should Promote REVOLVE: A leading affiliate program with links and creator tools for designer brands such as Levi's, Nike, Zimmerman, Dr. Marten's, and more.
21. Ashbury Skies (BENDY)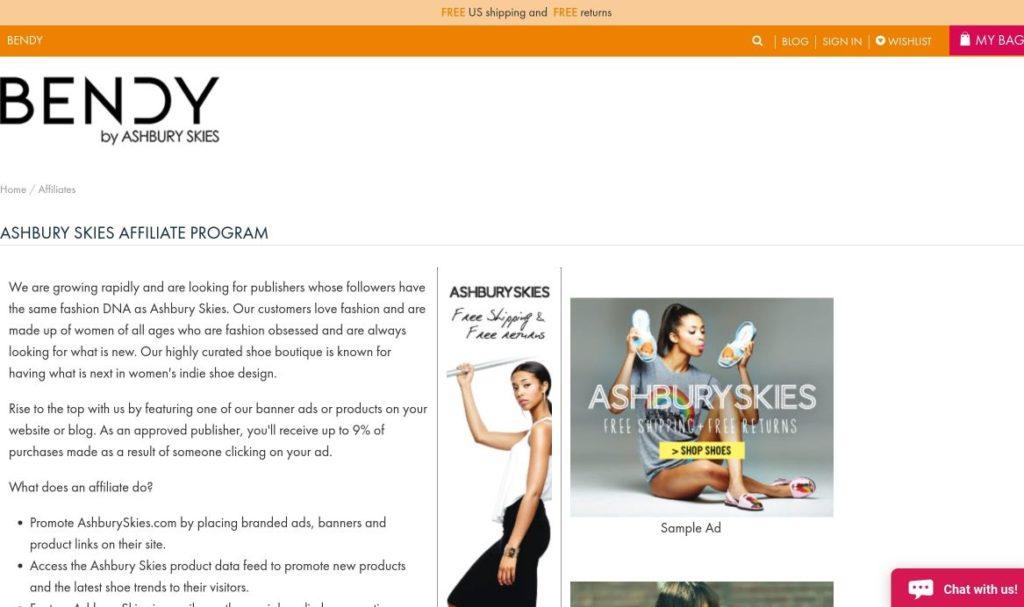 BENDY by Ashbury Skies is an up-and-coming online retailer selling women's planet-friendly shoes. The owners are two ladies who became friends out of college and who, years later, reconnected to put their shoe-making knowledge together to create what they consider to be the world's comfiest planet-friendly shoe.
Why You Should Promote Ashbury Skies: The brand makes their shoes ethically in California, supports fair wages, and is well known for having the latest in women's indie shoes.
22. Wool and the Gang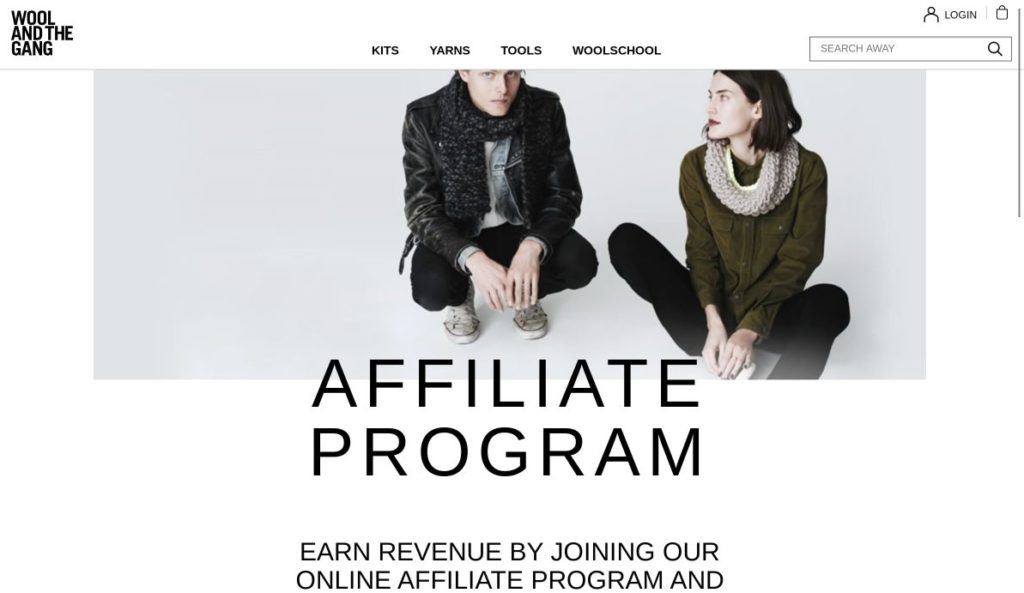 Wool and the Gang is a leading retailer in the online knitting, crocheting, and crafts niche. The brand sells a myriad of knitting and crochet sets, yarn, and other craft supplies and accessories. Their mission is to spread the "wooly gospel far and wide" by using sustainable materials and introducing newbies to the craft with attractive marketing and branding.
Why You Should Promote Wool and the Gang: A trusted name in the niche, curated marketing tools, decent 30-day cookie duration.
23. Boohoo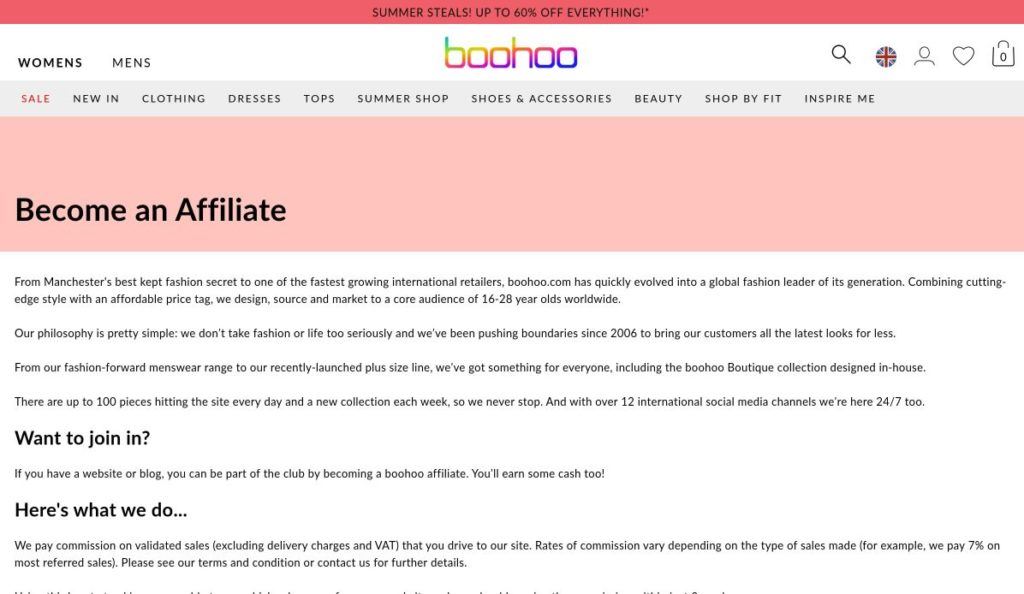 Commission: 7-10%
Cookie: 30 days
Boohoo is a global online clothing retailer stocking the latest trends in men's and women's fashion. Their brand caters to young adults aged 16-28 who are passionate about finding the next best fashion statement. Boohoo.com works 'round the clock, dropping over 500 new products each week on their online shop.
Why You Should Promote Boohoo: They have a large and recognized brand with over 10 million social followers. They provide 24/7 assistance and care to affiliates and customers.
24. Trunk Club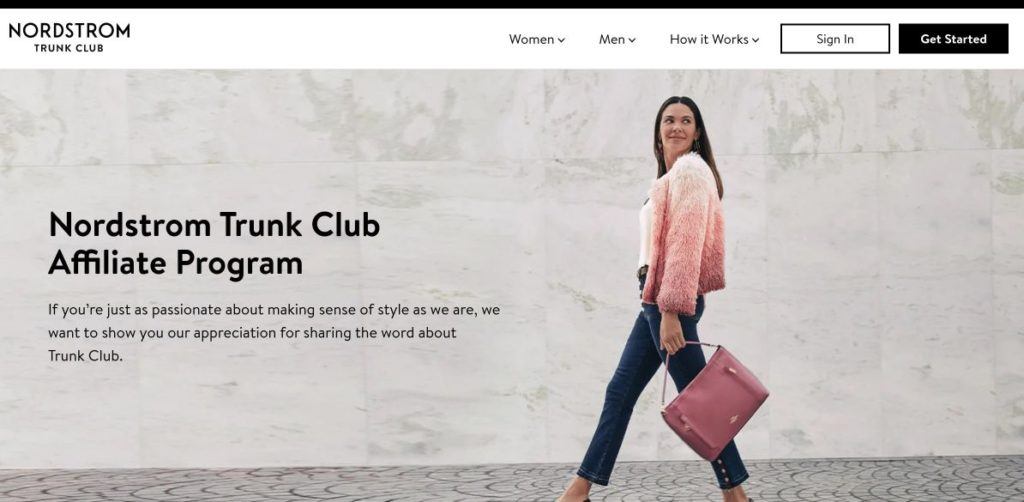 Commission: 5% per sale, $3 per lead
Cookie: 30 days
Trunk Club is a high-end clothing subscription program by Nordstrom that delivers personalized, stylish apparel right to your door once a month. In fact, Trunk Club paved the way for being the first men's clothing subscription box. The monthly style picks cater to both men and women who prefer a timeless, classic look.
Why You Should Promote Trunk Club: They have a large and recognized brand with over 10 million social followers. They provide 24/7 assistance and care to affiliates and customers.
25. Newchic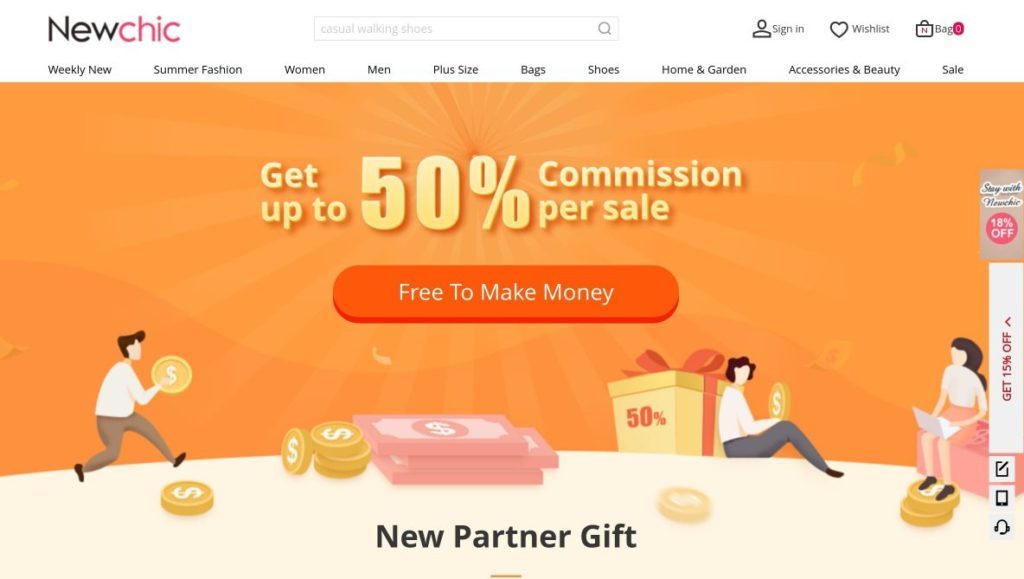 Commission: 18% new affiliates, up to 50% on special
Cookie: 60 days
Newchic was founded in 2015 and has since strived to become one of the top e-commerce fashion retailers in the world. They sell everything from men's and women's apparel to home and garden tools to jewelry, beauty products, and kid's fashion. The brand aims to set itself apart by focusing on unique designs from independent brands, and all at a low price.
Why You Should Promote Newchic: Long cookie duration, competitive commissions for new affiliates.
26. Reebok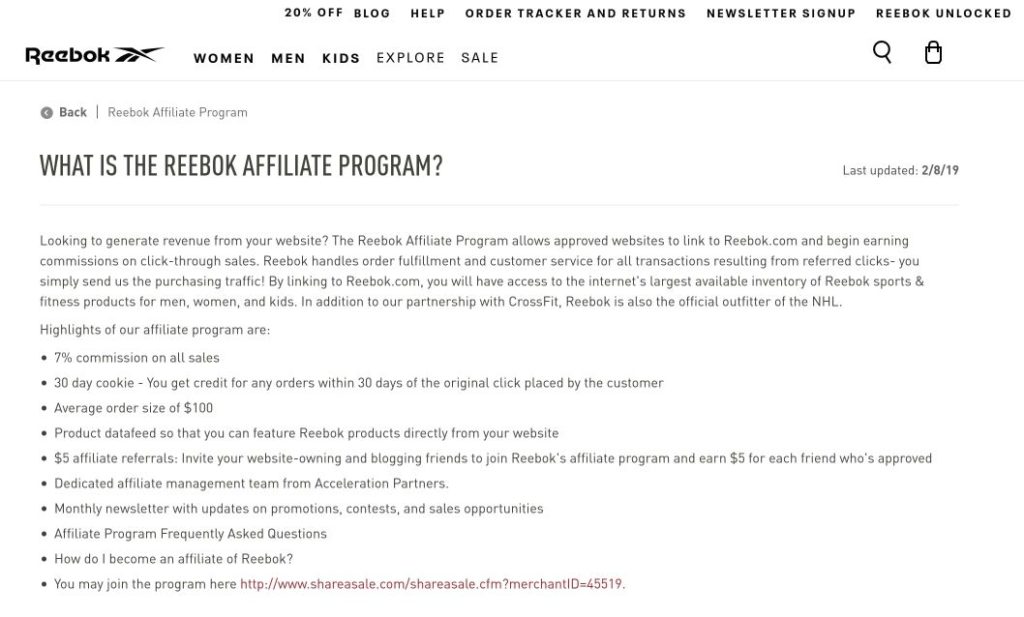 Commission: up to 7%
Cookie: 30 days
Reebok is one of the more well-known name brands in the world for its fitness apparel and shoes. If we have jazzy headbands and slimming spandex to wear today, it's thanks to Reebok. After all, they are the ones who pioneered these iconic fitness products during the 1980s and made them a hit in pop culture. Reebok, although it remains its own brand, has been incorporated as a subsidiary of Adidas since 2005.
Why You Should Promote Reebok: One of the most recognizable names in the fitness and fashion world. The average order size is around $100 with a decent 30-day cookie duration.
27. Warby Parker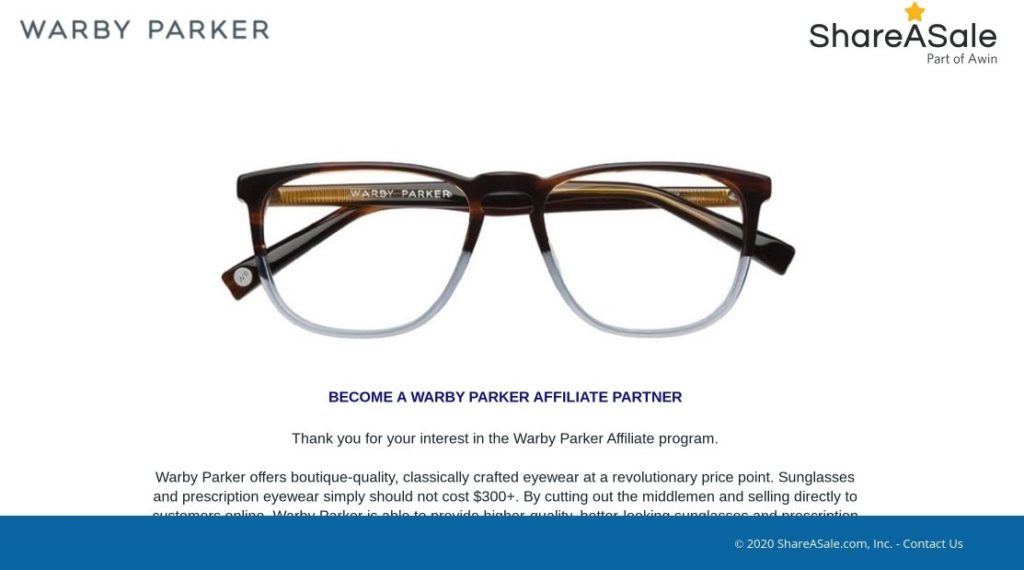 Commission: 20% per sale, $0.50 per lead
Cookie: 45 days
Warby Parker is one of the US's leading online optical retailers, selling high-end, boutique-style prescription glasses and sunglasses for $150 or less. They also have around 20 stand-alone stores across the U.S. but they are most famous for their free, in-home "Try Ons" that turn into high-converting paying customers.
Why You Should Promote Warby Parker: Competitive commission rates, long cookie duration, and an award-winning affiliate management team nominated by Acceleration Partners. The average order cost is $125.
28. Tea Collection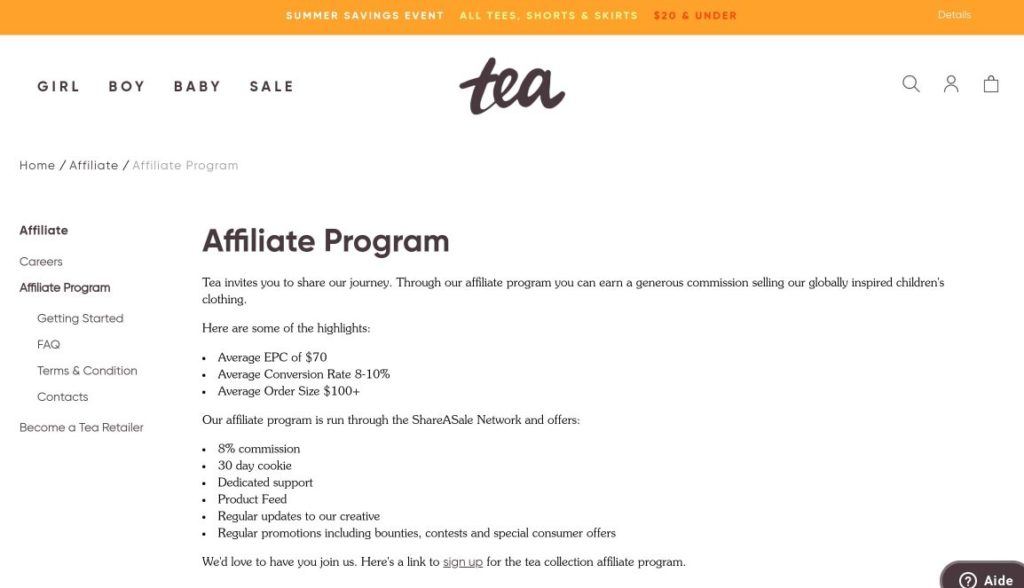 Commission: 8%
Cookie: 30 days
Tea Collection is a children's clothing fashion affiliate program selling girls, boys, and babies clothes for all stages of babyhood up through tweenhood. It was co-founded by friends Emily Meyer and Leigh Rawdon and, although based out of San Francisco, the company has stores and ships kid's fashion worldwide.
Why You Should Promote Tea Collection: Average conversion rates are 8-10% with an average basket order of $100+. They are also committed to high-quality goods and ethical sourcing.
29. Zappos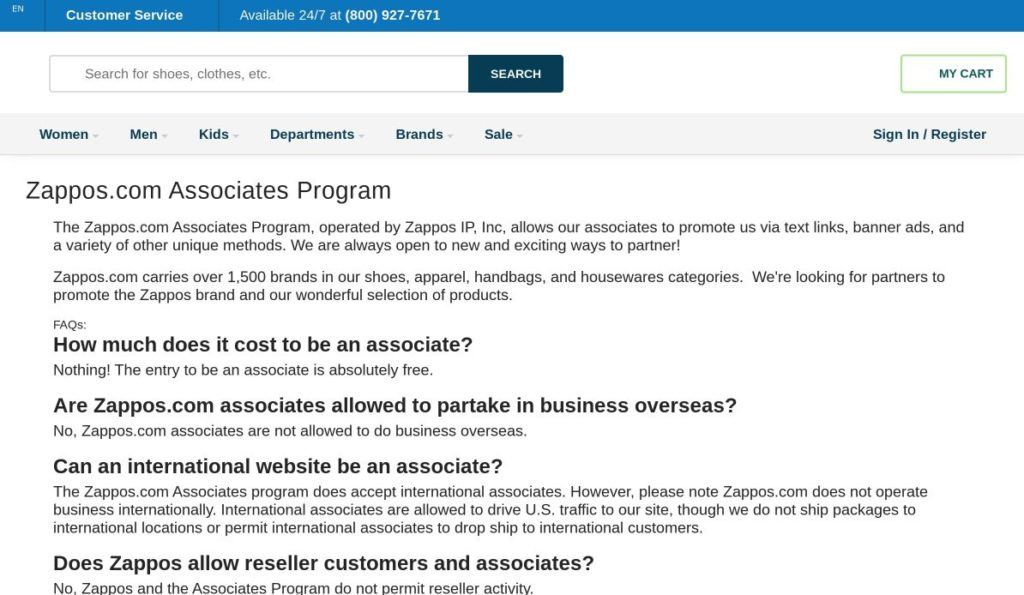 Zappos began as a humble e-commerce site for shoes in 1999 when founder Nick Swinmurn created the site Shoesite.com. Zappos quickly grew into one of the largest retailers for shoes online and in July 2009, got bought out by Amazon for 1.2 billion dollars. Today they continue to sell shoes, but also women's and men's apparel and accessories.
Why You Should Promote Zappos: They provide the best in customer service, have high conversions on affiliates, and have a large social media presence.
30. Nordstrom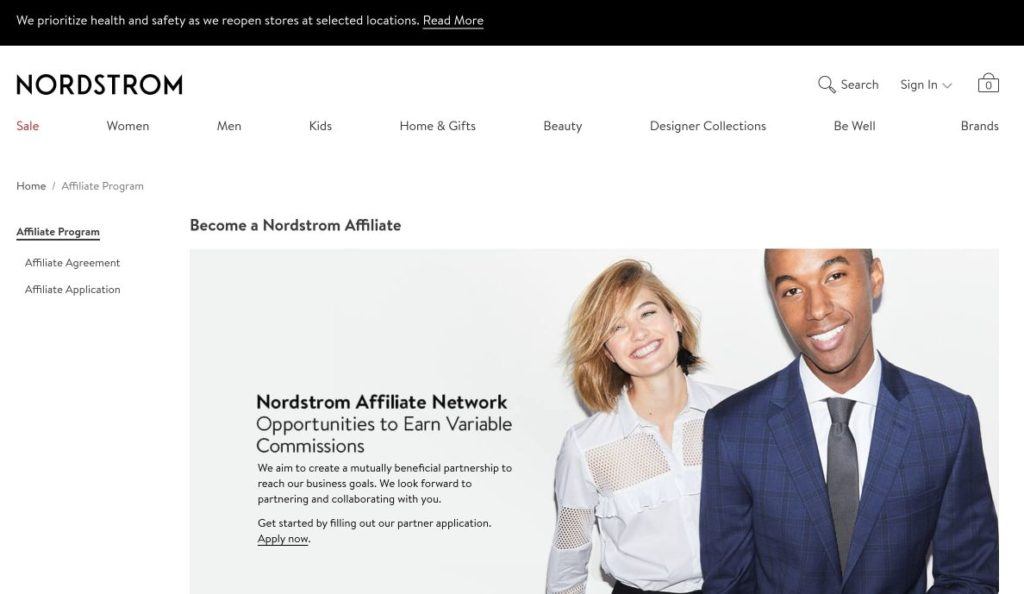 Commission: 2-20% per item
Cookie: Unavailable
Nordstrom is one of the most well-known luxury department store chains in the world. It got its humble start as a shoe retailer back in 1901 but has since grown its inventory to include products related to fashion and beauty in all niches — shoes, handbags, apparel, cosmetics, fragrances, apparel, and more.
Why You Should Promote Nordstrom: Ideal for luxury fashion blogs, they have a wide selection of fashion products to link to and earn from.
31. Johnston & Murphy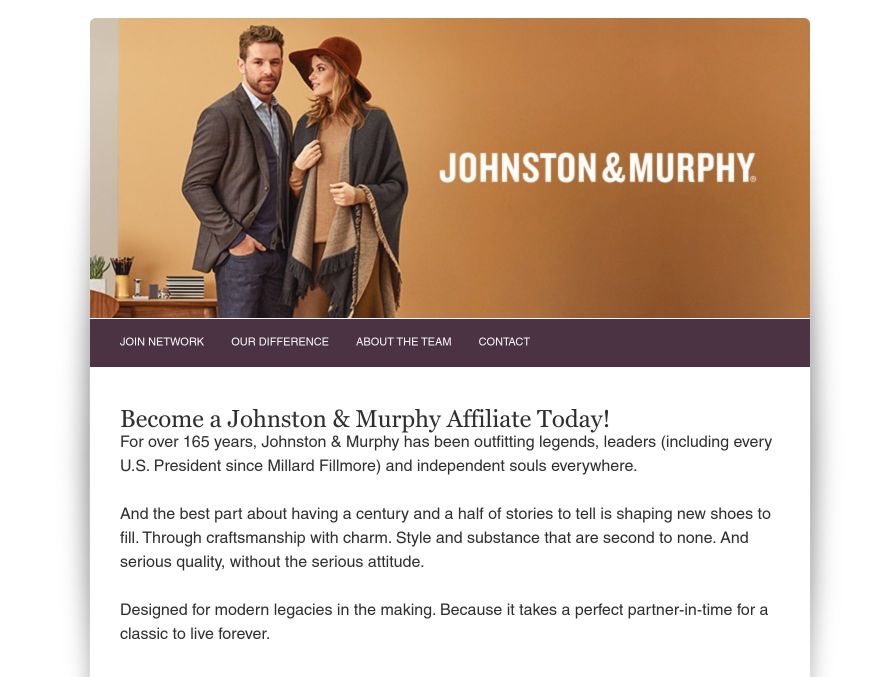 Commission: 7%
Cookie: 90 days
Johnston & Murphy is unlike any other of your shoe retailers. They are the ultimate shoemaking brand that has outfitted Presidents of the United States for the past 165 years, starting with Millard Fillmore. They now excel at making premium, top-notch shoes, leather goods, and apparel for men and women.
Why You Should Promote Johnston & Murphy: Well-trusted and highly reputable shoe retailer, long cookie duration, and decent commission rates with high average order size.
32. RageOn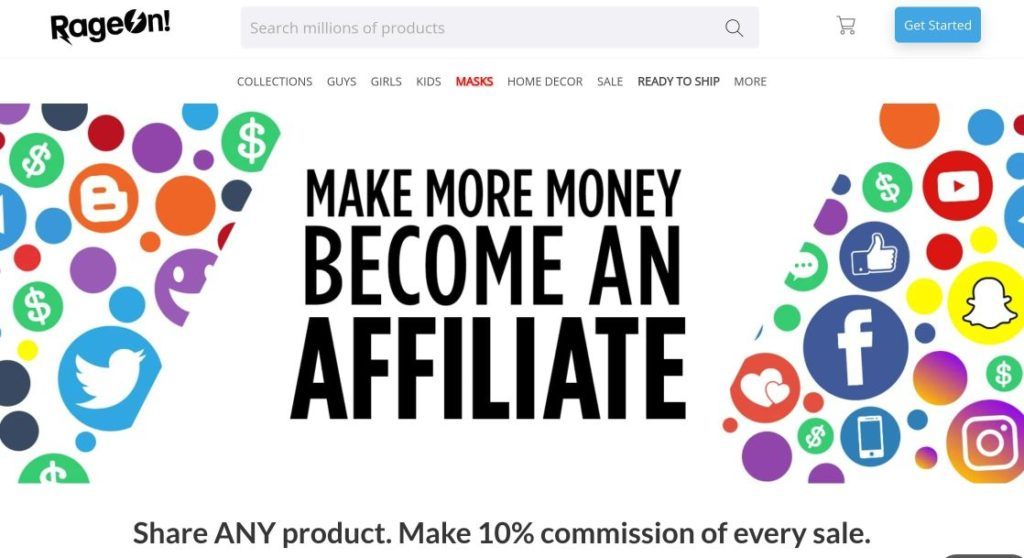 Commission: 5%
Cookie: 30 days
RageOn is known for being named the world's largest "All-Over Print Online Store" by Shopify just one year after opening its online doors. Thanks to their made-to-order dye-sublimation, they create and sell all-over printed products ranging from t-shirts and general apparel to home decor items such as shower curtains and more. They've partnered with hundreds of celebrities and artists like The Black Eyed Peas.
Why You Should Promote RageOn: Reputable name in the custom creation business, competitive commission rates on every sale.
33. The RealReal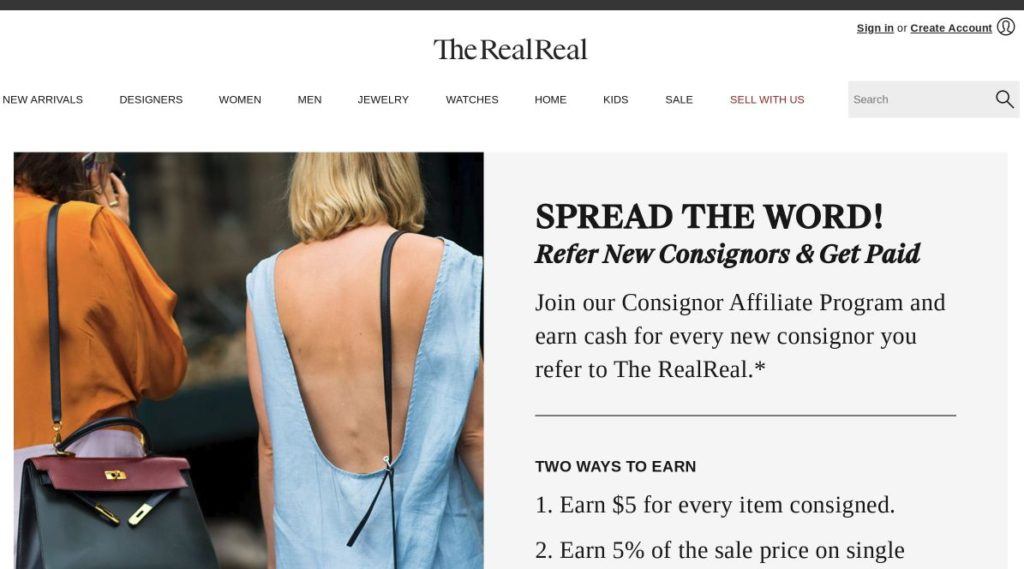 Commission: $5 per consign + $50 bonus for new customers
Cookie: 7 days
The RealReal is not your ordinary fashion retailer. They are considered the leader in authenticated luxury consignment, or in other words, they sell upcycled luxury garments that have been checked and verified using a rigorous approval process. They believe the future of fashion is circular, and that luxury items in fashion shouldn't have just "one life" but many.
Why You Should Promote The RealReal: Leader in the industry with a high affiliate incentive cash bonus. Overall a great fashion affiliate program for sustainable fashion blogs.
34. Ericdress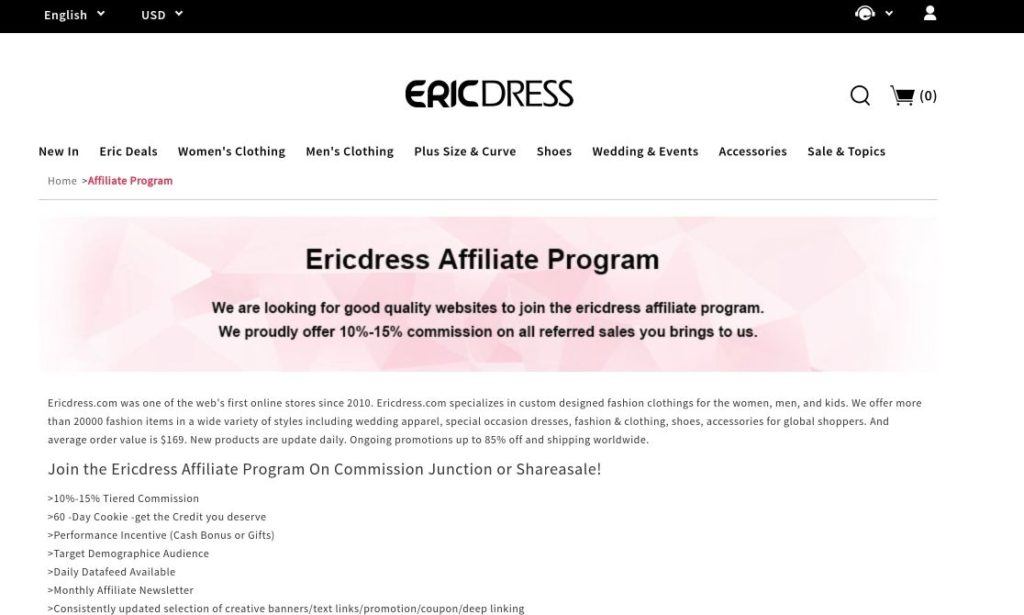 Commission: 10-15%
Cookie: 60 days
Ericdress is a global online fashion retailer selling in approximately 200 countries and regions. They are one of the largest retailers in the world having started in early 2012 and now stocking over 20,000 fashion products ranging from women and men's clothing to special occasion dresses, fashion accessories, and much more.
Why You Should Promote Ericdress: Competitive tiered commission rates, long cookie duration, and an enormous inventory of fashion pieces to link to.
35. Jane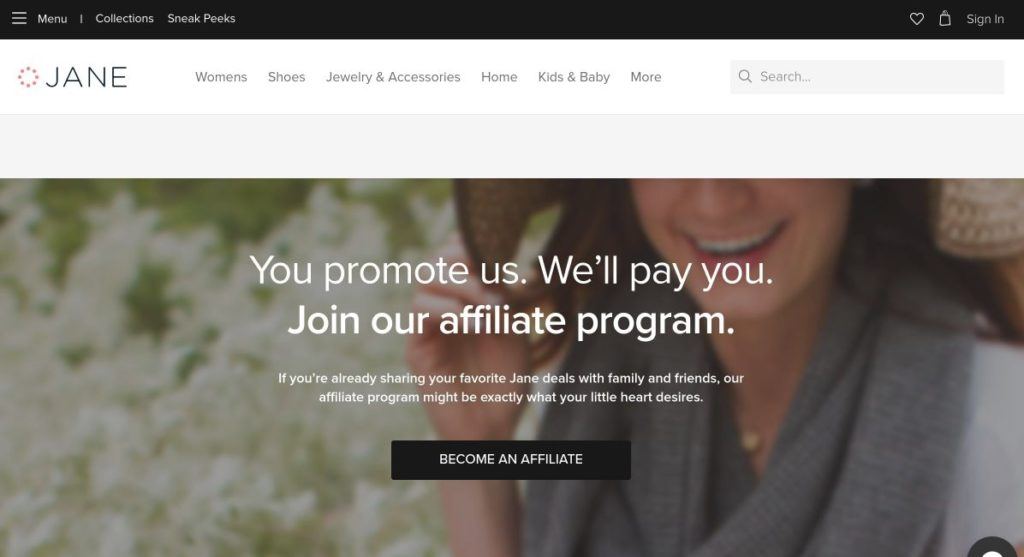 Commission: 8-9%
Cookie: 30 days
Jane is an online fashion retailer for women, kids, and baby apparel. Their goal is to inspire mothers and women to lead confident lives and do it in style with their feminine clothing designs. The brand inspires a sense of freshness and drops great deals on new stock every day that begins at 2 am EST.
Why You Should Promote Jane: Earn commissions on both new and repeat customers, updated marketing materials, new stock daily, and a two-week cookie duration.
36. River Island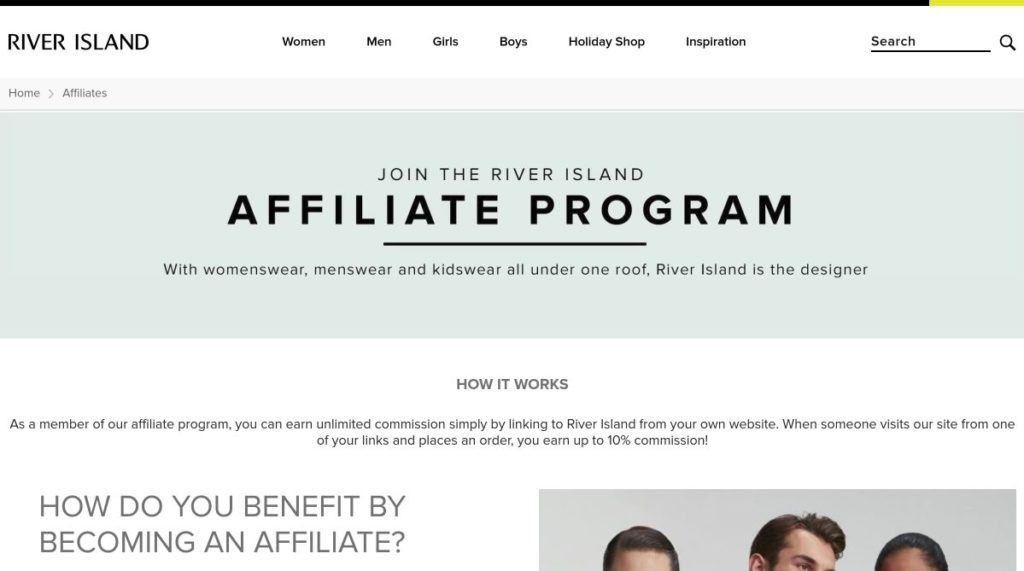 Commission: 5-10%
Cookie: 30 days
River Island is a UK-based online retailer specializing in stylish, affordable fashion for men, women, and children. They currently have over 350 stores across the UK and international destinations with six online stores in multiple currencies. The company strives to achieve social responsibility by dealing in ethical trading, recycling, and donating to charity.
Why You Should Promote River Island: Wide audience base, good cookie duration, fairly competitive commission rates.
37. Ivory Ella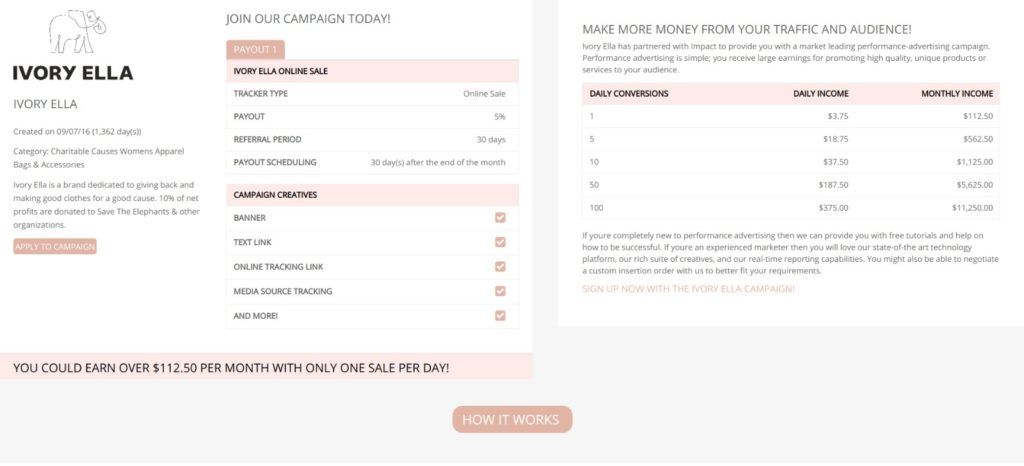 Commission: 5%
Cookie: 30 days
Ivory Ella is an online for-profit clothing retailer that is associated with Save the Elephants, a charity organization dedicated to protecting and preserving elephants in the wild. Ivory Ella gives 10% of net profits to Save the Elephants. They endeavor to promote sustainable supply chains, fair wages, eco-friendly manufacturing, and more. Ivory Ella partnered with Impact to administer their affiliate program.
Why You Should Promote Ivory Ella: Clothes that support a cause, a dedicated customer base, and a brand that gives back. A great affiliate program to align with sustainable fashion bloggers.
38. ModCloth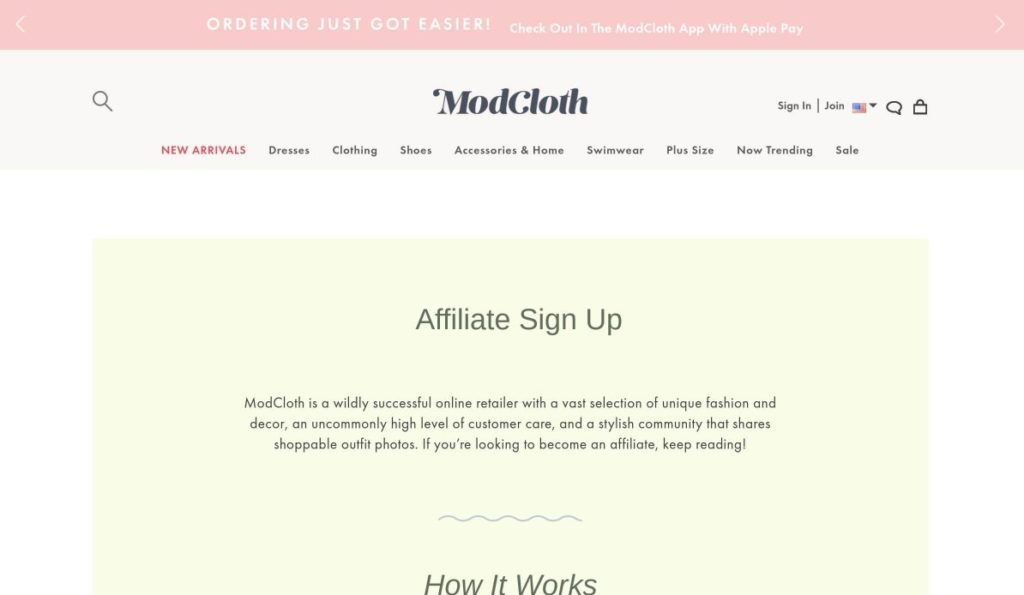 Commission: 5% base fee, 2% for coupons and deals
Cookie: 45 days
ModCloth is one of the first online fashion retailers to bring back fun, vintage apparel. They pride themselves on providing unique designs that suit every women's body effortlessly. Since their start in 2002, they've led the way to voicing change for photoshopping policies and use their platform to collaborate with charities that advocate for women and animal rights.
Why You Should Promote ModCloth: A leader in the vintage-themed fashion niche with a mission to empower and support women through inclusion and body positivity.
39. Cupshe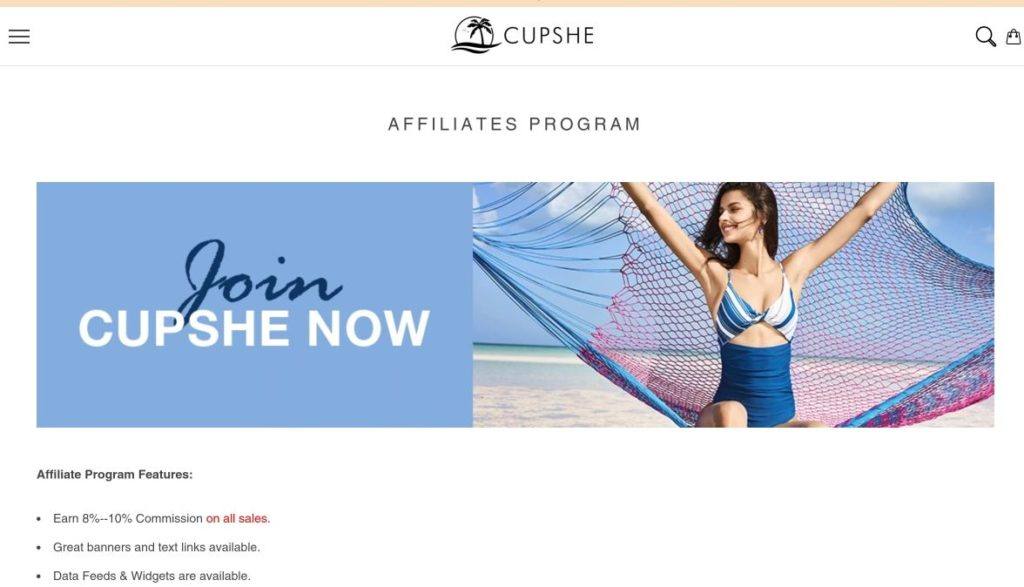 Commission: 8-10%
Cookie: 30 days
Cupshe got its humble start as a small online swimwear retailer in 2015. However, the brand quickly grew, eventually reaching customers in over 100 countries. Cupshe sells bathing suits and beachy apparel designed to inspire a "life by the beach."
Why You Should Promote Cupshe: They have a large social media following to help sell their trendy swimwear and beach coverups, resulting in high-converting commissions for affiliates.
40. Choies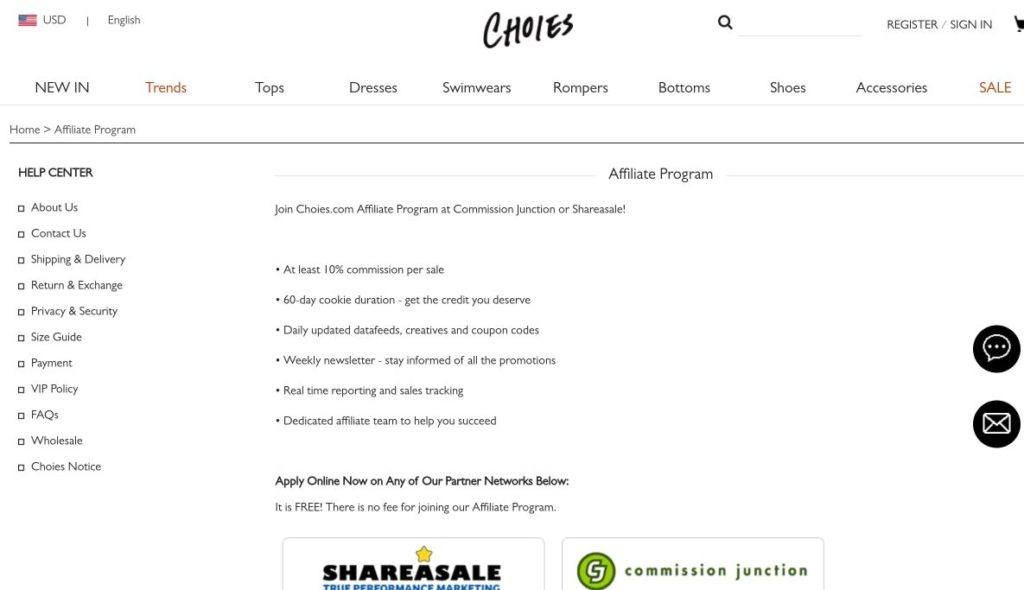 Commission: 10%
Cookie: 60 days
Choies is a UK-based global fashion retailer stocking the latest in fashion trends, particularly "street fashion" at a competitively low-price. The site drops nearly 200 new items on their website daily, resulting in endless fresh apparel to promote to your blog audience.
Why You Should Promote Choies: They have promising commissions and one of the highest cookie durations of all the affiliate programs.
41. WOLACO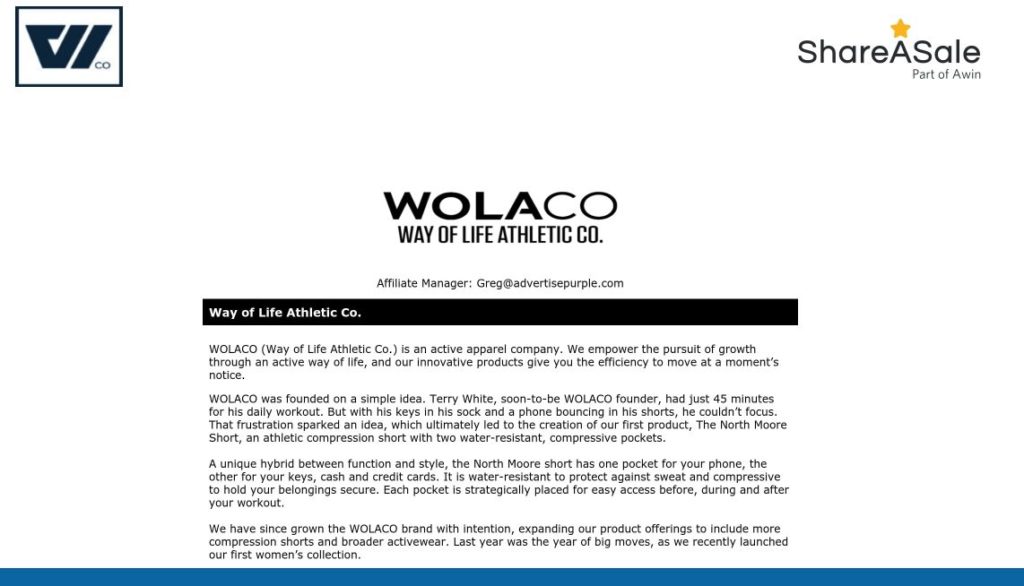 Commission: 5%
Cookie: 30 days
WOLACO, or "Way of Life Athletic Co", is a premium retailer focusing on promoting an active lifestyle through outdoor apparel and sportswear. Their trademark product is the North Moore short, which features two water-resistant compression pockets ideal for storing jingly keys and necessary take-along items to prevent them from bouncing around while you work out or go jogging.
Why You Should Promote WOLACO: They have a fast-growing line of innovative fashion designs ideal for outdoor and fitness bloggers.
42. Hari Mari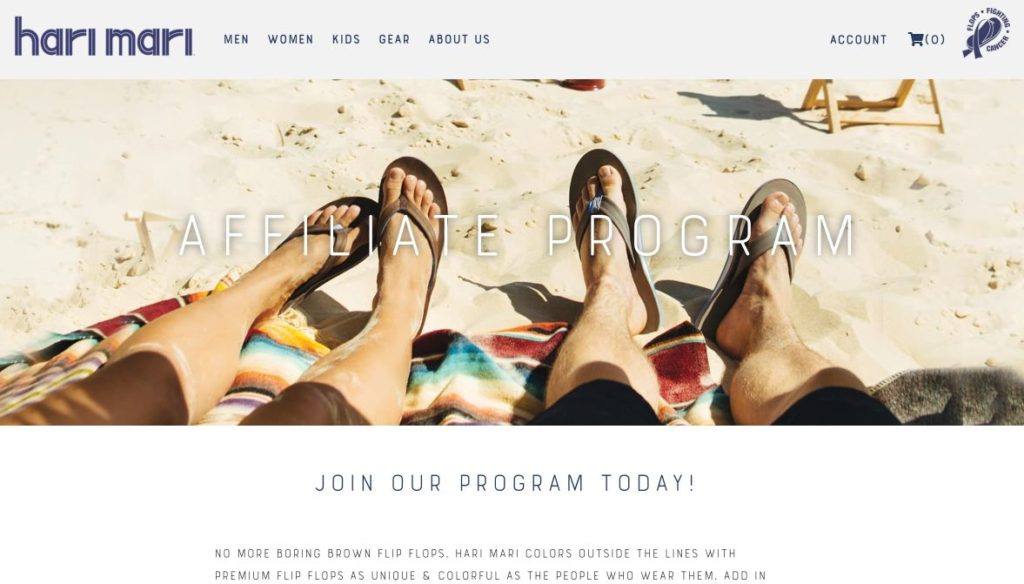 Commission: 10%
Cookie: 90 days
Hari Mari is a leading retailer for stylish and comfortable flip-flops. The brand's mission is to throw out the old concept of flip-flops, down to the very dull and boring black and brown options, and introduce an innovative design with new colors plus a level of comfort that results in an "ahhh" feeling.
Why You Should Promote Hari Mari: Their brand raises awareness of pediatric cancer and helps kids in-need by supporting families battling cancer.
43. Zaful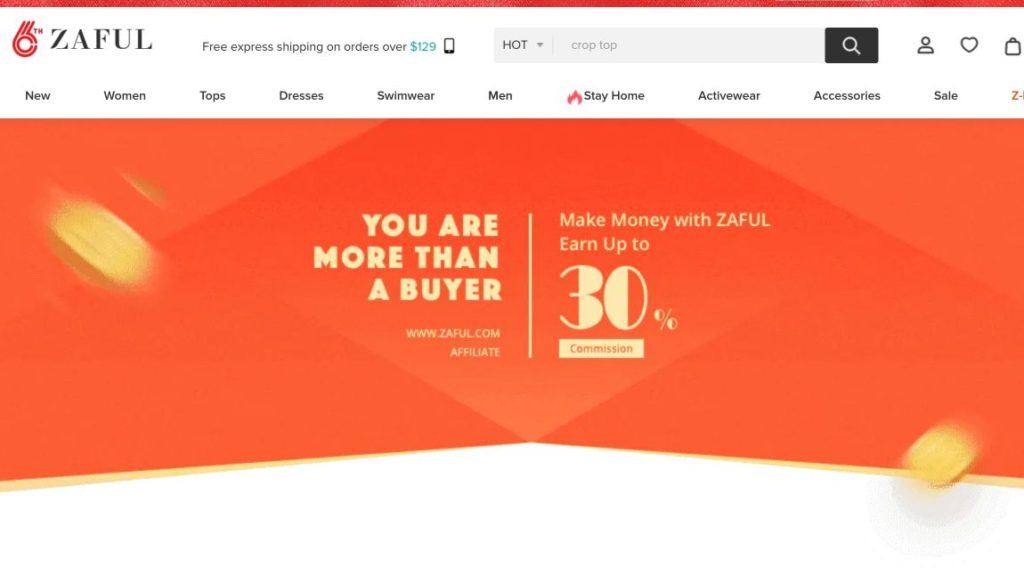 Commission: 15-20%, with the potential to earn up to 30%
Cookie: 60 days
Zaful is a huge online fashion retailer aiming to provide high-quality designs at an affordable price. They are one of the top-selling fast fashion brands in the industry, racking up a huge social media presence with over 5.9 million Instagram followers. Their edgy design styles are all about grabbing the hottest trends in global fashion.
Why You Should Promote Zaful: They have an infinite collection of apparel for men and women, competitive commission rates, and high conversions with a 2-month cookie duration.
44. Maurices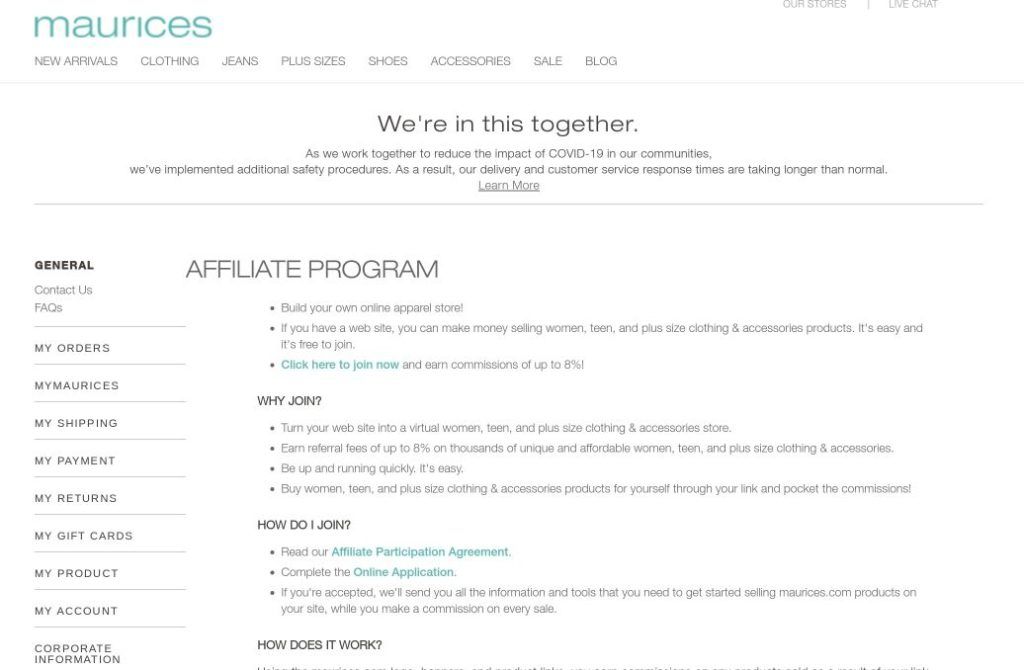 Commission: 4-8%
Cookie: 30 days
Maurices has a long history in the fashion industry when the original founder, E. Maurice Lavobitz, opened the first Maurices store in 1931. Across recent decades they were acquired by several fashion brands like Dressbarn, Justice, among others, until it was finally acquired by the Ascena retail group.
Why You Should Promote Maurices: More than just a clothing retailer, Maurices endeavors to empower women and uplift families out of poverty by fostering health, wellness, economic, and entrepreneurial opportunities.
45. Lane Bryant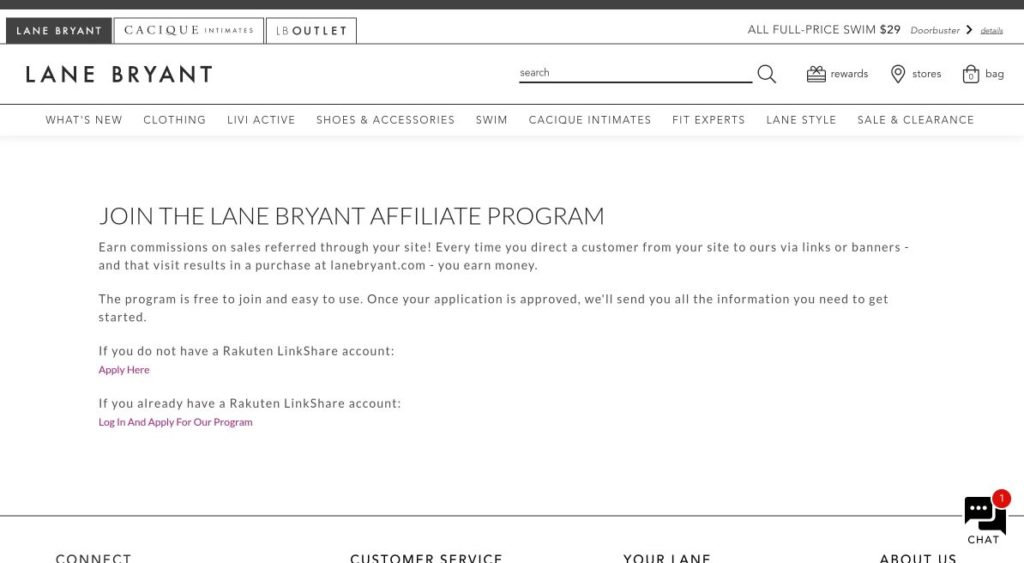 Commission: 5%
Cookie: 30 days
Lane Bryant is celebrated for being a women-owned, women-led brand that caters to plus-size women and women of all shapes and sizes. The brand was founded by Lena Himmelstein Bryant Malsin in 1904 before women even had the right to vote. The company has continued to lead with her tenacity at the forefront ever since. There are now close to 1,000 Lane Bryant stores across 46 states in the US.
Why You Should Promote Lane Bryant: Lane Bryant revolutionized the women's fashion industry forever, offering high-conversion rates and a loyal customer base for affiliates to promote to.
46. MR PORTER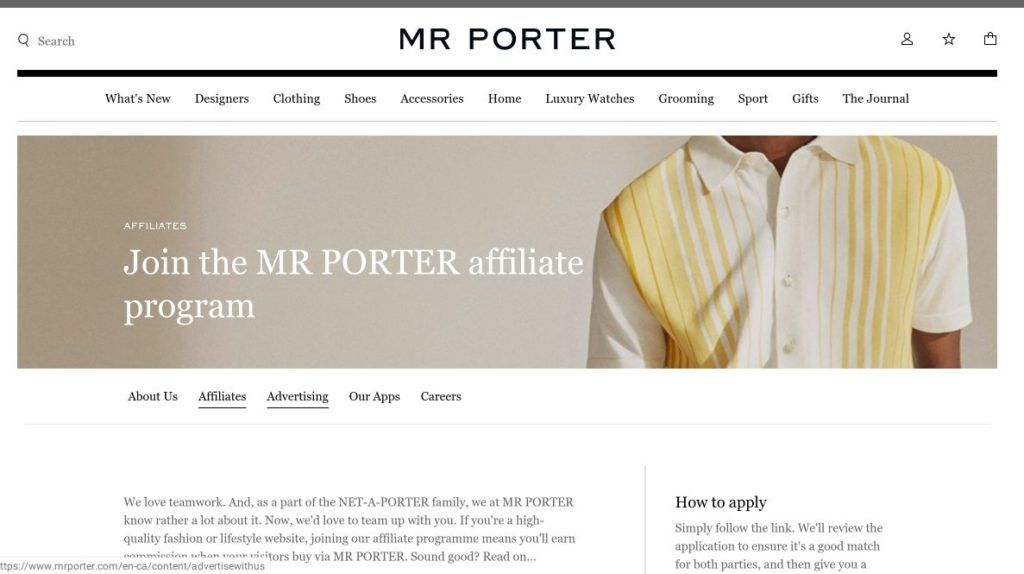 Commission: 6%
Cookie: 30 days
MR PORTER is an all-in-one men's apparel online retailer featuring men's designer labels, luxury watches, men's grooming products, shoes, sportswear, and more. They are an award-winning leader in men's fashion, catering to fashionable men around the world with shipping to 170 countries.
Why You Should Promote MR PORTER: With luxury brand names such as Gucci, Amiri, and Polo Ralph Lauren, Tom Ford, among others, the brand attracts a large audience to the latest high-end men's fashion trends.
47. Stevie Sister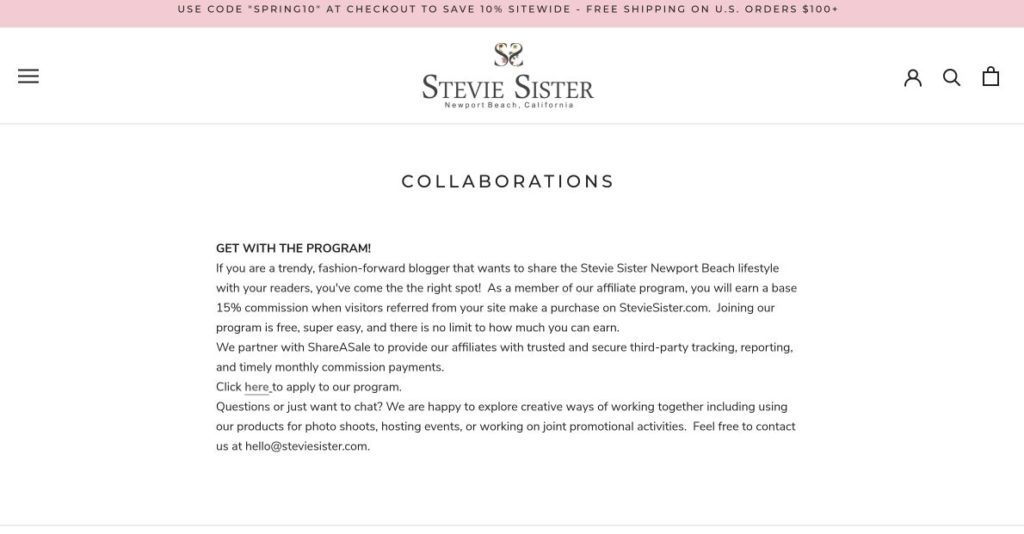 Commission: 15%
Cookie: 60 days
Stevie Sister is a fashion-forward women's apparel brand selling lifestyle and beachwear iconic of the sunny Southern California style. Owner and founder Theresa Johnson created Stevie Sister to evoke flowy and sexy women's apparel that looks good but feels like wearing a buttery t-shirt. The company is well-known in and around its birthplace in Newport, California.
Why You Should Promote Stevie Sister: Stevie Sister is a true homegrown fashion brand carrying its own label alongside other popular designers in its contemporary online store. The affiliate program offers competitive rates and is ideal for fashion bloggers with a large US-based audience.
Boost Your Affiliate Earnings
These 10 affiliate programs are just the beginning of what's possible. There are hundreds of ways to earn affiliate commissions with your website, including product reviews, top 10 lists, how-to guides, and more
But what about traffic and conversions? How do you make sure your affiliate links get clicked?
I used the affiliate training here to turn my brand new website into a six-figure income generator in less than two years. Build a business, not just a pocket-money side project!
What's up ladies and dudes! Great to finally meet you, and I hope you enjoyed this post. Sign up for my #1 recommended training course and learn how to start your business for FREE!