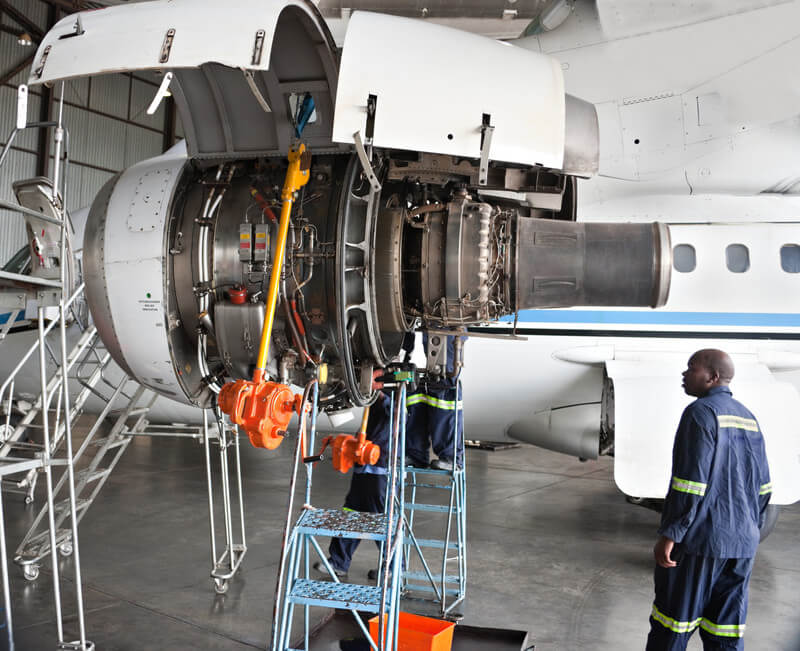 In a world where so much influence and pressure is placed on college degrees, it's worth taking time to assess your options and remember that not all good jobs require you to go to university.
Becoming an aircraft mechanic is an occupation that does not require a college education while also offering plenty of opportunities for career progression – and importantly, also offers a very good salary.
Major aircraft manufacturers are predicting a need for thousands of aircraft mechanics – sometimes called aircraft maintenance technicians or aircraft engineers – each year over the next several years as more and more airplanes are produced. In this respect, it is a relatively new career path, but one where jobs should be plentiful over the next few years.
Over the course of the following article we are going to look at how you can become an aircraft mechanic, what the role involves and what you can expect to earn from doing it.
General Work Description
Necessary Skills

Detail Orientated
Technical
Dexterity
Troubleshooting (and patience)

Salary
Types of Aircraft Mechanic

Avionics Technician
Airframe Mechanics
Powerplant Mechanics
A&P Mechanics

How to Become an Aircraft Mechanic

Tests For Becoming An Aircraft Mechanic

Similar Career Options
Conclusion
General Work Description
First of all, let's have a look at what work is done by an aircraft mechanic. While every job is different, here are some of the more significant elements of the role that you would be likely to find yourself doing if you were to choose to follow this career path.
At its core, being an aircraft mechanic is about undertaking the repair and maintenance of mechanical and avionics equipment to ensure that planes and helicopters are safe to operate and travel in.
The job includes a combination of inspection, repairing and maintenance of electrical, structural and mechanical elements of aircraft.
Another part of the role is being able to distinguish and assess how worn different parts are and determine whether they are fit for use or need to be repaired or replaced. You will be assisted in this task by several diagnostic devices, which will all have been approved by the Federal Aviation Administration (FAA) – more on them later.
In terms of work environments, you'll be working in hangars and airport yards, repair stations and outdoors in the airspace – so if you like working outdoors, you're in luck.
Necessary Skills
While you don't need a third level education to become an aircraft mechanic, there are some skills that will help you succeed at the role.
Detail Orientated
An eye for detail is essential this job. While you will have diagnostic tools to assist you, it will still be your job as a mechanic to make the call on whether equipment is up to scratch.
Technical
If you're a generally technical person, it will go a long way in this role. You don't need to be the finished article – you'll learn as you train – but taking a technical approach to aspects of life will set you up nicely to work in the aviation industry.
Dexterity
As an aircraft mechanic you'll have to work with your hands, meaning you will need to be a dexterous person. If you don't like occasionally getting your hands dirty, perhaps this may not be the path for you.
Troubleshooting (and patience)
As a mechanic, it is essential that you are able to work out what is causing problems with certain equipment. This requires patience, common sense, and sometimes, thinking outside of the box.
Now that you know what the role involves and what skills help you succeed and your interest may have been piqued, we'll look at the next two most important things – the salary the job provides and how you go about becoming qualified.
Salary
The three most important factors in determining what your salary as an aircraft mechanic is are:
Your experience in the field,
What location you are based/working in and,
What airline you are primarily working for.
All of these things will fluctuate your eventual wage, but let's have a look at some averages across the United States to give an indication as to how much you could potentially earn starting out and as you progress.
According to The Bureau of Labor Statistics, the median wage for an aircraft mechanic was $60,170 as of May 2016. As a beginner, you could be earning less than half of this figure, but should still be earning $25,000+ according to 2011 figures. The highest 10% of aircraft mechanics were earning more than $87,700.
Types of Aircraft Mechanic
There are 4 main types of career path as an Aircraft Mechanic. They all share certain similarities, while also being unique. They are:
Avionics Technician
Carry out tests on aircraft and ensure that they are in good shape and fit to use. Also work on safety systems to keep people safe when flying, such as altitude, auto-pilot and weather systems. Can be trained to work on other parts of aircraft, making this a versatile career option.
Airframe Mechanics
Trained to both work on and understand all aircraft parts except for engines, propellers and avionic instruments. This means their work includes but is not limited to working on the planes frame, skin, doors, windows and wings.
Powerplant Mechanics
Work on the parts airframe mechanics don't – servicing engines and powerplants. Some also trained to work on propellers.
A&P Mechanics
Trained in both Airframe and Powerplant Mechanics. The most common path to take, as airlines like to hire mechanics who can handle both types of work.
How to Become an Aircraft Mechanic
So, how do you go about becoming an aircraft mechanic? Well, like all good jobs, it doesn't happen overnight, but the sooner you get started, the sooner you become fully qualified.
Getting fully qualified is going to take anywhere between 18 months and 5 years. If you are really considering a career as an aircraft mechanic, there are some things you will definitely need to work in the United States: you'll need to be able write, read and understand English; and you'll need to be at least 18 years old. You'll also need a willingness to learn and grow, of course, but once you have these criteria filled, you're set to begin your path to becoming an aircraft mechanic.
The next thing you need to go about doing is enrolling and graduating from an FAA-approved school for maintenance or gain at least 18-months of on-the-job experience working on either airframes or powerplants. You could also aim for both certifications by earning at least 30 months of on-the-job experience on both airframes and powerplants.
To get your certification as an aircraft mechanic, you will need to satisfactorily pass the FAA's written, oral and practical exams. Once you successfully do this, you're qualified to practise aircraft mechanics professionally.
The formal education route is available through FAA-approved Aircraft Mechanic training schools. This generally offers the full package – both airframe and powerplant certification – as well as avionics training. To get into an FAA School, you will need a high school education.
Graduates through FAA-schools often begin on a higher salary than those who entered the role from the other ways.
As mentioned above, the formal education route isn't for everybody, and just because you don't undergo it doesn't mean there are no other paths into this career, as there are other routes available – such as the above mentioned on-the-job training or through the military, where the FAA gives service members credit for time spent in certain relevant occupational specialties that involve maintenance.
Tests For Becoming An Aircraft Mechanic
Once you have racked up enough experience, you can sit the exams that will result in your accreditation. Here is a list of the test requirements from the FAA website (there is also a list of sample test questions on the site).
In brief, tests consist of:
Written Exam
A 70% pass is required to pass the written exam, which tests on all elements of working as an aircraft mechanic.
Oral Exam
Given to you by a Designated Mechanic Examiner, you will be tested about your knowledge of the mechanics of aviation. Covers, along with the practical exam, 43 technical subjects.
Practical
Same as the oral, undertaken under the watch of a Designated Mechanic Examiner and covers 43 technical subjects. Tests your physical understanding of being a mechanic through practical examination.
Typically, tests for each certificate last about 8 hours combined. Once 70% or over is achieved, you're qualified to be an aircraft mechanic.
Similar Career Options
Being an aircraft mechanic certainly isn't for everybody. Perhaps you're interested in a role where you are working with your hands and using a similar skill-set, but are not interested by the idea of working in aviation. If this is the case, perhaps you would be more interested in working as an electrician or an automotive service technician/mechanic.
Electricians install, maintain and repair electrical power and control systems in homes, businesses and factories. It requires a similar skill-set to being an aircraft mechanic, in that the job favours those who are detail-oriented, dexterous and technical, but does not have anything to do with aviation, so may be more accessible for some. It does not require a degree and the 2016 median pay was $52,720.
Being an Automotive Service Technician/Mechanic is like being an aircraft mechanic but focuses on vehicles rather than aircraft. The role involves inspecting, repairing and maintaining cars and larger vehicles such as vans. The role does not require a degree and had a 2016 median salary of $38,470.
Conclusion
In conclusion, whether or not being an aircraft mechanic or not appeals to you, it is certainly worth remembering that not all jobs require a degree and that there are great opportunities and plentiful pros to entering the working world without one.
For example, when entering a career without a degree, you are able to immediately start earning money – without the worry and hassle of loans and monetary investment. also, you'll be able to test the waters of a broader degree of jobs – a degree, by its definition, is specializing in a certain subject or field, meaning you are pigeon-holed into working in that area, even if you end up not being as passionate about it as you may once have been or thought you would be. And if it is the college experience you fear you're missing out on, don't fear because some employers want to send their employees into education so that they can up-skill – meaning you will potentially be able to go to college without the financial burden.
So, before you make the decision to go into either further education or perhaps the working world for the first time, be sure to assess your options as not all good jobs require you to have a degree, as is evident from the above on being an aircraft mechanic… the sky is the limit!
I never went to college, and it ended up being the best decision I ever made. Almost a decade ago I learned how to create my first online business, and now I work full time from home. The best part is that I set my own salary, and set my own schedule. If I want to make more money, I work harder. If I want to work less, I just take the day off!
What's up ladies and dudes! Great to finally meet you, and I hope you enjoyed this post.  I started my first online business in 2010 promoting computer software and now I help newbies start their own businesses. Sign up for my #1 recommended training course and learn how to start your business for FREE!
I've been building profitable affiliate blogs for more than a decade, and built six-figure blogs in a wide variety of niches, including computer software, self help, and home & garden topics. I do things a bit differently, and I hope you like my perspective and my style of teaching.