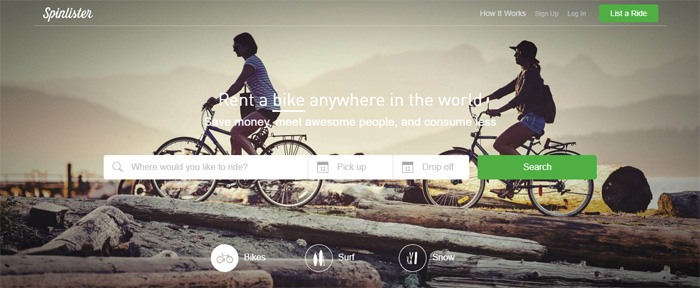 This is a share economy site with a unique angle. Rather than renting out cars or rooms, this site allows users to list and rent out bikes, surfboards, SUPs, snowboards, or skis to travelers and enthusiasts.
The site even claims that you can earn a pretty penny listing your stuff for rent on their site! But can you really make money on Spinlister.com?
That is what I wanted to find out.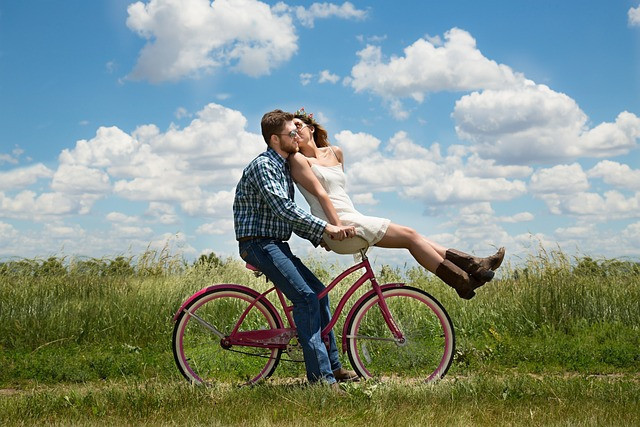 Making Money With Spinlister.com

The Basics: How Does Spinlister.com Work?
How Much Can You Earn On Spinlister.com?
Does It Cost Anything To List An Item On Spinlister.com?
My Personal Feelings About Spinlister.com
Our Final Opinion Of Spinlister.com
Making Money With Spinlister.com
To begin with, let's talk about what Spinlister is and how the whole thing works. On the landing page, it says this.
"Rent a bike anywhere in the world. Save money, meet awesome people, and consume less."
Basically, this website lets you list your own bike, surfboard, SUP (stand-up paddleboard), snowboard, or pair of skis to rent to other people who might want to use them. I love share economy sites for so many reasons… and I am also happy to say that the vibe I was getting from this site was awesome right from the beginning.
I love share economy sites that give off that couch-surfing, see-the-world vibe—and that is exactly what this site seemed to emanate. But of course, the vibe alone will not make a good side-hustle!
The entire reason for researching sites like this is to find out if they might prove to be valuable side-hustles that could help someone to make some extra money… so that is what I decided to look into next.
A side hustle should be flexible, consistent, and profitable to make it worth the time. I love how the share economy helps you to turn normal, everyday liabilities into assets… but I was also wondering if the platform was all that it was cracked up to be.
Here is what I learned.
The Basics: How Does Spinlister.com Work?
Spinlister.com calls their service 'a premier bike rental and sharing service that provides a platform to connect bike owners with active people looking to rent or borrow around the world.'
If you have ever looked at other share economy sites, like Airbnb or Turo, then you will find that Spinlister.com follows this mold rather well.
Basically, if you wish to rent a bike or some other relevant piece of gear, you search by zip code, ride type, and available dates. Then, you book the ride you want, and pay through the site.
You can also message the owner to ask questions. You do not need cash to rent on Spinlister… you just pay over the platform with your card. It is super-simple, which I like. Then, you just meet to pick it up—and you are good to go until it is time to return it.
How Much Can You Earn On Spinlister.com?
Of course, the amount will vary based on a number of factors… but as a general rule, the site says that you can make up to $500 per month by sharing your bike, surfboard, SUP, snowboard, or skis. You also get some extra perks that come with using the service.
First off, you get damage protection. If the renter purchases damage protection, then the items are covered for up to $10,000 in damages. This does not, however, cover rides locked up outside between the hours of 10PM and 6AM! So that is a little bit of a hole to be careful about (only if you are renting… listers are covered on this)!
Secondly, they offer theft protection. If renters purchase theft protection, they are basically covered for thefts of items up to $10,000. This is, however, prone to the same time limitations as damage protection.
The site also offers ID Verification for renters and listers, community reviews, and privacy on all rentals. They do not share your information with anyone until the rental has been finalized.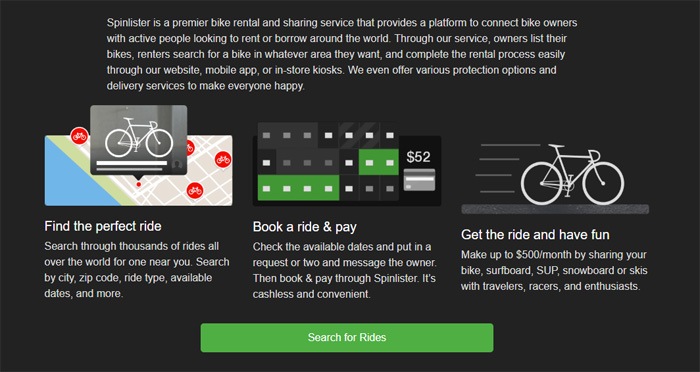 I was honestly pretty impressed with all of the extras you can get through the site. Obviously, some bikes and surf boards are quite valuable… so it makes sense that extra insurance could be purchased to cover the cost of the item in the event of some kind of unforeseen problem (damage or theft).
Next, I took a look at the FAQ page. I was very happy to find a detailed and informative help section here, with many common questions that new visitors may ask upon learning about the site. I actually learned quite a bit while reading through this section.
For example, I learned that most listers want renters to pick up the item being rented—but that sometimes different arrangements can be made if it works out for both the lister and the renter.
I also learned that renters are encouraged to inquire about more than one listing, to make the process as fast as possible. Since some renters cannot respond right away, this makes sense—and I found it interesting that the site actually encouraged this. This makes it all feel more 'down to earth' for me.
I also found out that listers have complete control over what the price of the rental is. So renters can, if they so-choose, ask for a discount through messenger. This was also a cool aspect to the service. I like how it is very much left to be settled between the lister and the renter.
Another thing that I found out was that it is actually against the rules to leave an item locked up outside overnight. You are always supposed to store it inside. If it gets stolen or damaged from being left outside overnight, the renter is actually liable for all of the damages… and the protection policies do not protect them.
If you have nowhere to store an item that you would rent, you could request just a same-day rental and return it before nightfall.
Does It Cost Anything To List An Item On Spinlister.com?
Listing an item on Spinlister will not cost you anything. This site works like most share economy sites, in that they only make money if an item gets rented. If someone does rent an item from you and actually pays you, the company takes a 17.5% cut of the listing fee.
I also learned that listers have some unique protections against damages and liability while using this site. For example, if someone rents something from you, they must agree that you are protected from damage to any property caused by the rental. They must also agree not to hold you liable for any accidents they may have.
You can set your listing price however you wish… though there is a minimum of $1 required. Rentals listed below $1 do not get approved. Your item may also get unlisted if you receive 3 inquiries and never respond to any of them… so make sure to respond to inquiries as fast as you can if you want your item to stay listed.
My Personal Feelings About Spinlister.com
Personally, I love websites like Spinlister.com. This kind of site makes it easy to do fun stuff (like surfing or snowboarding) without spending a huge amount of cash.
In all honesty, that is the great thing about share economy as a whole. Share economy makes things cheaper, gives people access to things that they may not otherwise be able to gain access to, and makes experiences more accessible.
If you are traveling temporarily, you may not want to buy a bike or a surf board where you are. It may be especially counterproductive to buy one if you are only going to be spending a certain amount of time in that area.
Plus, bringing your own skis or surf board may not always be feasible. If you are flying to a vacation destination, then bringing these types of things with you can be expensive.
Spinlister.com also makes it pretty easy to go through the rental process. As a lister, they help you to network with people who would be more likely to rent a bike or a surf board—and that is pretty awesome.
They handle the payment processes, give you the means to message back and forth, and give you the ability to search for items by location—all of which are very useful and helpful.
If you have a bike, a surf board, a pair of skis, or a snowboard, then you could definitely use this site to earn some extra money with it. Of course, you need to be ok with someone paying you to use it—but this is a great way to turn something like a bike into an investment.
There is no guarantee that you will actually rent stuff out. Your physical location would also play a role, as this type of site is more likely to work in busier, more metropolitan areas or by the ocean.
But at the same time, it costs nothing to list items on the site—which is awesome. You do have to pay a fee if you rent something out, but the fee is pretty small at 17.5%. So yeah… all things considered, I was a pretty big fan of Spinlister.com!
There are many other sites that follow the share economy angle too. For example, Fat Llama allows you to rent out almost anything, the sites Sailo and GetMyBoat both focus on boat rentals, while Splacer allows you to rent out spaces for people to use.
Our Final Opinion Of Spinlister.com
Should you use the site to list your bike for rent to make some extra money?
There are a lot of ways to make money online. Some are good, some not, but ALL of them are still just trading hours for dollars.
Starting your own affiliate website really is the best way to build passive income and "make money while you sleep". Affiliate websites earn income in every timezone, and can be instantly accessed by billions of smartphones across the globe!
What's up ladies and dudes! Great to finally meet you, and I hope you enjoyed this post.  I started my first online business in 2010 promoting computer software and now I help newbies start their own businesses. Sign up for my #1 recommended training course and learn how to start your business for FREE!