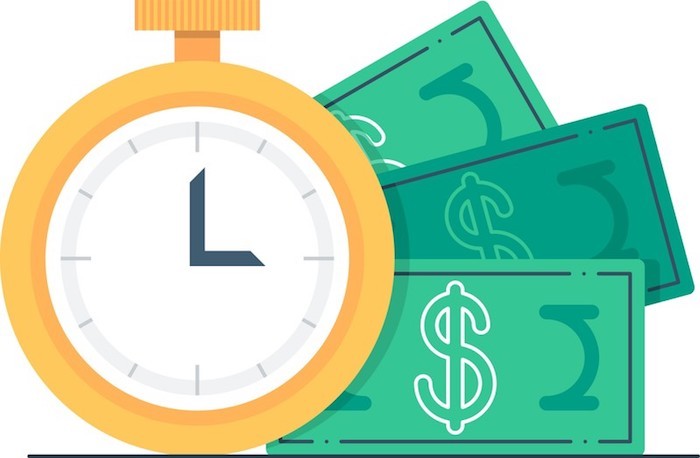 If you want to make long-term sustainable income, recurring affiliate programs are an amazing choice – without question. With this type of company, you earn consistent income as long as the customer is signed up. That's particularly powerful for programs where people remain members for months, if not years.
You just have to make that initial conversion and then you're basically earning money passively (or close to it). The income is significant even for programs that pay a lower percentage or have low-priced plans. After all, a little bit of money from 20 people each month would add up quickly. Imagine what would happen if you had more customers than that, or if the program paid a decent amount each month.
For instance, at one point I was promoting a company that paid 15% commission recurring on a $10 sale, so I was just earning $1.50 for each customer (recurring every month).
After about a year, and thousands of conversions, I was earning over $1,000 per month from this one program, even if I didn't get any new sales.
As a general rule, recurring programs will earn you less initially than other options. High ticket products and affiliate programs with high commission rates tend to pay you more per sale, but the income from recurring programs will add up. Reliable income is a good thing, especially when you work for yourself from home.
This is the closest thing to a safety net you're gonna get!
In this list, we're looking at affiliate programs that pay recurring commissions. As always, it's important that you research the program further to make sure it's relevant to your audience. I haven't personally participated in each and every one of these, so do your due diligence! You won't get much of that sweet, sweet passive income if your referrals hate the service and drop it after a month.
Recurring Affiliate Programs

Hide My Ass
TorGuard
NordVPN
Ucraft
Thrive Themes
LongTail Pro
SEMRush
ConvertKit
GetResponse
Easyship
MMA Conditioning Association
TrainPetDog.com
Freelance Writers Den
Adult Friend Finder
Zen WP
Access WP
Bitronic Technologies
OVPN
NinjaOutreach
AWeber
Instapage
Leadpages
Teachable
Tailwind
Stencil
Snappa
PicMonkey
Design Pickle
LiveChat
Kinsta
Organifi
Rose Hosting
SocialOomph
Elegant Themes
SocialPilot
TalkRoute
MemberMouse
Answerbase
FreeeUp
MemberPress
PremiumCoding
CSSIgniter
Wishpond
ActiveTrail
Sendlane
Overflow Cafe
pCloud
Filestar
Recurring Affiliate Programs
At one point, recurring affiliate commissions really saved my butt. I used to do PBN link building back in the day (2010), and my sites all got hit in the 2011 Google Penguin/Panda updates. My affiliate sites were hit hard, and I lost gobs of traffic.
Luckily, I had thousands of recurring commissions logged, so I was able to sustain myself for many years while I was rebuilding/fixing old mistakes and starting new niche sites. All that drama is in the past now, but it's a big reason why I always seek out these types of pay structures, no matter what niche I'm in.
Hide My Ass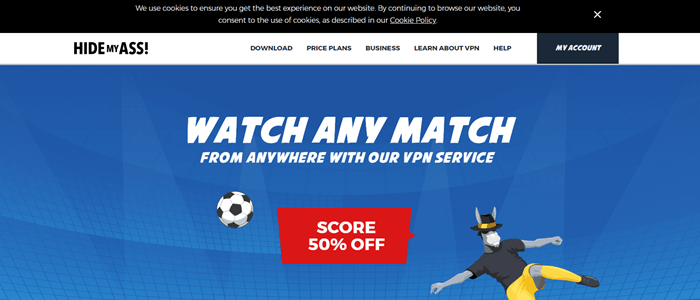 Cookie: 30 days
Commission: Up to 100% (new orders) and up to 35% (repeat orders)
Type of Product/Service: VPN
Recurring commissions are particularly common for VPN programs and Hide My Ass is one example. VPN services have various security advantages. They also allow people to appear as if they're in another country while online. That's perfect for using streaming sites like Netflix, along with countless other types of website.
Hide My Ass is a reliable service in the field, with a long history. The company is also associated with Avast and offers a large range of features, such as the ability to run 5 connections at once and an app that supports multiple platforms.
Commission rates start at 40% for initial orders and 30% for recurring commissions. This can increase to a maximum of 100% and 35%, respectively. The rates are based on the length of subscription. VPNs are a good choice for recurring commissions, as customers will often use them for months at a time.
TorGuard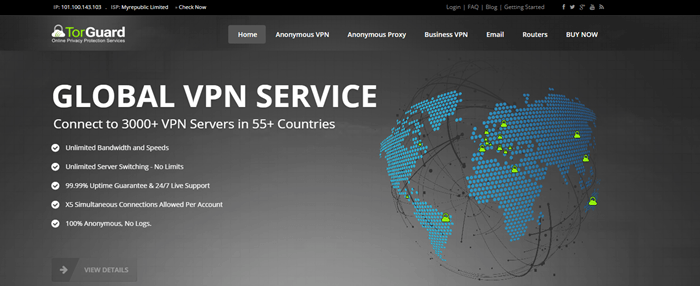 Cookie: 60 days
Commission: 30%
Type of Product/Service: VPN
TorGuard is another VPN company and is popular in the field. The commission plan is simple – you earn 30% of all sales, old or new. TorGuard offers plans for anonymous proxy, anonymous VPN and anonymous email, ranging from $5.95 USD/month to $9.99 USD/month. Customers can also buy bundle deals, which have higher up-front costs.
The low price of the service means that you wouldn't be earning much per month. Still, the commissions would add up, especially as VPNs are popular. There are also many features, such as unlimited speeds, multiple ciphers, stealth proxy and support for 5x simultaneous connections. TorGuard also has more than 3,000 servers in 50 different countries, which is impressive.
NordVPN

Cookie: 30 days
Commission: Up to 100% for new orders and 30% for renewals
Type of Product/Service: VPN
With NordVPN, most new orders will earn 40% commission and all renewals earn 30%. The one exception is that you get 100% commission for any new customers signing up to the 1-month offer. The plans cost between $3.29/month and $11.95/month, based on the duration. NordVPN also provides discounts, which can help increase conversions.
The service supports up to 6 devices per account and includes VPN apps, as well as a browser proxy extension. They also have dedicated customer support, plus a strong focus on privacy and encryption.
Ucraft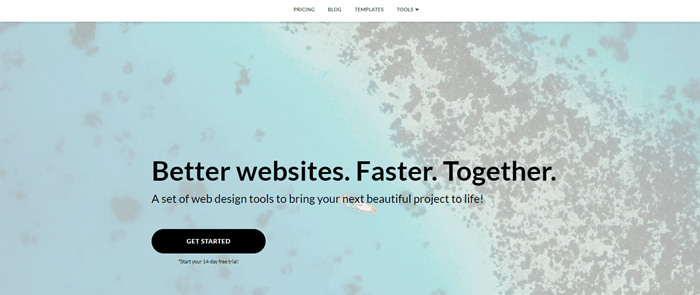 Cookie: Lifetime
Commission: 50% for new orders and renewals
Type of Product/Service: Website builder
Ucraft is an easy tool that allows people to build websites with no previous experience. They offer four different plans, ranging from $8/month to $76/month, with the more expensive plans offering extra features. Most of the plans are designed for eCommerce, which allows people to sell products through their website.
The platform offers a wide range of features, including more than 70 payment and shipping methods, multi-currency support, real-time tracking and invoice editing (on the higher plans). There is also the ability to create a free landing page, without signing up for any paid plan. This gives visitors the chance to try Ucraft out for themselves.
The visual style of the site combined with the free features and lifetime cookies should help to increase conversion rates considerably. Ucraft current reports a conversion rate of 3.35%, which is impressive for the industry.
Thrive Themes

Cookie: 2 years
Commission: 35% from purchases and 25% from recurring orders
Type of Product/Service: Products for website building
Thrive Themes is an incredibly popular company that offers a range of different products. This includes themes for developing websites, along with a list building WordPress plugin called Thrive Leads and a visual WordPress editor called Thrive Architect. There are various other smaller products as well.
The products can be purchased individually by buying licenses. For these sales, you would earn the 35% commission. Alternatively, there is an ongoing membership that gives members access to all of the products. The basic version costs $30/month, while the agency version costs $69/month, when paid quarterly. Paying annually instead of month-to-month lowers the monthly cost to $19 and $49, respectively.
The popularity of Thrive Themes makes it an extremely good choice. The monthly fee is also higher than many other recurring companies, which is good news for you. Thrive Themes also offers significant training to help you boost conversions. In fact, the products are very useful for affiliate marketing and can create visually stunning websites.
LongTail Pro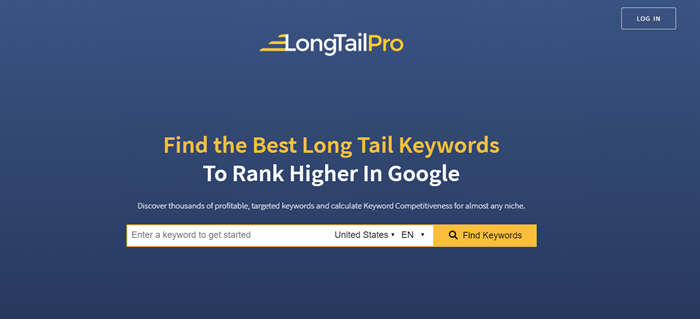 Cookie: Not stated
Commission: 30%
Type of Product/Service: Keyword research
LongTail Pro is a popular choice for website owners, providing the ability to research keywords and determine the competition. It is more complicated than some of the other tools in the market and can take longer to learn. But, that doesn't stop it from having many passionate advocates.
LongTail Pro uses a metric called KC (keyword competition) to gauge competitiveness. This is based on a program that considers various aspects that Google relies on for ranking, such as backlinks, site age, match to the keyword. This should theoretically provide an accurate estimation of competition. But, like all keyword tools, it has some limitations.
It's not my favorite keyword tool (this one is) but it can be a good one to earn from. Affiliates make 30% of all sales, new or recurring. The membership costs are either $37 or $67 per month, when paying month-to-month. If paying yearly, the costs are $25 or $45 per month, respectively. It's easy to see how commissions would quickly add up.
SEMRush

Cookie: 10 years
Commission: 40%
Type of Product/Service: Website and keyword analysis
SEMRush is a comprehensive online marketing tool, one that covers a wide range of topics and angles. The program can take a while to learn, simply because there is so much going on. But, it is also a powerful tool – and a popular one. Essentially, you have the chance to find data about keywords, your own website and your competition.
There are various features on offer, including domain, keyword and gap analysis. The 10-year cookie and 40% commission rate are impressive features. These are better offers than most other companies. The service starts at $99.95/month (for month-to-month), with the more expensive plan costing $399.95/month.
The main limitation is the competition. SEMRush is a well-known tool and there are already many affiliates out there. The affiliate program also gives credit to the first person to refer someone to the site, not the last person. When you combine that with the 10-year cookie, your odds of getting a referral get much slimmer. With so many other promoters out there, you might struggle to make sales.
ConvertKit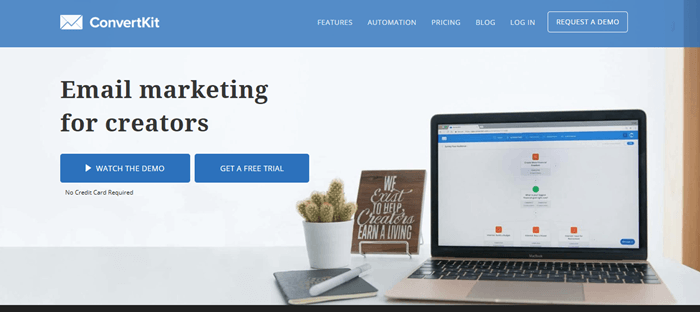 Cookie: Not stated
Commission: 30%
Type of Product/Service: Email marketing
ConvertKit is one of many services designed to help you develop and grow an email list. It isn't as well-known as some of the competing companies (like GetResponse, below) and is a newer entry into the field. There is also no low-cost plan, which is a shame. But, ConvertKit does get good reviews, so they're clearly doing something right.
The affiliate program offers 30% commission every month. Their main plans are $29, $49 and $79 per month, based on the number of subscribers. There is also a flexible higher-tier plan that starts at $99 per month and increases from there. The pricing means you'll earn around $8.70 per month from anyone on the lowest plan – and more from the higher ones.
GetResponse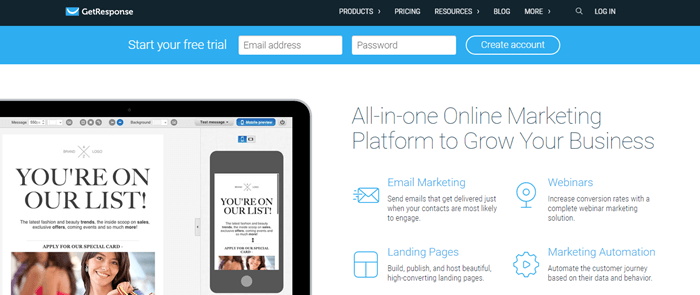 Cookie: 120 days
Commission: 33%
Type of Product/Service: Email marketing
GetResponse is one of the major players in the email marketing field. As such, many different plugins and services easily integrate with GetResponse. The affiliate program is simple, offering 33% commissions on all sales, for the duration of any membership.
The 120-day cookie gives you plenty of chances to get a conversion. As with many programs, the cookie works off the last click. So, you will get the commission as long as the customer doesn't click on another GetResponse affiliate link after yours.
There are four main plans with the program, ranging from $15/month to $1,199/month, when billed month-to-month. Customers who pay yearly or every two years get discounts. The service itself gets good reviews and is well-liked, making it a good choice to promote.
Easyship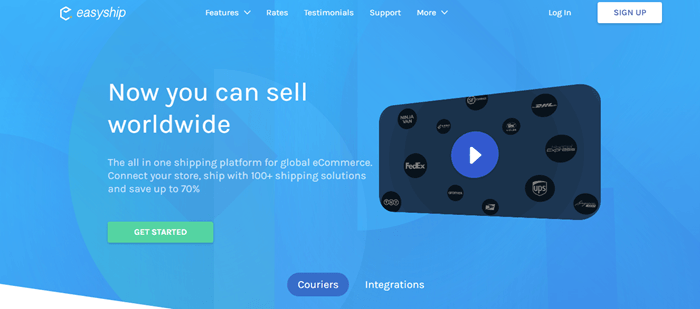 Cookie: 12 months
Commission: 5%
Type of Product/Service: Shipping service for eCommerce
Easyship is an unusual company, with a fascinating affiliate program. They offer a shipping service that is designed to support people with eCommerce websites. The service makes it much easier for businesses to ship items across the world. This can make shipping much less stressful for website owners.
As an affiliate, you earn 5% of the total shipping cost each time a person ships packages. Unlike most recurring programs, there is no ongoing membership that you get paid from. Instead, you earn 5% for every single shipment. That's significant because Easyship targets eCommerce store owners. Many of them will make hundreds of shipments throughout the year.
At 5%, Easyship isn't nearly as powerful as other programs. But, the service is unusual and many people won't know about it. This should give you an edge when it comes to marketing.
MMA Conditioning Association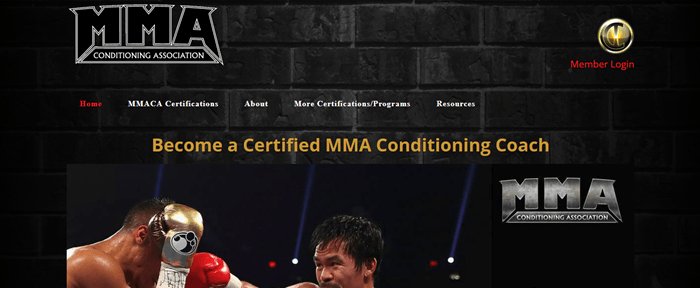 Cookie: 90 days
Commission: 30%
Type of Product/Service: Mixed martial arts certification program
The MMA Conditioning Association is an interesting company. They focus on training methods for MMA, with an emphasis on certification to become a conditioning coach. It's an unusual idea, which is always good for sales. With this company, you earn 30% on regular sales and 30% on any monthly membership fees. There is also another product called Survival Combat Fitness, where you earn 50% per sale.
The company also mentions that most people have remained members since joining, suggesting that few people drop out. That's perfect for making recurring income.
It's also nice to see a recurring program that isn't in the online marketing niche. Many of the other items on this list are, which can be a problem if you have a website about a hobby or something similar.
TrainPetDog.com

Cookie: 10 years
Commission: 80% on sales and 25% on memberships
Type of Product/Service: Dog training course
This is another slightly unusual program. TrainPetDog.com focuses on providing information about dogs, along with details about effectively train dogs. The website is somewhat old-fashioned but there is a wealth of information on there.
There is a range of products on offer, including various eBooks (starting at $19.95). You earn 80% per sale on all of these. There is also an Elite Dog Owner's Club, which costs $37/month. Affiliates earn 25% of that fee each month.
Joining that club is a little odd. Anyone you refer needs to purchase an eBook. They then get trial access to the club. If they stay as a member past that trial period, you get a commission. Also, you need to refer at least one new customer each month. Your recurring payments are put on hold for any months where you don't hit that goal.
Freelance Writers Den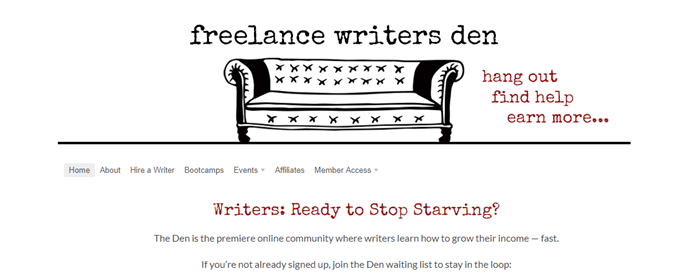 Cookie: Not stated
Commission: 50% for the first month, then 25% for subsequent months
Type of Product/Service: Membership website for writers
Freelance Writers Den is a relatively small site, designed to provide support for freelance writers. The site offers various products, along with membership to the Den. Affiliates earn 50% commission on all products, including bootcamps, which are priced up to $297.
For the membership, affiliates earn 50% on the first month's fee and then 25% on each subsequent month. Membership costs $25 a month and you don't need to be a member to promote it.
Membership only opens a few times each year. But, visitors can join a waiting list if it isn't open when they visit the site. Reviews suggest that the Den is popular, so it could be an interesting service to promote.
Adult Friend Finder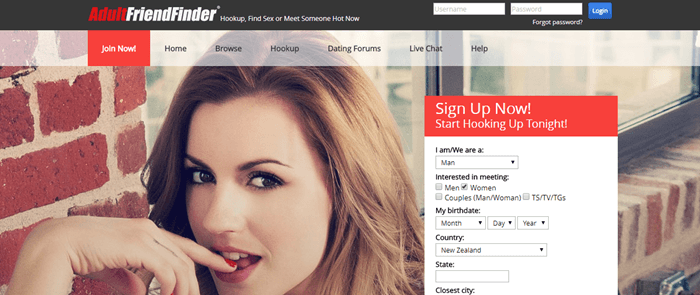 Cookie: Varies
Commission: Various rates, including 75% for initial orders and 55% for recurring orders
Type of Product/Service: Dating website
Adult Friend Finder is basically a dating website, although it does also cover the hookup culture and swinger lifestyles (okay, they're mostly focused on sex, although they are technically still a dating site). The affiliate program is complicated, as there are four different programs. These pay based on different things, such as a cost per lead program and a country-based payout.
If you want to earn a recurring commission, the best option is their percentage program. This pays as much as 75% of the initial orders from customers and 55% on recurring orders. The prices of the programs aren't entirely clear, although the site mentions that Gold memberships can be up to $149.95 per month.
The program doesn't just apply to Adult Friend Finder either. There are multiple similar sites that have the same offers and are highlighted on their affiliate pages. For the right audience, this might be a powerful way to earn. Just make sure you do have a suitable audience first. Some people will find the sites offensive.
Zen WP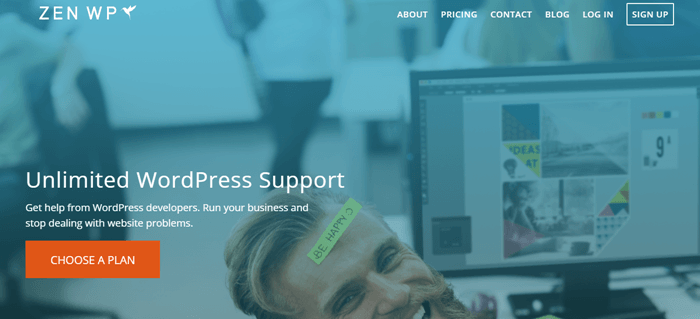 Cookie: 30 days
Commission: 8%
Type of Product/Service: Website technical support
Zen WP is designed to support website owners who use WordPress. The service employs more than 25 WordPress developers. The developers are able to resolve any technical problem, such as broken sites, plugin conflicts and backup complications.
The service charges a flat monthly fee, regardless of how much support people need. There are three different tiers, which vary in their features. The plans cost $79/month, $129/month and $269/month. One key difference is response time, which is 24 hours, 12 hours or 8 hours, respectively.
The high price of the plans helps make up for the fact that you're only earning 8% as a commission. This is also a service that people are likely to use for a long time. So, if you can get the initial signup, there's a good chance for recurring income.
Access WP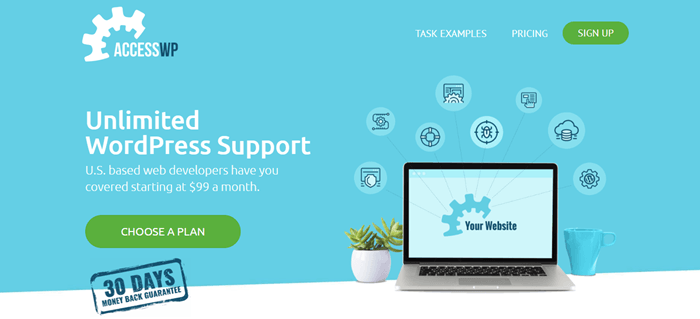 Cookie: Not stated
Commission: 10%
Type of Product/Service: Website technical support
Access WP offers the same type of service that Zen WP does, including unlimited WordPress support tasks. This includes areas such as speeding up a site, improving design, optimizing WordPress SEO elements and increasing security.
The service is more expensive than Zen WP, with plans costing $99/month, $149/month and $299/month. There is a 10% discount for anyone paying yearly, rather than month-to-month. The higher commission rate and increased price of the plans means there is more income potential from Access WP – as long as you feel the service is worth the extra cost.
Bitronic Technologies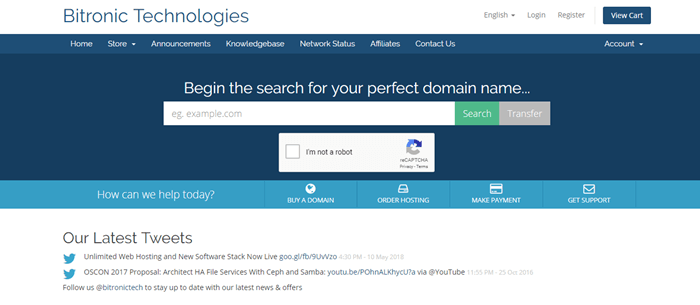 Cookie: Not stated
Commission: 10%
Type of Product/Service: Hosting
Bitronic Technologies is one of the few hosting companies that pays recurring commissions, rather than a single fee. Recurring commissions are particularly relevant for this field, as customers will often stay with their website host for a long time. The program pays out in Bitcoins, although you can get paid via PayPal or credit card if you prefer.
But, there are many hosting companies out there and Bitronic Technologies doesn't stand out at all. Instead, the website looks pretty bland. This could make conversions much more difficult, especially as hosting needs to be reliable.
OVPN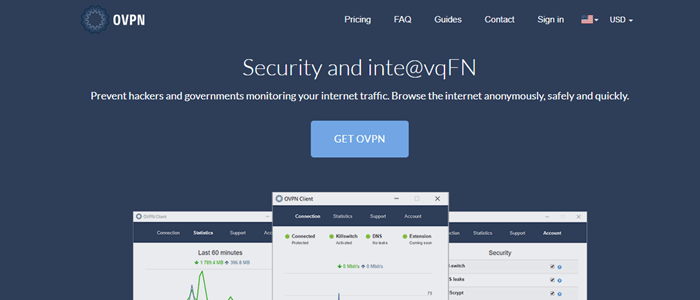 Cookie: 30 days
Commission: 30% to 50%
Type of Product/Service: VPN
OVPN is another VPN – and they're a pretty good one. The company has a strong focus on security and is reasonably priced as well. Membership starts at $10.99/month but can get as low as $7/month on the yearly plan. The affiliate program offers 50% commissions on the first month and 30% recurring commissions.
The program operates through Commission Junction. To join, you'll need to sign up for Commission Junction first and then search for OVPN.
NinjaOutreach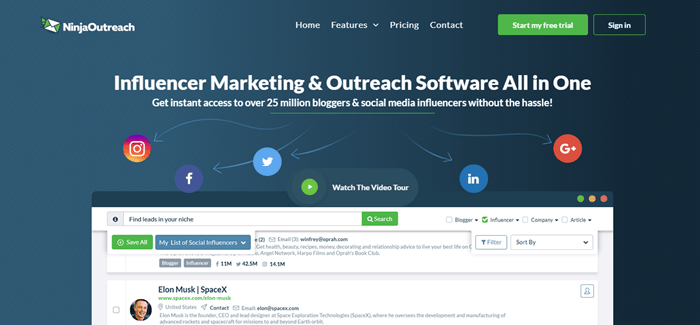 Cookie: Not stated
Commission: 20%
Type of Product/Service: Outreach tools
NinjaOutreach is an internet marketing tool. It's designed to help website owners to make their content more visible and get increased interest. This includes a focus on the idea of industry influencers. People using the tool also develop email campaigns to target those influencers.
There are two distinct products on offer. The first is the NinjaOutreach Software, which is a powerful tool for outreach. Users are charged monthly to use it, on one of four plans. The cheapest plan is $69/month, while the most expensive is $599/month. The other product is Ninja Academy. This has three courses, each with a single charge.
Affiliates earn 20% of each charge for Ninja Academy, along with 20% of each membership payment for NinjaOutreach. The idea of outreach is becoming popular among website owners and many people will be interested in what NinjaOutreach has to offer.
AWeber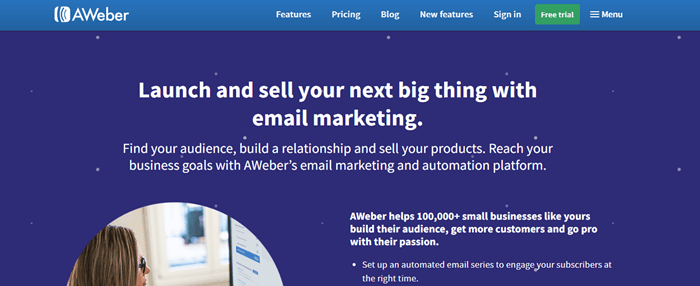 Cookie: 1 year
Commission: 30%
Type of Product/Service: Email marketing
AWeber is another popular email marketing program, one that many people rely on. It offers various different features, including email newsletters, HTML templates, a drag and drop editor, an autoresponder and email automation. Developing an email list with AWeber (or any similar program) is an important process for website owners.
The affiliate program is another simple one, paying 30% commission on all sales, including monthly fees. AWeber costs members from $19/month all the way up to $149/month or even more. Most of your referrals will be on the low end of the scale. But, they may upgrade to higher plans later, which would increase your income.
Instapage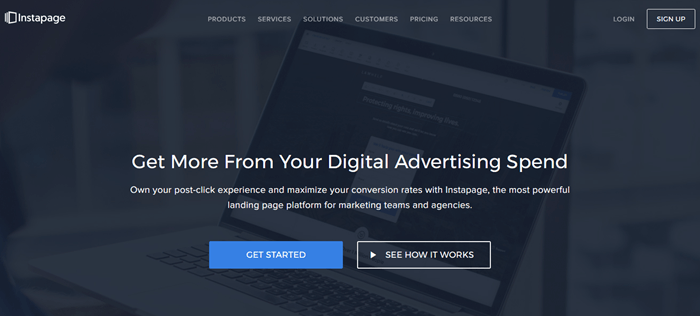 Cookie: 120 days
Commission: 50% on the initial payment, then 30% on all subsequent payments
Type of Product/Service:
Instapage is a landing page design program. The goal is to build visually stunning landing pages that are powerful at making conversions. The page builder is designed to be easy-to-use, so you don't need any expertise in the field. There are also various tools, like heat maps, to help users optimize their pages.
There are four different plans. The first three are priced at $79, $129 and $229 per month, while the last one is customized to individual needs. The prices are slightly lower for people who pay yearly, rather than month-by-month.
The high cost of the service may make conversions difficult – but you would earn more per sale. You're also making 50% on the first sale, so even the cheapest plan gives you close to $40 initial commission.
Leadpages

Cookie: 30 days
Commission: 30%
Type of Product/Service: Landing page builder
Leadpages is a tool for creating landing pages. Like other similar products, the aim is to create pages that look good visually and turn visitors into customers. This type of page is useful in many different industries, making it a particularly appealing service.
Plans are billed monthly, yearly or every two years. At the monthly level, there are two options, Standard for $37/month and Pro for $79/month. Annual billing also offers an Advanced plan at $199/month. As always, the features increase as the plans get more expensive. Affiliates earn a straight 30% of the initial fee for each plan, as well as all recurring fees.
Teachable

Cookie: 90 days
Commission: 30%
Type of Product/Service: Online courses
Teachable is an interesting service. It allows people to create courses online and then sell them. The service is mostly focused on creating courses that look great visually and can be marketed. As a result, they don't allow for as much engagement as some other services. But, for most people in online business, this isn't a bad thing.
There are three plans to choose from, at $39/month, $99/month and $299/month. The first two also have discounted annual versions. The service is an interesting one and it would be relevant to many industries.
Reviews mention that it is fairly easy to pick up and the marketing emphasis can be perfect for online business.
Tailwind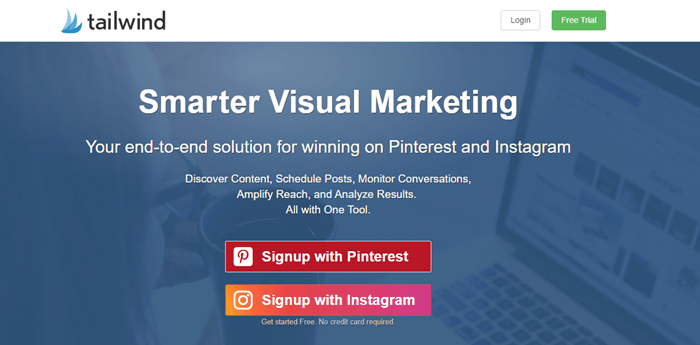 Cookie: 90 days
Commission: 15%
Type of Product/Service: Pinterest management
Tailwind is a social marketing management tool that specifically focuses on Pinterest (there are some Instagram features too). The service aims to make Pinterest marketing much more automated and to increase reach. One of their most significant features is the ability to schedule out pins. This allows bloggers to have their pins post over time, rather than all at once.
There is also a feature called Tribes, which allows for communities of bloggers to interact with one another. It is a variation on the idea of Pinterest groups, but is more effective at promoting sharing. Many users report dramatic increases in traffic as a result of Tribes and the scheduling features.
There are two main plans to choose from. One costs $15/month when billed monthly or $9.99/month when billed annually. The other is annual only and costs $799.99/month. There is an Enterprise plan too, but you have to contact the company for details. Needless to say, most customers would go with the cheapest plan.
Stencil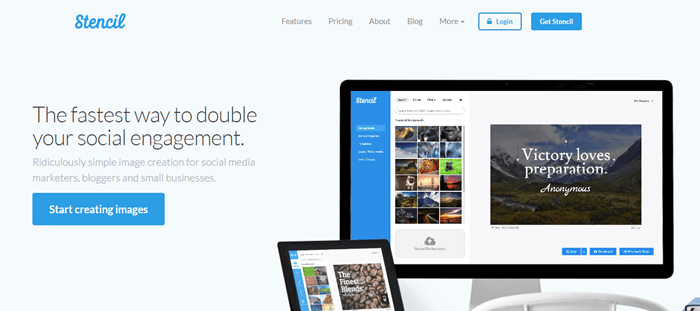 Cookie: 60 days
Commission: 30%
Type of Product/Service: Graphics creation tool
Stencil is designed as a simple image creation tool (it previously went by the name Share As Image). The tool is perfect for creating the visual images that you often see shared on Facebook, Pinterest and similar services.
Users can't do anything incredibly complex with the tool. Still, what it does offer is more than enough for most online marketers. In fact, the tool would be relevant for many different groups of people.
Stencil is inexpensive. It has a very basic free membership, along with two paid options. When paid annually, the paid versions are $9 and $12 per month. The latter is likely to be the most popular, as it allows unlimited image creation. The low prices mean you're not earning much per month from each member. But, it should be easier to get people to join.
Snappa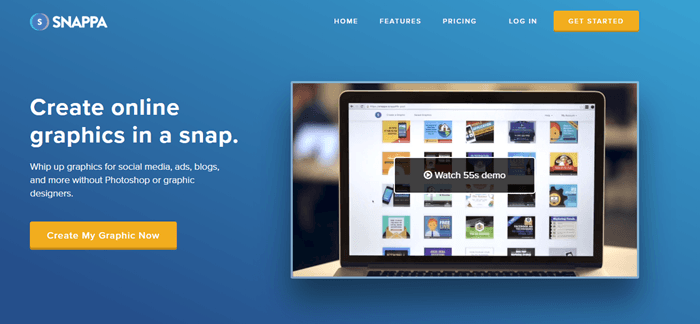 Cookie: 30 days
Commission: 30%
Type of Product/Service: Graphics creation tool
Snappa is another design program that follows the same general concepts as Stencil. Features include preset sizes that are focused on specific needs, along with pre-made templates. There is also a range of graphics and stock photos included that can be used with the created images.
There is a free version of this tool as well, which allows for five downloads per month. The paid versions cost $10 and $20 per month. They both allow for unlimited downloads. The main difference is that the $20 version is designed for a team.
PicMonkey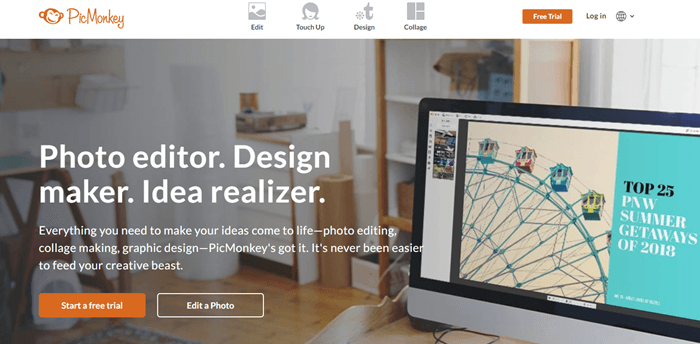 Cookie: 30 days
Commission: 50% initially then 25% recurring
Type of Product/Service: Photo editor, design tool
PicMonkey is a more comprehensive way of working with images. It still allows users to add text and graphics to images. But, it also includes a wide range of editing tools that are easy to use. It is a good option for people who find more traditional photo editing tools too confusing or time-consuming.
There are two plans to choose from. The first is Premium, which costs $7.99/month when billed month-to-month and $5.99/month when billed annually. The other is Supremium, which is only available for annual billing and costs $8.99/month.
Design Pickle

URL: landing.designpickle.com
Cookie: Not stated
Commission: 15%
Type of Product/Service: Graphics design service
Design Pickle is another site that focuses on graphic design. But, they have a very different angle. Design Pickle is a service, where users are able to order graphic designs, with as many requests and revisions as they like. The fee is the same each month, regardless of how many requests users make.
The service would be perfect for anyone who needs a large number of specialized designs but doesn't have the skills to create them. Of course, Design Pickle isn't cheap. It costs $370/per month for each user to be a member. That's month-to-month billing. Paying annually gives a 20% discount.
The high price might make conversions difficult. But, you'd be earning an impressive amount – especially if people remained a member for multiple months.
LiveChat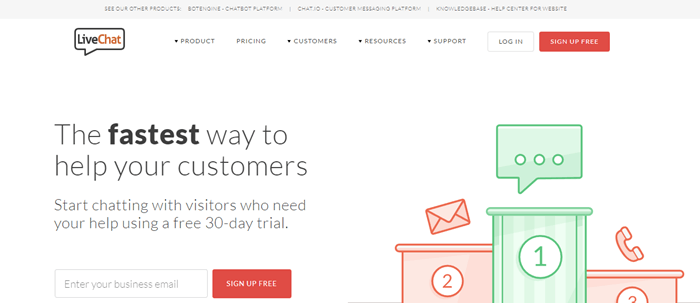 Cookie: 120 days
Commission: 20%
Type of Product/Service: A chat program
LiveChat is a type of chat program that can be run on a website. It provides a way to improve customer service, allowing visitors to easily reach out to customer support. The approach is very efficient for companies, as staff can be engaged with multiple chats at the same time. Chats can also be accessed on different devices, making the process easier still.
There are four plans, ranging from $16/month to $149/month. The pricing is also per logged in agent. So, if a customer had two people logged in that could answer questions, the price of the lowest plan would be $32/month.
The style might be particularly relevant to local businesses who need a way to answer questions. If nothing else, it's a more unusual service to promote – and there are many ways to do so.
Kinsta

Cookie: 60 days
Commission: $50 to $500 initially and 10% recurring commission
Type of Product/Service: Managed WordPress hosting
Kinsta is a hosting company, with a strong emphasis on supporting customers and meeting their needs. They use the term managed WordPress hosting. This means that the hosting company is responsible for the technical aspects of running the website.
The style won't suit everyone but it can be particularly appealing to beginners and to people who are short on time. The angle is also interesting from a sales perspective. Plus, Kinsta looks very professional and it should be easy to promote the service.
Plans start at $30/month and go all the way up to $900/month. Customers who pay yearly get two months free. There are many different plans, which should help you target a wide audience.
Organifi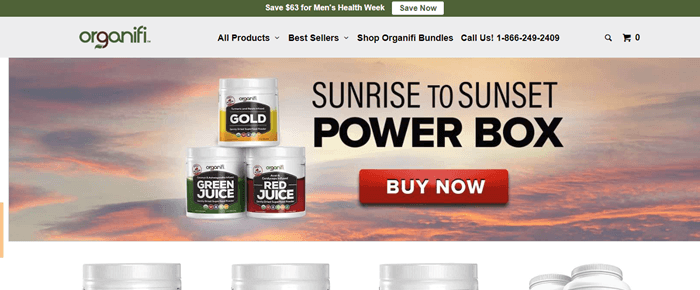 Cookie: Not stated
Commission: 30%
Type of Product/Service: Physical health and wellness product
Organifi is incredibly unusual. The company sells various superfood powders, including Green Juice, Red Juice and Complete Protein. The products are all designed to provide nutrition. Organifi has an affiliate program on their site for all their products, which just offers 20% commission.
But, there is also a ClickBank program for their Green Juice product, which offers 30% lifetime commissions. The products are often sold via subscription, so you're getting recurring income from the sales.
There aren't many physical products that offer a recurring program and it's rare to find anything physical on ClickBank. The product does look appealing as well. Even so, be aware that there is likely nothing unique about the powder itself and Clickbank is known for low-quality products.
This could be an interesting company to promote with your health and wellness website.
Rose Hosting

Cookie: Not stated
Commission: From 50% initially and 10% recurring commission
Type of Product/Service: Web hosting
Rose Hosting is a managed VPS hosting company that offers web hosting, VPS hosting and cloud dedicated services. Their pricing starts at $4.95/month, $19.95/month and $299.99/month, respectively. The fully managed aspect makes this service easy for people to use, even if they have no background in running a website.
The affiliate program provides 50% on the first month's payment and 10% from then on out. There aren't many recurring hosting programs, especially not ones this generous. There is also an incentive program. If you can refer enough people, you can earn either 100% or 150% for that initial month.
Rose Hosting also looks very professional. It's much more appealing than many other hosting companies, where the website just looks like it has been quickly thrown together.
SocialOomph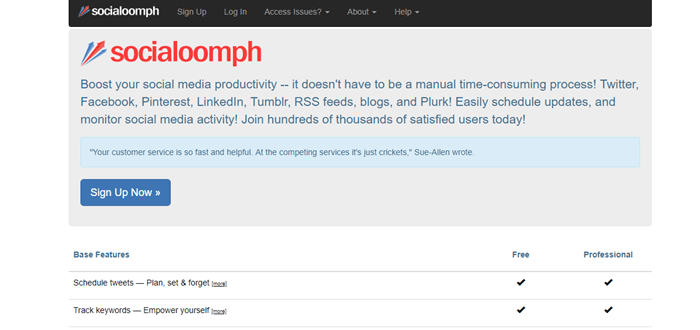 URL: socialoomph.com
Cookie: 30 days
Commission: 40%
Type of Product/Service: Social media management
As a social media management tool, SocialOomph is designed to make social media easier and faster to use, particularly for businesses. The service supports many different types of social media including Facebook, Twitter, Pinterest, LinkedIn and Plurk (whatever that is).
There are various features for each of these networks, such as scheduling updates, sending tweets via email and managing multiple accounts at once. There is also a free version of the service, with limited features. The paid options are SocialOomph Professional for $17.97 every two weeks or SocialOomph Twitter Unlimited for $6.97 every two weeks.
The affiliate scheme pays 40% recurring. It is a two-tier program and you also get 5% of the commissions that anyone you refer earns. So, you're only earning that bonus income from people who promote SocialOomph themselves.
Elegant Themes

Cookie: Not stated
Commission: 50%
Type of Product/Service: WordPress themes
Elegant Themes provides around 87 different themes and three plugins that members can purchase. The themes do look high quality and it's easy to see why they would be appealing. Unlike most theme sites, Elegant Themes doesn't sell the themes individually. Instead, customers can pay $89 per year to access everything or $249 as a one-time fee for lifetime access.
Either way, affiliates earn 50% of all sales. So, if the member takes the yearly option, you're earning just under $45 each year. The one limitation is that there are no monthly payments. As such, your income won't add up as quickly as it would with other programs.
SocialPilot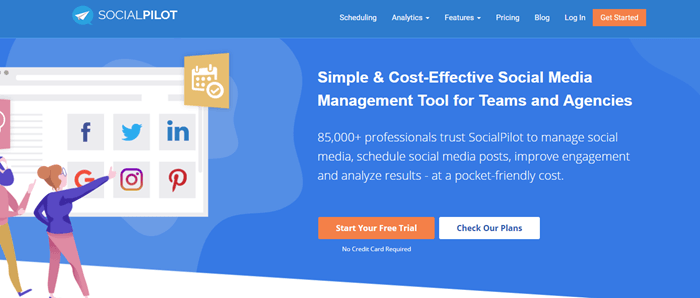 Cookie: 60 days
Commission: 30%
Type of Product/Service: Social media management
SocialPilot is a high-quality and professional social management tool. It supports the common platforms like Facebook, Twitter and Pinterest, as well as some more obscure ones, like VK and Xing. In all cases, users have the ability to schedule posts ahead of time, making social media much more time-efficient.
There are four plans to choose from. The main difference is that the more expensive plans allow additional social media accounts to be added and a greater number of posts per day. The plans range from $8.33/month to $83.33/month. It's likely that many people would choose the middle plans, which are $25/month and $41.66/month, as the cheapest plan is very limited.
Regardless, the commission rate is 30% for each payment. You need a minimum balance of $25 before the company will pay out and they make payments through PayPal.
TalkRoute

Cookie: Not stated
Commission: 30%
Type of Product/Service: Virtual phone system
TalkRoute is a system that can be used to manage your phones. It provides an effective way to communicate with customers, giving businesses much greater flexibility. Features include the ability to use your old number, to have extensions for your team and to set up call forwarding and routing.
There are four plans to choose from, which cost $19/month, $39/month, $59/month and $99/month. As always, features increase along with the cost. Large businesses are likely to need the most expensive plans, while small businesses could work with something much cheaper.
MemberMouse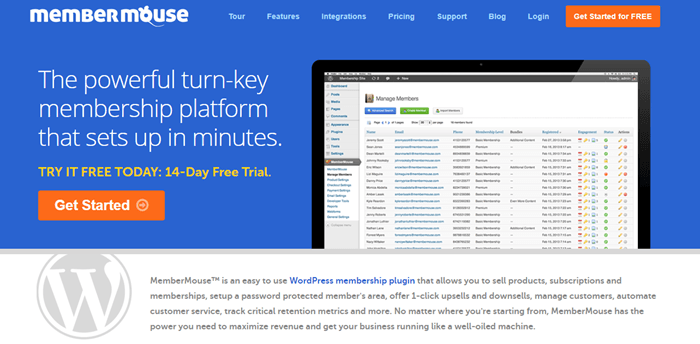 Cookie: Not stated
Commission: 20%
Type of Product/Service: WordPress plugin
MemberMouse is a WordPress plugin that allows users to create members' areas on their websites and sell subscriptions. This idea can be an additional way to earn from a website. Many companies to take advantage of plugins like this one, so the appeal is easy to see.
There are also many different features included, such as customizable layouts, template functions, shortcodes and a wide range of support articles.
Pricing runs from $19.95/month to $599/month and is heavily based on the number of members. People with a large number of members need to be in the more expensive plans, even if they don't want any of the extra features.
Answerbase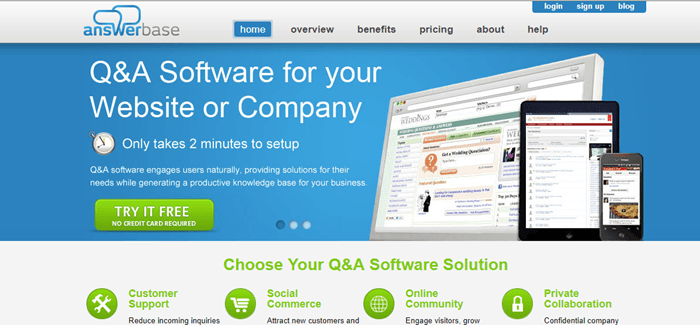 Cookie: 180 days
Commission: 50% of the initial fee, then 15% recurring
Type of Product/Service: Community question and answer software
Answerbase is designed as a tool for websites, which can help increase audience engagement. It also serves to develop a knowledge base for a website. The idea won't apply to all niches but for the right audience, Answerbase could work very well.
Their software includes various components, such as Q&A widgets, customizable design, developer API and analytics data. There are four different plans. The first three are $19, $49 and $199 per month, when paid month-to-month. The final plan is more comprehensive and pricing is available only as a quote.
The affiliate payment of 50% initially and then 15% recurring is decent, especially if you can get people on the more expensive plans.
FreeeUp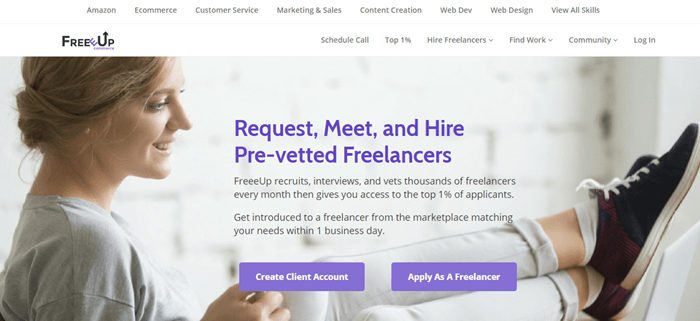 Cookie: Not stated
Commission: $0.25 to $0.50 per hour billed
Type of Product/Service: Freelancer website
FreeeUp is a site designed for the top 1% of freelancers. Or, at least, that's how they phrase it. The basic concept is that the freelancers are more expensive than with other services but they're also more skilled and have been pre-vetted.
As an affiliate, you earn $0.50 for each hour billed for any businesses that you recruit into FreeeUp. You also earn from $0.25 to $0.50 per hour billed from any freelancers that you refer. This gives you two very different audiences that you can target.
If you use FreeeUp yourself to hire freelancers, anything you earn is provided as a discount. If you don't, FreeeUp makes payment every two weeks.
MemberPress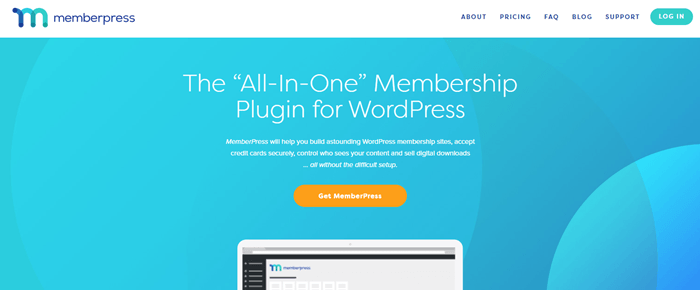 Cookie: 60 days
Commission: 25%
Type of Product/Service: WordPress plugin
MemberPress is a membership plugin for WordPress. It allows users to develop membership websites, have full control over who can see content and charge visitors. It is also designed to be easy to use and implement, making it perfect for beginners.
The affiliate program is two-tier. Affiliates earn 25% recurring commissions on all sales, which are paid out monthly. They also earn 5% on any sales that a person they refer makes.
There are three plans for the plugin, which cost $129/year, $249/year and $369/year. Yearly payment is the only option, so affiliates would be getting paid infrequently unless they referred a large number of customers.
PremiumCoding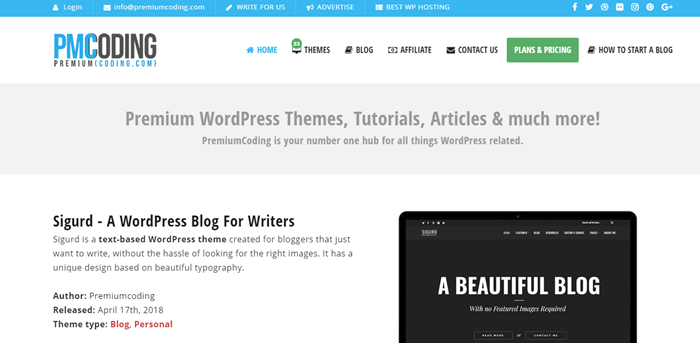 Cookie: 90 days
Commission: 35% to 50%
Type of Product/Service: WordPress themes
PremiumCoding promotes itself as a WordPress hub, containing a large amount of information and guidance for anyone working with WordPress. But, their main product is themes and they currently have 33 different themes on offer. These are designed to look visually appealing and be fully mobile responsive.
Themes can be purchased individually, which won't give you any recurring income. But, there is also a yearly membership, which costs $102.35. This gives people access to all of the themes, along with updates and support.
The commission rate starts at 35%. It increases gradually as you make more sales, all the way up to 50%. However, it takes many sales to see a decent increase. For example, 60 to 100 sales gives a rate of 40%, while 350 to 450 sales is needed for 45%. To hit the 50% mark, you need more than 1,500 sales.
CSSIgniter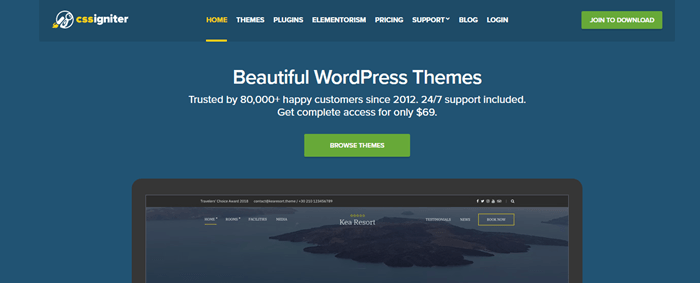 Cookie: Not Stated
Commission: 50%
Type of Product/Service: WordPress themes
CSSIgniter is another site that offers WordPress themes. They also provide various plugins and specific landing pages. There are currently 92 themes on offer, in a range of different visual styles. Each theme has an associated demo, so visitors can see how the theme performs.
There are three purchase options. The first is to buy a theme individually for $49. Alternatively, users can pay $69/year for access to all of the themes or $249 for lifetime access to the themes. In each case, affiliates will earn 50% commission, which is pretty impressive. But, only the $69/year option will provide recurring income. The others are simply one-off sales.
Wishpond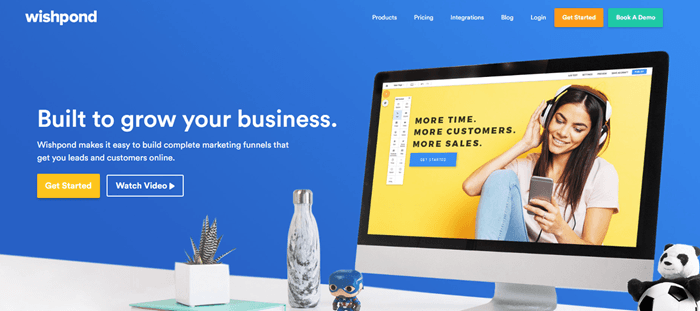 Cookie: 60 days
Commission: 30%
Type of Product/Service: Marketing campaigns
Wishpond is an interesting service. It focuses on marketing campaigns, which includes a range of tools for landing pages, email marketing and more. There are two general angles. Customers can access Wishpond's tools to develop their own marketing. Or, they can get Wishpond to develop everything.
For customers wanting to do their own work, there are three plans. These cost $49/month, $99/month and $199/month. They're all billed annually. Paying monthly is also an option, although that would be more expensive. The last plan can also be expanded based on the number of leads, all the way up to $2,989/month for 1,000,000 leads.
Prices aren't given for the 'done for you' component of the business, as this seems to be based on individual needs. Instead, visitors can book a demo and go from there. Affiliates earn 30% commission on all payments that customers make. That's significant income even for the lowest tier. Many of the companies on this list offer less income each month.
ActiveTrail

Cookie: Not stated
Commission: 15%
Type of Product/Service: Email marketing system
ActiveTrail is a platform for email marketing. It offers various common tools, such as marketing automation, a landing pages creator, email marketing templates and the ability to integrate with other apps and services. The company isn't as popular as many of its competitors, but it does still have merits.
The commission plan is simple, offering a blanket 15% on all sales. That's useful, as the prices of packages vary considerably. ActiveTrail offers three different sets of plans. Their basic monthly plan ranges from $9 to $29 per month. Their email packages go from $25 for 1,000 emails to $79 for 5,000 emails, while their SMS packages go from $41 for 500 SMS to $218 for 3,000 SMS.
The cool thing is that customers may sign up for multiple options. For example, someone might purchase a monthly plan, as well as a small email package and a small SMS package. As such, there is the potential for recurring and one-off payments.
Sendlane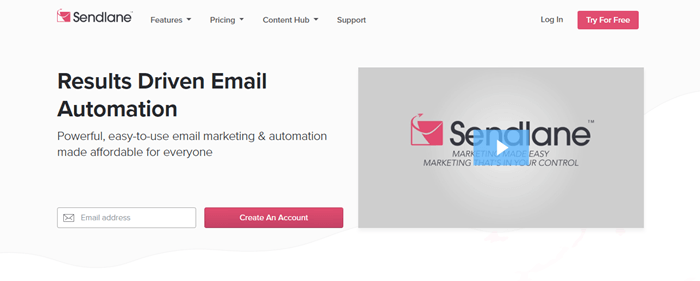 URL:
Cookie: Not stated
Commission: 30%
Type of Product/Service: Marketing tools
Sendlane is another marketing tool. They promote themselves as an all-in-one solution and offer features like email marketing, landing pages, marketing automation, event tracking and email retargeting.
Pricing is surprisingly simple. All of the plans include the same features – which is unusual and a major selling point. Users just need to choose how many contacts they want. The options are anywhere from 1,000 to 100,000 contacts. Plans start at $25/month and go up to $599/month. Users who need more contacts than that can talk to the company directly.
Overflow Cafe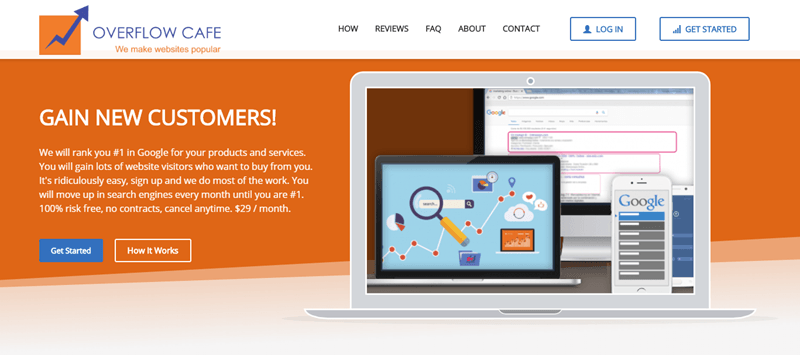 Cookie: 365 days
Commission: $15/month
Type of Product/Service: Website SEO
Overflow Cafe basically offers SEO services, helping people to get extra traffic to their websites and increase their rank in search engines. To do so, Overflow Cafe develops customized plans for websites based on various factors like current rankings, competitors and traffic. The company doesn't provide many details about the specific strategies that they follow. But, they do mention that they focus on white hat SEO only (which is a good thing).
There is only one price for the service, which is $29 per month. So, affiliates are earning just over 50% commission. The cost is relatively low for SEO services, which suggests that Overflow Cafe is best for small businesses and websites, especially when the owners don't have SEO skills themselves.
pCloud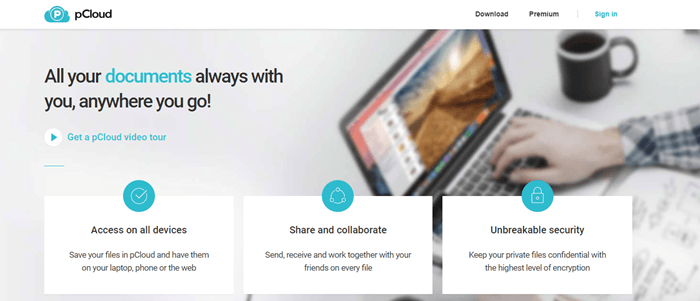 Cookie: 45 days
Commission: 100% of the initial sale or 20% recurring
Type of Product/Service: Cloud storage service
pCloud provides cloud storage, similar to OneDrive from Microsoft or Google Drive from Google. Cloud storage is becoming increasingly popular and has many advantages. The approach is particularly relevant for collaboration. It also helps with people who work from multiple devices. With a cloud solution, users have access to their files from wherever they are.
Like many similar services, pCloud provides free storage when visitors sign up (20 GB of storage). To get more, users need to sign up for a paid version. The Premium plan costs $3.99/month and provides 500 GB of storage. The Premium Plus costs $7.99/month and provides 2 TB of storage. Users can also purchase a lifetime membership, which costs $175 for Premium or $350 for Premium Plus.
The commission structure seems to provide users a choice between recurring payment or 100% of the initial sale. But, it's not clear how much affiliates earn from the lifetime membership. It seems highly unlikely that pCloud would offer 100% of that payment.
Filestar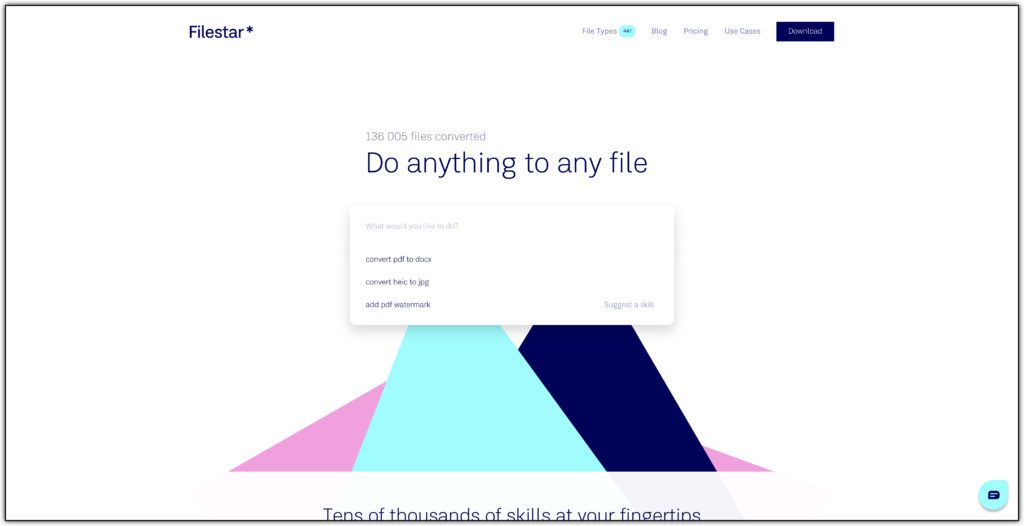 Cookie: 60 days
Commission: 20% lifetime on subscriptions + 1$ Bonus for signups on any plan (including the free plan).
Type of Product/Service: SaaS/File conversions
Filestar is a SaaS for automating repetitive work with files on your computer. Through an intuitive search engine, you can access over 30 thousand different tasks – called "skills" – such as file conversions, split, merge, compress and different transforms. Filestar handles over 400 different file types and works with documents, videos, images and audio. Their slogan is "Do anything with any file on any device".They offer a simple $5/month subscription. There's also a free plan that allows for 10 conversions per month.
What's up ladies and dudes! Great to finally meet you, and I hope you enjoyed this post. Sign up for my #1 recommended training course and learn how to start your business for FREE!